The Ultimate List of Winnie The Pooh Baby Shower Ideas
Undoubtedly, the greatest delight of your life will be welcoming your new kid into the world. Everybody enjoys the exciting time around the birth of a new baby in the family.
Organizing a baby shower for the expectant mother is a wonderful way to show the parents-to-be your love and support.
A Winnie the Pooh baby shower theme might be ideal if she is a Disney fanatic. When organizing a themed event like this, there are a lot of things to think about, including themed food, themed drinks, invites featuring Winnie the Pooh, and of course, party favors.
Don't worry; we've got you covered even if it may all seem overwhelming. Here are some Winnie The Pooh baby shower ideas we'll sharing with you
1. Winnie The Pooh Baby Shower for Boys
2. Winnie The Pooh Baby Shower For Girls
3. Gender Neutral Winnie The Pooh Baby Shower Decorations
4. Classic Winnie The Pooh Baby Shower
5. Vintage Winnie The Pooh Baby Shower
1. Winnie The Pooh Baby Shower Ideas For Boys
Decorating The Venue
Winnie the Pooh baby shower decorations are readily available right now in a wide range of possibilities. At the venue's entrance, place a welcome sign on a stand to greet your guests. An cute Winnie the Pooh one that you can personalize and print yourself is a fairly cheap choice.
For the ideal Pooh party, use a lovely backdrop featuring Pooh the bear in soothing blue hues. Almost any baby shower theme can include blue decor, which never goes out of style.
In front of that backdrop, add a balloon arch in shades of pale blue and yellow. Set up a lovely white armchair on one side so the honored visitor can enjoy the gift-opening ceremony there. For a great photo opportunity and a take-home gift for the nursery, drape a Winnie the Pooh throw blanket over the chair.
What's On The Menu
Place fruit trays with freshly cut fruit and a cheese board with a variety of cheeses and biscuits on your main table. Serve with yogurt or creamy dips and a wooden plate of wholesome snacks like freshly sliced vegetables.
Name the appetizing dishes Pooh's Fig and Goat's Cheese, for example, using Little Winnie's food signs. Pooh and his companions are adorable. Pooh's honey jar should be placed on the table with wooden honey dippers nearby for drizzling. It will be a light and energizing drink to make a simple honey lemonade.
For something sweet, cupcakes are the best and simplest to make, and they are a favorite at any event. To give your dessert table some visual height, place them on top of tree stumps. Consider using various Winnie the Pooh cupcake toppers or even little bees!
READ ALSO!!!
Gift Table Décor
Set up a gift table, and on one side of the table, post a sign that says "Gift Table" for guests to drop their gift bags and boxes. Before the visitors begin putting their gifts on the table, adorn it with gorgeous yellow lanterns.
A wooden train set, a Pooh bear, a nursery light, or a set of ornamental boxes are some objects you might use to adorn the table. Put a Pooh bear on top of them and stack them up to form the word "baby."
Thank You Gifts For Shower Guests
Include shower favors for the guests in the décor. Set out miniature glass honeypots that are either filled with honey or chocolates. Include a note of gratitude from the parents.
2. Winnie The Pooh Baby Shower Ideas For Girls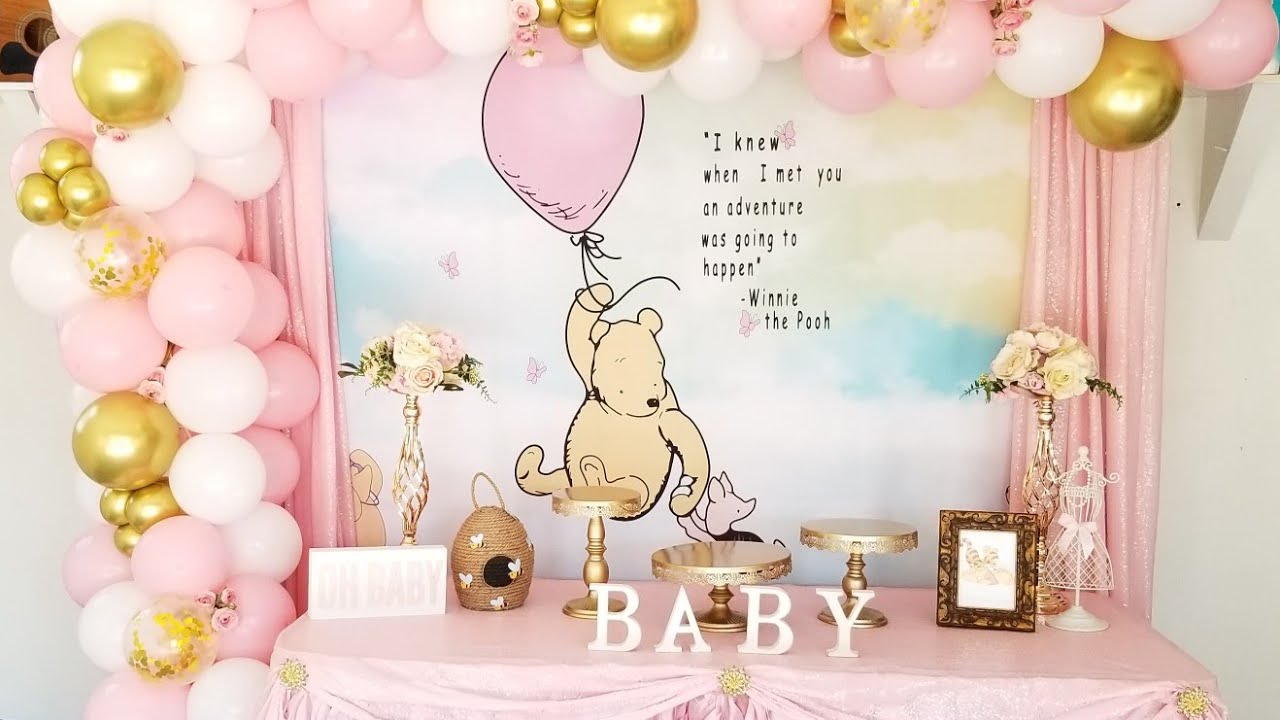 Venue Décor
Set up a Winnie the Pooh theme by placing a vertical bookshelf against the main wall; it makes a great nursery present. A soft pink Pooh bear, Pooh wall decor, and a lovely Winnie the Pooh photo album are good examples of items that can be displayed on the shelves as decorations.
Put a plush and comfortable wingback loveseat or chair next to the bookstand in a pastel pink or beige color. The seat will look wonderful with a stunning Winnie hundred acre wood map rug under it. Lastly, add a Pooh scatter cushion to the seat and hang a Winnie the Pooh banner from Disney on the wall above the chair.
Lunch For Your Guests
In addition to spaghetti, greens, coleslaw, and potato salads, guests can nibble on honey mustard chicken strips. Don't forget to use signs to label the various dishes with the names of Winnie the Pooh and his pals (Tigger's Pasta Mix).
For those who are thirsty, provide "Eeyore's Gloomy Day Punch," and for dessert, provide personalized sugar cookies with images of Pooh and his pals. Additionally, donut holes and rice krispie treats with edible drip gold paint will be well-liked sweets.
Shower Favors For Guests
Give each visitor a distinctive Winnie the Pooh keychain in a little brown envelope. Place the packet with a Pooh bear thank you sticker attached, and then put the envelopes in a picnic basket. Attach a sizable pink bow on the basket handle.
READ ALSO!!!
3. Gender Neutral Winnie The Pooh Baby Shower Decorations
How to Decorate the Shower Venue
Colors like yellow, green, orange, brown, and black are good choices if you're having a gender-neutral baby shower.
Hosting a picnic-themed baby shower is one original baby shower idea. Find a tree that will serve as the room's center point, and provide the expecting mother with a wicker armchair. Hang a Winnie the Pooh banner and figurines of Pooh and his pals from the trees for the baby shower using long ribbon strings.
Place low wooden tables in the middle of the throws, and have the visitors sit on them while you provide cushions and throws. Arrangements of white and yellow daisies tied with ribbon should be placed on each guest table.
A Simple Menu for Shower Guests
Use Winnie the Pooh tableware and pack huge baskets with picnic goodies like enclosed charcuteries boxes.
Create a lovely cake table to display the baby shower cake so that everyone can view it.
An Easy Shower Favor Idea
Fill a tiny gift envelope with flower seeds to use as party favors. On the back of the envelope, you can paste a thank-you sticker and tigger tails.
4. Classic Winnie The Pooh Baby Shower Ideas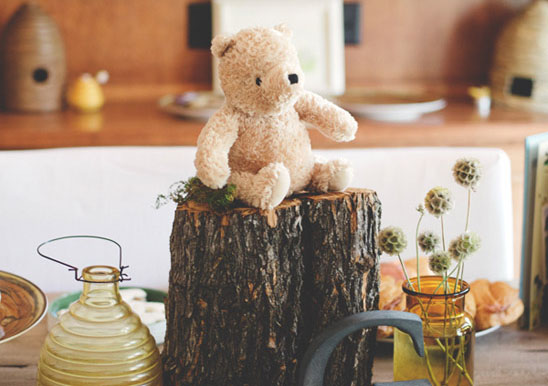 The best friends or family members of the expecting mother typically host baby showers in the early afternoon at one of their homes. Due to the neutral and subdued colors used, "Classic Winnie" is one of the most well-liked Winnie the Pooh baby shower themes.
Classic Winnie the Pooh Baby Shower Decorations
To begin, prepare a warm space with a soft chair where the mother can unwind and enjoy her gifts.
On one side of the chair, stack some clear, white boxes on top of one another. To create a stunning display, fill the containers with white and gold balloons. Place the wrapped gifts and gift bags on either side of the chair.
When displaying your gifts on a table, use a small table to give it height. A vintage Jack in the Box musical toy should be placed on the table, and a classic Pooh bear should be placed against one of the gift bags. This lovely Winnie the Pooh coffee cup is the ideal small gift for the expectant mother, so place it near everything.
Put a nice Winnie the Pooh quilt over her chair to finish. Bring a stroller or baby crib into the area if the grandparents have given you one as a gift.
Classic Winnie the Pooh Baby Shower Food
If you're throwing an afternoon baby shower, you can get away with only offering tea or coffee along with a variety of cakes and sweet and savory pastries.
As a general guideline, if you're having a shower at a mealtime, such as lunch or dinner, you should make it available for your visitors.
A classic Pooh cake topped with this Winnie the Pooh cake topper will be the highlight of your dessert table because dessert is ALWAYS appreciated at baby showers.
Sprinkle some artificial grass on any vacant areas of your food table to cover them. Leave liters of lemonade and liters of sprite ready for your shower guests to enjoy as cool drink alternatives.
5. Vintage Winnie The Pooh Baby Shower Ideas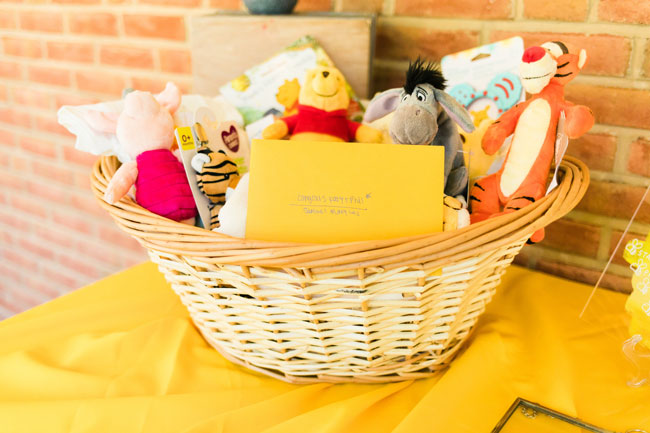 Given the range of gifts and decorations that are currently offered, it is clear how much people adore Vintage Winnie the Pooh!
Vintage Winnie the Pooh Baby Shower Decorations
Hosting a formal afternoon tea party is one way to give your Winnie the Pooh baby shower a vintage vibe. Teapots made of exquisite porcelain should be used to serve piping hot tea.
To continue the fun theme, invite attendees to wear Winnie the Pooh-inspired hats or hair ornaments. Additionally, create a special hat for the expecting mother and set up a certain area for her to sit.
Her seat should be a wooden rocking chair, with an entire side of the chair filled with vintage hat boxes and vintage luggage.
Place a wooden end table with an antique Winnie the Pooh lamp on it on the opposite side of the chair, and imaginatively lay a Pooh bear woven tapestry throw over the boxes.
Rows of vintage-style Winnie the Pooh wildflower flags are hung on the wall behind her chair. When her nursery is finished, these will look adorable strung up there.
Vintage Winnie Food Ideas
You can serve your guests apple pie, cream, finger sandwiches, delicate petit fours, small cupcakes, small savory pies, and cheese scones at your baby shower.
Jugs of water with lemon, orange, and strawberry slices on the table and fruit punch should be set out.
Organizing the ideal Winnie The Pooh Baby Shower
A baby shower can seem quite overwhelming to prepare, but this detailed list of stages can assist you in methodically planning
▸ Pick a shower date – Schedule the event a month or two before the baby is due. If the pregnancy is a surprise for the mother-to-be, let the expectant father, as well as close family and friends, know the dates.
▸ Make your shower guest list for invitations – Ask the prospective parents' friends and family to attend. Allow them to provide you with a list of invitees. Whether dad and the granddads would be invited or if it will be "ladies only." Choose whether you want to handwrite, mail, email, or schedule an event on social media your Pooh baby shower invitations.
▸ Decide on the shower venue – Considering your budget, the anticipated number of visitors, and the event's style can help you choose the right location. While a picnic should be held in a nice garden, a formal luncheon will require a sizable dining room. Choose a gorgeous patio if you decide to serve brunch.
▸ Complete your gift registry – Ask the expectant parents to start a baby registry, but make sure to do this a few months before the event so that attendees will have time to purchase for gifts once the invitations are sent out.
▸ Shop for your shower decorations – To fit the subject, choose a color or colors. Limit the number of Winnie the Pooh-themed decorations you use. Combine these ornaments with items that are neutral or solid in color. To save money, it is sense to use nursery or baby gift items as décor. In order to identify the source of the present, ask your close friends and family for assistance. Then, place a tag to the item with the giver's name on it.
▸ Select the food menu – With a Winnie the Pooh motif in mind, plan the menu around the location. Also, come up with some creative titles for foods and beverages. Make sure that the meals are light and uncomplicated, with a focus on flavor and presentation. Use caterers if necessary, or enlist the assistance of any talented cooks and bakers in your social group.
▸ Put together the shower favors – Giving away treats at a shower is a great way to thank everyone for coming. Small presents with Winnie the Pooh themes are widely available and can be used as favors.
▸ Purchase or print off any baby shower games – Shower games are a wonderful way to have a good time while keeping the guests entertained. You can really purchase Winnie the Pooh printable baby shower games or make your own selection from online resources for baby shower game ideas.
▸ Think about photos and photo backdrops – It is crucial to document meaningful memories of the occasion. You may either pay a photographer to snap the images or ask a skilled moment-stealer to do it. A lovely photo background should be set up for the expectant mother and her guests to pose in front of.
Conclusion
We hoped that this collection of Winnie the Pooh baby shower ideas gave you some fresh, imaginative ideas to use for your own!
Use as many online resources as need to come up with the ideal menu and décor for a baby shower because planning one should be enjoyable rather than stressful.