Most Famous War Poems Everyone Should Enjoy Reading
There are numerous great war poems out there and there have been a massive number of famous war poets. Putting together a universal list of the best war poetry raises all sorts of questions.
We typically think of wars as international affairs. They essentially consist of vast disputes over money, land, religion, or politics that frequently appear in the headlines that we hardly even notice anymore. However, what effects do they have?
Since some of the world's oldest surviving poems are about vast armies and valiant battles, war has long been a common theme in poetry.
But even though Homer may have idealized his soldiers and revered their victorious, never-ending combat, poetry's portrayal of war has become much more nuanced since then.
Below are some of the best, written during the era of the First World War and beyond that will put you on a puzzle.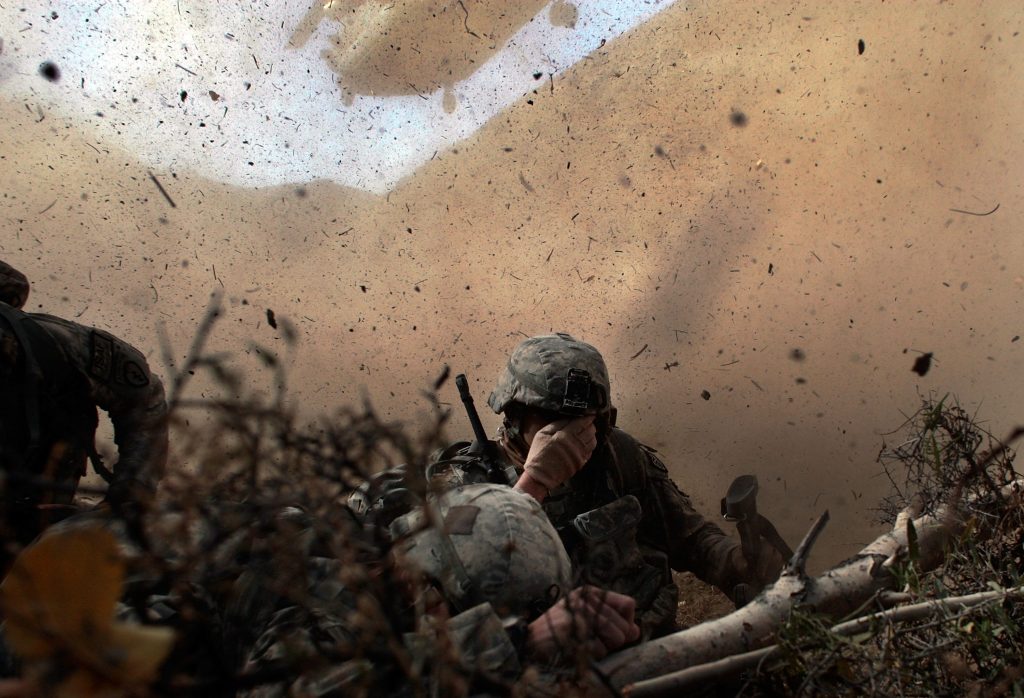 Most Famous War Poems
1. For A Survivor Of the Mesopotamian Campaign
War's wasted era is a desert shore,
As know those who have passèd there, a place

Where, within sound of swoll'n destruction's roar,
Wheel the wild vultures, lust and terror base;
Where, making ready for them, stalk the grim
Barbarian forms, hunger, disease and pain,
Who, slashing all life's beauty limb from limb,
Crush it as folly on the stony plain.

A desert: – those too who, as thou, have been
Followers of war's angel, Sacrifice,
(Stern striders to beyond brute torment's scene,
Soarers above the swerves of fear and vice)
Know that the lightning of his ghostly gaze
Has wrecked for them for ever earth's small ways.
2. Here Dead We Lie
Here dead we lie
Because we did not choose
To live and shame the land
From which we sprung.

Life, to be sure,
Is nothing much to lose,
But young men think it is,
And we were young.

June, 1915, by Charlotte Mew
Who thinks of June's first rose today?
Only some child, perhaps, with shining eyes and
rough bright hair will reach it down.
In a green sunny lane, to us almost as far away
As are the fearless stars from these veiled lamps of town.
What's little June to a great broken world with eyes gone dim
From too much looking on the face of grief, the face of dread?
Or what's the broken world to June and him
Of the small eager hand, the shining eyes, the rough bright head?
3. To Germany
You are blind like us. You hurt no man designed,
And no man claimed the conquest of your land.
But gropers both through fields of thought confined
We stumble and we do not understand.
You only saw your future bigly planned,
And we, the tapering paths of our own mind,
And in each others dearest ways we stand,
And hiss and hate. And the blind fight the blind.

When it is peace, then we may view again
With new won eyes each other's truer form
And wonder. Grown more loving kind and warm
We'll grasp firm hands and laugh at the old pain,
When it is peace. But until peace, the storm,
The darkness and the thunder and the rain.
4. To His Love
He's gone, and all our plans
Are useless indeed.
We'll walk no more on Cotswolds
Where the sheep feed
Quietly and take no heed.

His body that was so quick
Is not as you
Knew it, on Severn River
Under the blue
Driving our small boat through.

You would not know him now…
But still he died
Nobly, so cover him over
With violets of pride
Purple from Severn side.

Cover him, cover him soon!
And with thick-set
Masses of memoried flowers-
Hide that red wet
Thing I must somehow forget.

By Ivor Gurney
5. Dulce Et Decorum Est
Bent double, like old beggars under sacks,
Knock-kneed, coughing like hags, we cursed through sludge,
Till on the haunting flares we turned our backs
And towards our distant rest began to trudge.
Men marched asleep. Many had lost their boots
But limped on, blood-shod. All went lame; all blind;
Drunk with fatigue; deaf even to the hoots
Of tired, outstripped Five-Nines that dropped behind.

Gas! GAS! Quick, boys! – An ecstasy of fumbling,
Fitting the clumsy helmets just in time;
But someone still was yelling out and stumbling
And flound'ring like a man in fire or lime …
Dim, through the misty panes and thick green light,
As under I green sea, I saw him drowning.

In all my dreams, before my helpless sight,
He plunges at me, guttering, choking, drowning.

If in some smothering dreams you too could pace
Behind the wagon that we flung him in,
And watch the white eyes writhing in his face,
His hanging face, like a devil's sick of sin;
If you could hear, at every jolt, the blood
Come gargling from the froth-corrupted lungs,
Obscene as cancer, bitter as the cud
Of vile, incurable sores on innocent tongues, —
My friend, you would not tell with such high zest
To children ardent for some desperate glory,
The old lie: Dulce et decorum est Pro patria mori.

By Wilfred Owen
6. For The Fallen
With proud thanksgiving, a mother for her children,
England mourns for her dead across the sea.
Flesh of her flesh they were, spirit of her spirit,
Fallen in the cause of the free.

Solemn the drums thrill: Death august and royal
Sings sorrow up into immortal spheres.
There is music in the midst of desolation
And a glory that shines upon our tears.

They went with songs to the battle, they were young,
Straight of limb, true of eye, steady and aglow.
They were staunch to the end against odds uncounted,
They fell with their faces to the foe.

They shall grow not old, as we that are left grow old:
Age shall not weary them, nor the years condemn.
At the going down of the sun and in the morning
We will remember them.

They mingle not with their laughing comrades again;
They sit no more at familiar tables of home;
They have no lot in our labour of the day-time;
They sleep beyond England's foam.

But where our desires are and our hopes profound,
Felt as a well-spring that is hidden from sight,
To the innermost heart of their own land they are known
As the stars are known to the Night;

As the stars that shall be bright when we are dust,
Moving in marches upon the heavenly plain,
As the stars that are starry in the time of our darkness,
To the end, to the end, they remain.
7. My Boy Jack
"Have you news of my boy Jack?"
Not this tide.
"When d'you think that he'll come back?"
Not with this wind blowing, and this tide.

"Has any one else had word of him?"
Not this tide.
For what is sunk will hardly swim,
Not with this wind blowing, and this tide.

"Oh, dear, what comfort can I find?"
None this tide,
Nor any tide,
Except he did not shame his kind —
Not even with that wind blowing, and that tide.

Then hold your head up all the more,
This tide,
And every tide;
Because he was the son you bore,
And gave to that wind blowing and that tide!
8. Marching Men
Under the level winter sky
I saw a thousand Christs go by.
They sang an idle song and free
As they went up to calvary.

Careless of eye and coarse of lip,
They marched in holiest fellowship.
That heaven might heal the world, they gave
Their earth-born dreams to deck the grave.

With souls unpurged and steadfast breath
They supped the sacrament of death.
And for each one, far off, apart,
Seven swords have rent a woman's heart.
9. Perhaps
(Dedicated to her fiance Roland Aubrey Leighton, who was killed at the age of 20 by a sniper in 1915, four months after she had accepted his marriage proposal)

Perhaps some day the sun will shine again,
And I shall see that still the skies are blue,
And feel once more I do not live in vain,
Although bereft of You.

Perhaps the golden meadows at my feet
Will make the sunny hours of spring seem gay,
And I shall find the white May-blossoms sweet,
Though You have passed away.

Perhaps the summer woods will shimmer bright,
And crimson roses once again be fair,
And autumn harvest fields a rich delight,
Although You are not there.

Perhaps some day I shall not shrink in pain
To see the passing of the dying year,
And listen to Christmas songs again,
Although You cannot hear.

But though kind Time may many joys renew,
There is one greatest joy I shall not know
Again, because my heart for loss of You
Was broken, long ago.
If this list has whetted your appetite for more war poetry, you can check out our list of Haiku poems, girlfriend poems, Jane Eyre quotes, and mother's day poems.
Let us know your favorite piece in the comment box!