Heartbreak Poems (Getting Over Broken Relationships)
Heartbreak Poems: No matter if you've been dating for years or a few weeks, breaking up can make you feel like the world is crashing down around you. But I'm here to tell you that there's one thing that just might get you through a breakup: poems.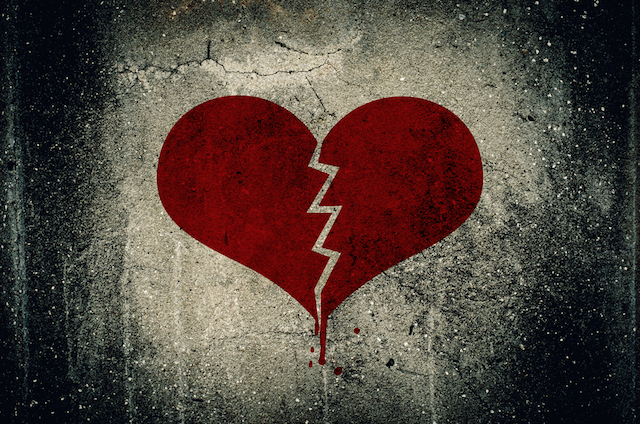 As long as there have been love poems, there have been break-up poems. After all, love is freaking hard, and when you do everything right, it can still fall apart.
But one of the incredible things about poetry is that it can take those feelings that seem inexpressible and lay them out on the page.
When you read a poem that really gets to the core of what you're feeling, you'll get a little bit of much-needed release.
1. At Ease
Most wounds can Time repair;
But some are mortal — these:
For a broken heart there is no balm,
No cure for a heart at ease —

At ease, but cold as stone,
Though the intellect spin on,
And the feat and practiced face may show
Nought of the life that is gone;

But smiles, as by habit taught;
And sighs, as by custom led;
And the soul within is safe from damnation,
Since it is dead.
– Poem by Walter de la Mare
2. A New Being
I know myself no more, my child,
Since thou art come to me,
Pity so tender and so wild
Hath wrapped my thoughts of thee.

These thoughts, a fiery gentle rain,
Are from the Mother shed,
Where many a broken heart hath lain
And many a weeping head.
– Poem by George William Russell
READ ALSO:
3. Our Many Never Endings
You entered the bedroom and fell to your knees.
I wait the rest of my life to hear you say, I made a mistake.

Inside my chest, a mangle.
Inside yours, a deflating balloon.

You took the vacuum cleaner, the ironing board, the dish rack
and left me some lint, an iron to scorch shirts, one chipped plate.

I would like to say at least we perfected
entrances and exits, like professional stage actors

honing their craft, but even that's a fantasy.
Mostly on TV the lions ate the hyenas

but sometimes the hyenas
formed a posse, and tore a lion up.

Occasionally you came in out of the rain
and I was glad to have you.
– Poem by Courtney Queeney
4. Not Metaphors for My Heart
The dog refuses to eat. I keep filling her bowl
anyway: new kibble on top of old, hoping
that it will suddenly becoming tempting.

When I write, the cat watches me from a chair.
When I look at him, he purrs loudly, leans forward
so that I might touch him. I don't.

Now the dog refuses to come out of her cage,
no matter what I say, no matter how wide I open
the door. She knows that I am not her master.

On the couch, the cat crawls on top of me
and loves me so hard, his claws draw blood.
I am so lonely, I do nothing to stop it.

There are lights in this house I want to turn on,
but I can't find their switches. Outside, an engine
turns and turns in the night, but never catches.
– Poem by Cristin O'Keefe Aptowicz
5. Love Elegy in the Chinese Garden, with Koi
Near the entrance, a patch of tall grass.
Near the tall grass, long-stemmed plants;

each bending an ear-shaped cone
to the pond's surface. If you looked closely,

you could make out silvery koi
swishing toward the clouded pond's edge

where a boy tugs at his mother's shirt for a quarter.
To buy fish feed. And watching that boy,

as he knelt down to let the koi kiss his palms,
I missed what it was to be so dumb

as those koi. I like to think they're pure,
that that's why even after the boy's palms were empty,

after he had nothing else to give, they still kissed
his hands. Because who hasn't done that—

loved so intently even after everything
has gone? Loved something that has washed

its hands of you? I like to think I'm different now,
that I'm enlightened somehow,

but who am I kidding? I know I'm like those koi,
still, with their popping mouths, that would kiss

those hands again if given the chance. So dumb
– Poem by Nathan McClain
6. You thought
You thought I'd flipped the switch and I hadn't
You thought I'd left the window open
And I wouldn't

You thought I'd turn the dial up
But I didn't

You thought I'd ring the sun the super
But I shouldn't

You thought I'd unlock the beehive
But I wouldn't

You thought I'd sing the dirge
But I couldn't

You thought I'd cook the rabbit
And I hadn't

You thought I'd come back that day
And I didn't

You thought I'd tend the flowers
But I couldn't

You thought I'd turn the lock
But I hadn't

You thought I'd open the door
See you
But I couldn't

You thought I'd lay down
But I couldn't

It kills me still
I couldn't
I couldn't
– Poem by Dorothea Lasky
READ ALSO:
7. Movement Song
I have studied the tight curls on the back of your neck
moving away from me
beyond anger or failure
your face in the evening schools of longing
through mornings of wish and ripen
we were always saying goodbye
in the blood in the bone over coffee
before dashing for elevators going
in opposite directions
without goodbyes.

Do not remember me as a bridge nor a roof
as the maker of legends
nor as a trap
door to that world
where black and white clericals
hang on the edge of beauty in five oclock elevators
twitching their shoulders to avoid other flesh

and now
there is someone to speak for them
moving away from me into tomorrows
morning of wish and ripen
your goodbye is a promise of lightning
in the last angels hand
unwelcome and warning
the sands have run out against us

we were rewarded by journeys
away from each other
into desire
into mornings alone
where excuse and endurance mingle
conceiving decision.

Do not remember me
as disaster
nor as the keeper of secrets
I am a fellow rider in the cattle cars
watching
you move slowly out of my bed
saying we cannot waste time
only ourselves
– Poem BY AUDRE LORDE
8. And the World Carries On
The plates will still shift
and the clouds will still spew.
The sun will slowly rise
and the moon will follow too.

Life's beauty will continue
to flourish all around,
but now you are gone,
these birds have no sound.

And my heart does not beat.
It is still inside my chest.
My tears keep on falling
and my head will not rest.

But I have no choice only
to move through this life.
Endlessly attempting
to fill this longing that is rife.
– Poem by Amy O Connor
READ ALSO:
9. He'll Never Know
I want to run, I want to hide
From all the pain he caused inside.
I want to scream, I want to cry.
Why can't I tell him goodbye?

I want to move on; I just can't let go.
I love him more than he will ever know.
I want to start over, I want to feel free!
But this pain will never leave me be.

He hurt me bad; the pain is deep
From all the promises he couldn't keep.
All the lies I heard him say
Are in my head and just won't fade.

How can I forget him, leave him behind?
Erase the memories from my mind?
He doesn't love me, and he never will.
He will never care how I feel.
– Poem by Jennifer
10. A Broken Heart
How do I mend a broken heart?
My entire world has fallen apart.
How do I find hope in a brand new day,
when the one I love has gone away?

My mind overflows with memories of you,
of all that we've shared, all that we knew.
I long for your touch and your warm embrace,
the look in your eyes, the smile on your face.

My dreams are filled with your soft gentle kiss.
I wake and cry for all that I miss.
How do I mend a broken heart,
when my one true love and I are apart?

My heart knows to love only you, it won't let go, what do I do?
Our moments together were precious and few,
but I cherished them all more than you knew.
I love you, my angel, and always will.
I loved you then and I love you still.
– Poem by Jenna
It is normal to get heartbroken, it can tear you to pieces and make you have uncontrollable emotions. Being heartbroken has its advantages though, you get to realize yourself and know if this person was really the one for you.
Yo can share this with those who may need comfort during these moments. Do well to let us know how these poems have helped you in your down moments.