Henry David Thoreau Poems (Biography and Famous Poems)
Henry David Thoreau, a writer and poet, was born in Massachusetts in 1817 into an average New England family. He was a devoted philosopher, abolitionist, and historian who is without a doubt one of the most well-known Americans of the 19th century. Read some of Henry David Thoreau Poems here.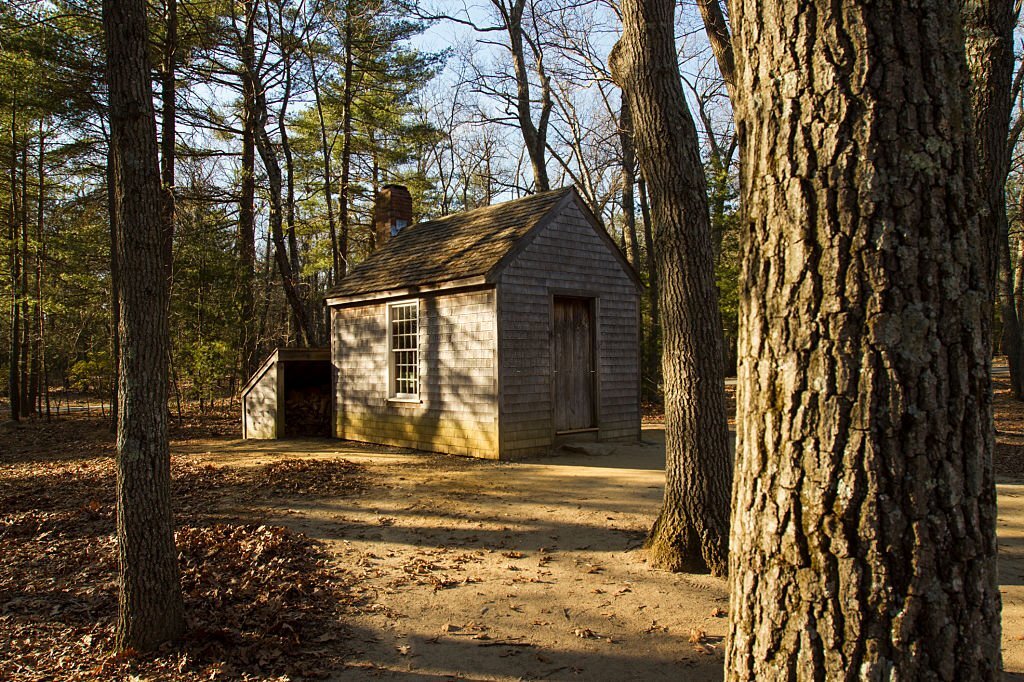 His interests were wide-ranging, and his two best-known books, Civil Disobedience and Walden, have had a significant impact on several political and social leaders since they were published over 150 years ago.
Prayer
Early in life, from the Henry David Thoreau poems collection, he considered himself to be a poet, but after receiving much negative feedback from others around him, he eventually realized that the genre was far too limited for the concepts he intended to explore.
Although he composed a lot of poetry, it is his essays and larger works that have endured and flourished through time, being updated and modified to meet the needs of successive generations.
Great God, I ask for no meaner pelf
Than that I may not disappoint myself,
That in my action I may soar as high
As I can now discern with this clear eye.

And next in value, which thy kindness lends,
That I may greatly disappoint my friends,
Howe'er they think or hope that it may be,
They may not dream how thou'st distinguished me.

That my weak hand may equal my firm faith
And my life practice what my tongue saith
That my low conduct may not show
Nor my relenting lines
That I thy purpose did not know
Or overrated thy designs.
READ ALSO:
The Moon
Thoreau enrolled at Harvard University in 1833 to study arithmetic, philosophy, and the classics. He began his career as a teacher in Canton, Massachusetts, in 1835.
A few years after graduating from Harvard, he and his brother established a school in Concord. After his brother unexpectedly passed away from tetanus and the school was closed,
Time wears her not; she doth his chariot guide;
Mortality below her orb is placed.
-Raleigh

The full-orbed moon with unchanged ray
Mounts up the eastern sky,
Not doomed to these short nights for aye,
But shining steadily.

She does not wane, but my fortune,
Which her rays do not bless,
My wayward path declineth soon,
But she shines not the less.

And if she faintly glimmers here,
And paled is her light,
Yet alway in her proper sphere
She's mistress of the night.
Smoke
After that, Thoreau went back to his home and was taken under the wing of Ralph Waldo Emerson, who introduced him to several well-known local authors and painters.
Around this time, Thoreau started penning articles, essays, and Henry David Thoreau poems for The Dial at Emerson's request, among them his piece The Natural History of Massachusetts.
Light-winged Smoke, Icarian bird,
Melting thy pinions in thy upward flight,
Lark without song, and messenger of dawn,
Circling above the hamlets as thy nest;
Or else, departing dream, and shadowy form
Of midnight vision, gathering up thy skirts;
By night star-veiling, and by day
Darkening the light and blotting out the sun;
Go thou my incense upward from this hearth,
And ask the gods to pardon this clear flame.
[Conscience]
He was interested in philosophy and briefly considered transcendentalism, a school of thought that placed more emphasis on intuition than on religious principles and beliefs.
His writing attempts to philosophically approach everyday human experience. He began writing A Week on the Concord and Merrimack Rivers in 1845 while living in a cabin on Waldon Pond. The book was finished in 1849.
READ ALSO:
Conscience is instinct bred in the house,
Feeling and Thinking propagate the sin
By an unnatural breeding in and in.
I say, Turn it out doors,
Into the moors.

I love a life whose plot is simple,
And does not thicken with every pimple,
A soul so sound no sickly conscience binds it,
That makes the universe no worse than 't finds it.

I love an earnest soul,
Whose mighty joy and sorrow
Are not drowned in a bowl,
And brought to life to-morrow;
That lives one tragedy,
And not seventy;

A conscience worth keeping;
Laughing not weeping;
A conscience wise and steady,
And forever ready;
Not changing with events,
Dealing in compliments;
A conscience exercised about
Large things, where one may doubt.

I love a soul not all of wood,
Predestinated to be good,
But true to the backbone
Unto itself alone,
And false to none;
Born to its own affairs,
Its own joys and own cares;

By whom the work which God begun
Is finished, and not undone;
Taken up where he left off,
Whether to worship or to scoff;
If not good, why then evil,
If not good god, good devil.

Goodness! you hypocrite, come out of that,
Live your life, do your work, then take your hat.
I have no patience towards
Such conscientious cowards.
Give me simple laboring folk,
Who love their work,
Whose virtue is song
To cheer God along.
He also made a speech at the Concord Lyceum around that time that served as the inspiration for his most well-known article, Civil Disobedience, which promoted the use of the transcendent concept of intuition to guide judgments on significant matters of enormous concern.
Henry David Thoreau poems received some help from the commercial failure of A Week on the Concord when he started writing Walden, which would later become his most well-known book.
Robert Graves noted that although it received little acclaim when it was first published, it has subsequently become a significant text—even a sacred one.
READ ALSO:
There is a vale which none hath seen,
Where foot of man has never been,
Such as here lives with toil and strife,
An anxious and a sinful life.

There every virtue has its birth,
Ere it descends upon the earth,
And thither every deed returns,
Which in the generous bosom burns.

There love is warm, and youth is young,
And poetry is yet unsung.
For Virtue still adventures there,
And freely breathes her native air.

And ever, if you hearken well,
You still may hear its vesper bell,
And tread of high-souled men go by,
Their thoughts conversing with the sky.
Low-Anchored Cloud [Mist]
As he grew older, Thoreau's fascination in nature increased. He worked as a field surveyor and recorded all of his findings in his diary.
Even though he was frequently dismissed as a hobbyist scientist, he kept traveling widely across North America, visiting places like Quebec and Niagara Falls.
Low-anchored cloud,
Newfoundland air,
Fountain-head and source of rivers,
Dew-cloth, dream-drapery,
And napkin spread by fays;
Drifting meadow of the air,
Where bloom the daisied banks and violets,
And in whose fenny labyrinth
The bittern booms and heron wades;
Spirit of lakes and seas and rivers,
Bear only perfumes and the scent
Of healing herbs to just men's fields!
Let Such Pure Hate Still Underprop
Thoreau also actively took part in the abolitionist cause, praising Captain John Brown, who had been detained while attempting to incite a slave uprising, in articles and speeches.
READ ALSO:
Let such pure hate still underprop
Our love, that we may be
Each other's conscience,
And have our sympathy
Mainly from thence.

We'll one another treat like gods,
And all the faith we have
In virtue and in truth, bestow
On either, and suspicion leave
To gods below.

Two solitary stars–
Unmeasured systems far
Between us roll;
But by our conscious light we are
Determined to one pole.

What need confound the sphere?–
Love can afford to wait;
For it no hour's too late
That witnesseth one duty's end,
Or to another doth beginning lend.

It will subserve no use,
More than the tints of flowers;
Only the independent guest
Frequents its bowers,
Inherits its bequest.

No speech, though kind, has it;
But kinder silence doles
Unto its mates;
By night consoles,
By day congratulates.

What saith the tongue to tongue?
What hearest ear of ear?
By the decrees of fate
From year to year,
Does it communicate.

Pathless the gulf of feeling yawns;
No trivial bridge of words,
Or arch of boldest span,
Can leap the moat that girds
The sincere man.

No show of bolts and bars
Can keep the foeman out,
Or 'scape his secret mine,
Who entered with the doubt
That drew the line.

No warder at the gate
Can let the friendly in;
But, like the sun, o'er all
He will the castle win,
And shine along the wall.

There's nothing in the world I know
That can escape from love,
For every depth it goes below,
And every height above.
It waits, as waits the sky,
Until the clouds go by,
Yet shines serenely on
With an eternal day,
Alike when they are gone,
And when they stay.

Implacable is Love–
Foes may be bought or teased
From their hostile intent,
But he goes unappeased
Who is on kindness bent.
The Inward Morning
Since his early 20s, TB had afflicted Thoreau, and by the 1860s, he was terminally ill and in bad condition. When he got back to Concord, he passed away there at 48.
Packed in my mind lie all the clothes
Which outward nature wears,
And in its fashion's hourly change
It all things else repairs.

In vain I look for change abroad,
And can no difference find,
Till some new ray of peace uncalled
Illumes my inmost mind.

What is it gilds the trees and clouds,
And paints the heavens so gay,
But yonder fast-abiding light
With its unchanging ray?

Lo, when the sun streams through the wood,
Upon a winter's morn,
Where'er his silent beams intrude,
The murky night is gone.

How could the patient pine have known
The morning breeze would come,
Or humble flowers anticipate
The insect's noonday hum–

Till the new light with morning cheer
From far streamed through the aisles,
And nimbly told the forest trees
For many stretching miles?

I've heard within my inmost soul
Such cheerful morning news,
In the horizon of my mind
Have seen such orient hues,

As in the twilight of the dawn,
When the first birds awake,
Are heard within some silent wood,
Where they the small twigs break,

Or in the eastern skies are seen,
Before the sun appears,
The harbingers of summer heats
Which from afar he bears.
Recently Thoreau's role in American philosophy received serious attention; from this conclusion, it is probable that his impact will continue to grow.
Ensure to share this collection of Henry David Thoreau poems with your peers in your little poetry community or reader's hub.