Poems with Four Lines, Examples of poems with Quatrain
Poems with Four Lines, Examples of poems with Quatrain
Poems with Four Lines – A stanza is a set of lines in a poem grouped together and set apart from other stanzas in the poem either by a double space or by different indentation.
Poems may contain any number of stanzas, depending on the author's wishes and the structure in which the poet is writing.
While there are many dozens of obscure forms, here are a few common stanza examples:
Closed Couplet: A stanza of 2 lines, usually rhyming
Tercet: A stanza of 3 lines. When a poem has tercets that have a rhyme scheme of ABA, then BCB, then CDC, and so forth, this is known as terza rima. One famous example is Dante's Divine Comedy.
Quatrain: A stanza of 4 lines, usually with rhyme schemes of AAAA, AABB, ABBA, or ABAB
Cinquain: A stanza of 5 lines
Sestain or Sestet: A stanza of 6 lines (when discussing Italian sonnets the appropriate term is sestet; the Italian sonnet form starts with an octave and is concluded by a sestet)
Octave: A stanza of 8 lines in iambic pentameter or hendecasyllables, usually with the rhyme scheme ABBA ABBA
The Poems That are written below are Quatrain Poems. Do Enjoy your read.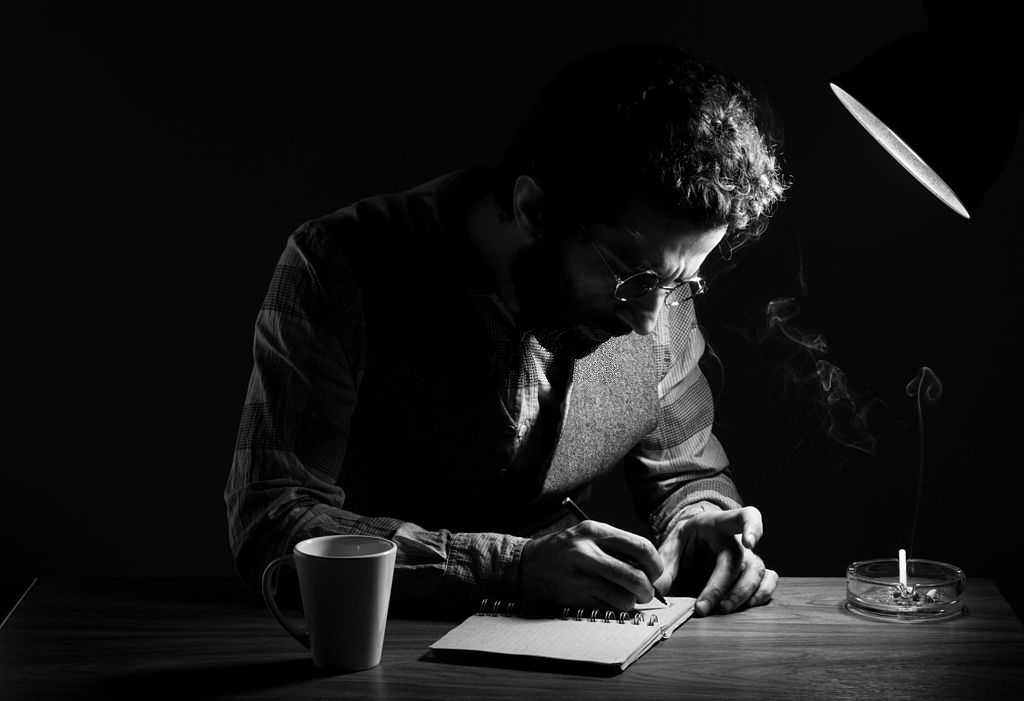 1. As the sun set in the forest
As the sun set in the forest,
she slipped out of her slip. she left
it on a branch and then asked me
to follow. her bells became stars.

when the boomerang moon melted,
as the sun set in the forest,
her trail went cold. i tried to find
which way but only the raven

knows. the moon caught a glimpse of sun
but shadow clouds surrounded her
as the sun set in the forest.
there was nothing i could explain.

she was naked and i was scared
of not having her promises,
not that i could ever keep them,
as the sun set in the forest.
– Poem by Robert Lee Brewer
2. The Chimney Sweeper
When my mother died I was very young,
And my father sold me while yet my tongue
Could scarcely cry " 'weep! 'weep! 'weep! 'weep!"
So your chimneys I sweep & in soot I sleep.

There's little Tom Dacre, who cried when his head
That curled like a lamb's back, was shaved, so I said,
"Hush, Tom! never mind it, for when your head's bare,
You know that the soot cannot spoil your white hair."

And so he was quiet, & that very night,
As Tom was a-sleeping he had such a sight!
That thousands of sweepers, Dick, Joe, Ned, & Jack,
Were all of them locked up in coffins of black;

And by came an Angel who had a bright key,
And he opened the coffins & set them all free;
Then down a green plain, leaping, laughing they run,
And wash in a river and shine in the Sun.

Then naked & white, all their bags left behind,
They rise upon clouds, and sport in the wind.
And the Angel told Tom, if he'd be a good boy,
He'd have God for his father & never want joy.

And so Tom awoke; and we rose in the dark
And got with our bags & our brushes to work.
Though the morning was cold, Tom was happy & warm;
So if all do their duty, they need not fear harm.
– Poem by William Blake
3. Because I could not stop for Death
Because I could not stop for Death –
He kindly stopped for me –
The Carriage held but just Ourselves –
And Immortality.

We slowly drove – He knew no haste
And I had put away
My labor and my leisure too,
For His Civility –

We passed the School, where Children strove
At Recess – in the Ring –
We passed the Fields of Gazing Grain –
We passed the Setting Sun –

Or rather – He passed Us –
The Dews drew quivering and Chill –
For only Gossamer, my Gown –
My Tippet – only Tulle –

We paused before a House that seemed
A Swelling of the Ground –
The Roof was scarcely visible –
The Cornice – in the Ground –

Since then – 'tis Centuries – and yet
Feels shorter than the Day
I first surmised the Horses' Heads
Were toward Eternity –
– Poem by Emily Dickson
4. Stopping by Woods on a Snowy Evening
Whose woods these are I think I know.
His house is in the village though;
He will not see me stopping here
To watch his woods fill up with snow.

My little horse must think it queer
To stop without a farmhouse near
Between the woods and frozen lake
The darkest evening of the year.

He gives his harness bells a shake
To ask if there is some mistake.
The only other sound's the sweep
Of easy wind and downy flake.

The woods are lovely, dark and deep,
But I have promises to keep,
And miles to go before I sleep,
And miles to go before I sleep.
– Poem by Robert Frost
5. In Good Time
Life can seem an endless maze,
The twists and turns, lulls and delays,
But things always fall into place…
In good time.

Friends will sometimes go away.
Some may disappoint or others betray,
But new ones will come to stay…
In good time.

The hurt of getting something wrong,
And the lesson it often brings along
Are there, you see, to make you strong…
In good time.

Kindness freely given away,
Unnoticed now, will somehow find its way
Back to you and come to stay…
In good time.

Efforts seem not to pay to plan?
Forge on friend, doing the best you can.
Fortune will find the deserving man…
In good time.

Life can be tough, there's no doubt,
But hope is the thing we can't do without.
Right things with joy will come about…
In good time.
– Poem by Abimbola T. Alabi
6. My Soulmate
I still say I Love You,
But now there's no reply.
I always feel your presence
As if you never left my side.

I remember your comforting voice.
Now there's not a sound.
Only echoes from the past
Follow me around.

You're always by my side,
But I can't hold your hand.
The reason why God took you
I find hard to understand.

Summer days seem much shorter.
Dark nights just linger on.
Dreams turn into nightmares
When the one you love has gone.

But real love never fades.
It still burns like the sun.
Although they're far away,
Those memories go on and on.

Her spirit will never die
It shines like the stars.
I know you're sleeping in heaven,
But you're living in my heart.
– Poem by John P. Read
7. Hope Is The Thing With Feathers
"Hope" is the thing with feathers –
That perches in the soul –
And sings the tune without the words –
And never stops – at all –

And sweetest – in the Gale – is heard –
And sore must be the storm –
That could abash the little Bird
That kept so many warm –

I've heard it in the chillest land –
And on the strangest Sea –
Yet – never – in Extremity,
It asked a crumb – of me.
– Poem by Emily Dickinson
8. A sense of Love
Love is not something you see.
It's meaning everything to me.
It's needing to have you in my life,
So much that I made you my wife.

Love is not something you hear.
It's always wanting to have you near.
It's needing to feel your lips each day
So much that no words could ever say.

Love is not something you taste.
It's never letting it go to waste.
It's needing to see you even when we fight,
So much or I'll miss you day and night.

Love is not something you touch.
It's knowing that you mean so much.
It's needing your skin when I'm in bed,
So much that you make me lose my head.

Love is not something you smell.
It's something that you're proud to tell.
It's needing to always make you smile,
So much that you make my life worthwhile.
– Poem by William Wilson
9. The Soul Print
Sitting in peaceful places
Upon Nature's natural faces
Silent sounds of the River's rushing
The Wind with the Trees harmoniously brushing

Quiet Clouds above calmly passing by
A Sea of blue and white that pleases the Eye
Mountains in the distance sit still in yellow light
The Sun ahead constantly coloring every sight

Never again will we ever be here
At this very moment let us not fear
For this is where the mind is content
This is where the Soul leaves its print
– Poem by Scott Mcintire
10. When You are Old
When you are old and grey and full of sleep,
And nodding by the fire, take down this book,
And slowly read, and dream of the soft look
Your eyes had once, and of their shadows deep;

How many loved your moments of glad grace,
And loved your beauty with love false or true,
But one man loved the pilgrim soul in you,
And loved the sorrows of your changing face;

And bending down beside the glowing bars,
Murmur, a little sadly, how Love fled
And paced upon the mountains overhead
And hid his face amid a crowd of stars.
– Poem by William Butler Yeats
A quatrain always has four lines, but there's a great deal of variation when it comes to the meter and rhyme scheme used.
Another important poetic stanza form is the couplet, which has less variation. If you learn about both of these stanza forms, you'll recognize them in most of the classic poetry you read. We do hope you enjoyed your read.
Daily Time Poems.