The 20 Absolute Best Bullet Journal Pens (2022)
Pens are kinda important for bullet journaling, so here are the 20 best bullet journal pens, no matter how long you have been bullet journaling!
Whether you're starting your first bullet journal or an experienced journaler, I've compiled a list of the best bullet journal pens I've found and used.
You could spend hours researching the best pens to use. Stand in front of the pen display at your local store or search online for hours because there are so many options.
Finding the right supplies is one of the most difficult aspects of starting a bullet journal. You don't want to spend a lot of money on things you won't use.
However, you also want to do everything possible to ensure your success.
Fortunately, I've been bullet journaling for years, and I'm going to share the best bullet journal pens I've discovered with you so you can start your bullet journal right away!
Finding the Best Bullet Journaling Pens
Finding the right pen can be difficult, but it does not have to be. Here are a few things to consider when selecting bullet journal pens:
How adaptable are they? Can you use them for multiple spreads, or are they only good for one?
Do they have a good reputation?
Are they prohibitively expensive?
Is it worth it to get the name brand, or should I go with a less expensive option? (In my experience, it's best to stick with a tried-and-true brand.)
Have I used this brand before, and if so, did I like the feel?
Will I actually use these pens?
The 20 Top Bullet Journal Pens
Pens are essential when it comes to bullet journaling. Whether you need black pens to draw precise lines or colorful brush pens to add flair and pizzazz, you'll find it all right here!
Sakura Pigma Micron
I had my first set for more than six years before ordering another. They are adaptable, daring, and extremely useful.
I enjoy using them for boxes, doodles, and outlining in my work. I am a huge fan of this brand, and I strongly advise you to get some.
Sakura Pigma Micron Fineliner Pens – Archival Black Ink Pens – Pens for Writing, Drawing, or…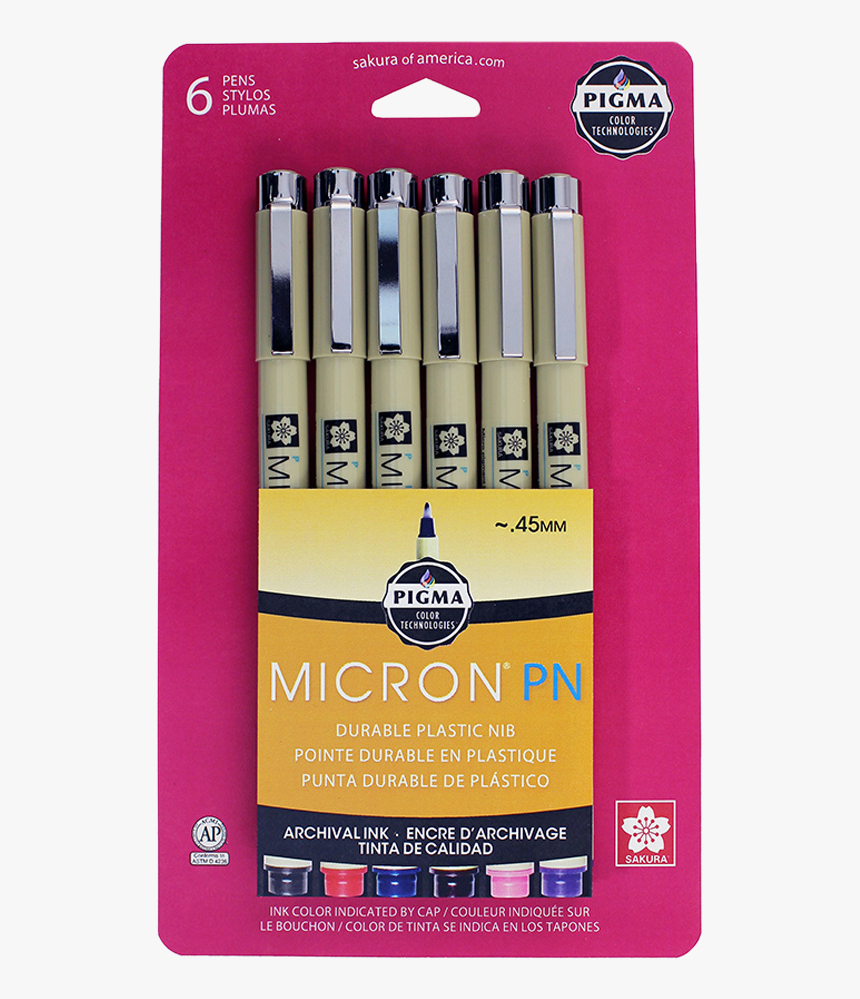 The Go-To Tool for Art, Work & Play: Black pens create precise marks that stand the test of time
Assorted Point Sizes: Contains 1 of each Micron pen: 005, 01, 02, 03, 05, 08
Archival Quality: Sakura Micron Pen ink is waterproof, fade-resistant, bleed-free, quick drying, and pH neutral
Create Freely: Pigma Micron pens pull color from single pigments for color consistency, every time
If you enjoy color, you've come to the right place. These ultra-fine pens come in a variety of colors and are suitable for any occasion.
Staedtler 334C42 Triplus Fineliner 42-Color Assorted Super Fine Water-Based Marker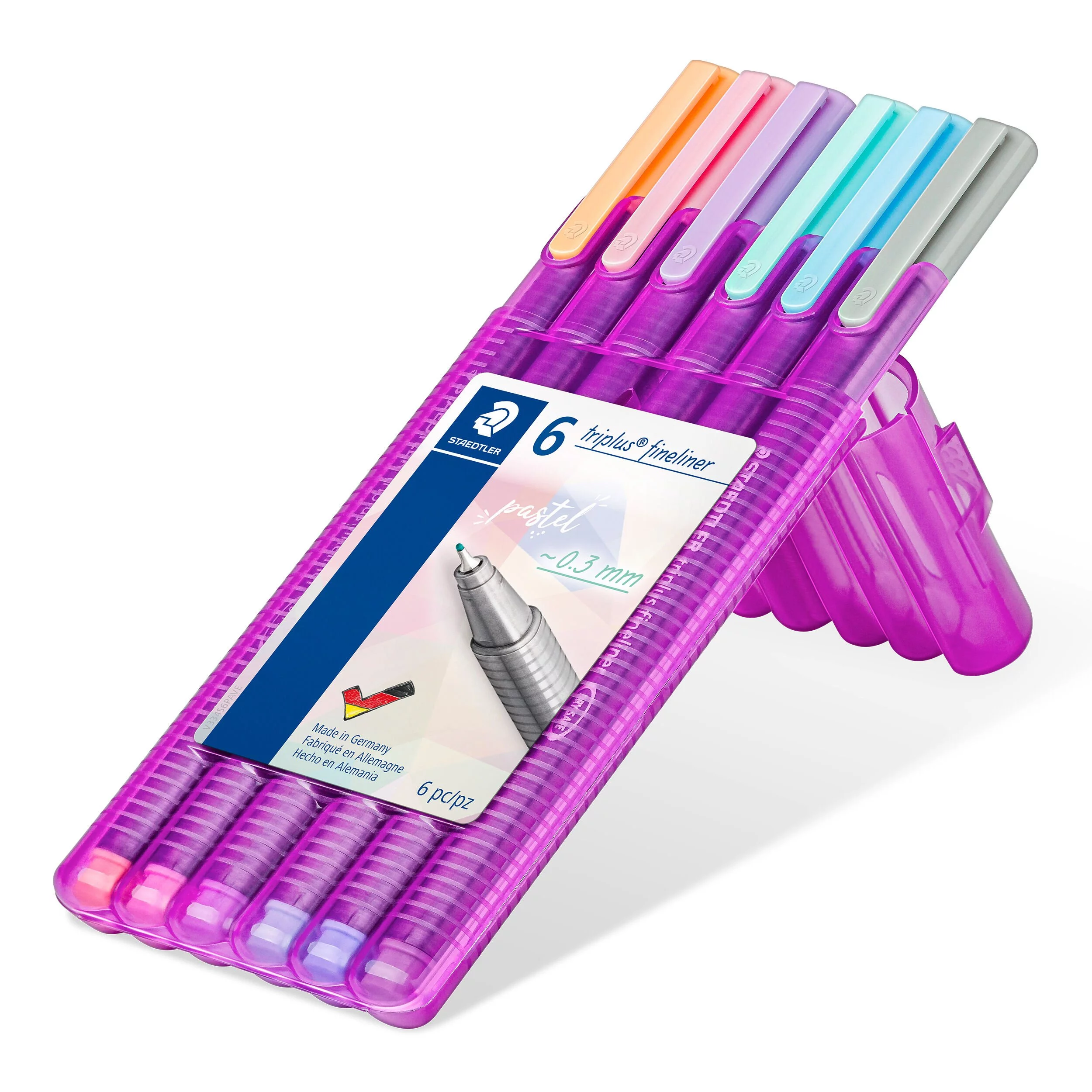 Assorted colors
Perfect for charts, maps, and graphs
Fiber-tipped
Water-based ink
If you want to add some personality to your bullet journal, this pen set is ideal!
Sakura Gelly Roll Moonlight 06 Gel Pens – Bold Point Ink Pen for Journaling, Art, or Drawing-…
Sakura Gelly Roll Pens: These pens don't bleed through paper and make a lasting mark
Vivid, Opaque Colored Ink: Gel pens have paint-like colored ink that flows creamy smooth onto light and dark paper
Archival Quality: Non-fluorescent pen ink is waterproof and fade-resistant when dry; fluorescent ink glows under blacklight
Unlimited Ways to Create: Moonlight Gelly Roll gel pens offer unlimited possibilities to create something unique.
Meet the pens that sparked my interest in taking notes. These juicy pens are brightly colored, adorable, and delightful.
Pilot Varsity Disposable Fountain Pens, Black Ink (90010), Pack of 6
A fashionable disposable fountain pen that's convenient and easy to use
Now with a new modern design
Advanced liquid ink system and unique real fountain pen nib guarantee smooth writing
A visible ink supply allows you to see how much ink is left
If you want a sturdy but smooth everyday writing pen, then you'll love the V5 pens. Cheap enough that you aren't afraid to use them, but nice enough that you'll love every second.
PILOT Precise V5 Stick Liquid Ink Rolling Ball Stick Pens, Extra Fine Point (0.5mm) Black Ink,…
Pilot Precise V5: This rolling ball pen has a patented extra fine precision tip to deliver smooth, skip-free writing every time. Our unique ink formula maintains even, flowing strokes for precise…
Precision Point: You'll love the clean lines & even ink delivery of this rolling ball pen. Available in black, blue, red, turquoise, purple, & green ink. A visible ink supply means you'll never run dry
Designed to Delight: If you love Pilot Precise pens, you'll want to try the full line of Precise V5, V5 Deco Collection, & V7 rolling ball pens, available in capped & retractable options.
Trusted Quality: We've been making pens for over 100 years. Whether you're taking notes, stocking up on school or office supplies, or writing in a bullet journal, Pilot has the perfect pen for you.
Talk about a crowd favorite. A great high-quality pen that delivers smooth writing that doesn't smear or smudge. These are deserving of their wild popularity.
PILOT G2 Premium Refillable and Retractable Rolling Ball Gel Pens, Fine Point, Assorted Color Inks,…
The Ideal Pen for Overachievers: The smooth writing, long-lasting Pilot G2 Premium Gel Ink Pen features a comfortable rubber grip, and is available in ultra-fine, extra fine, fine, and bold point
Longest Lasting, Refillable Gel Ink: Proven to be the longest writing gel ink pen among top brands, the smooth-writing, retractable G2 gel ink pen is a classic choice for all your writing needs
Perfectly Suited for You: If you love the original Pilot G2, you'll want to try our full G2 line of Mini, Metallic, Mosaic, and Fashion gel ink pens in a variety of sizes, barrel designs, and colors
Trusted Quality: We've been making pens for over 100 years; Whether you're taking notes, stocking up on school or office supplies, or writing in a bullet journal, Pilot has the perfect pen for you.
I love these so much that I ask for a new set every Christmas.
uni-ball Vision Rollerball Pens Fine Point, 0.7mm, Black, 12 Pack
Rollerball Pen: Capture fine details with the superior precision of our roller ball pens; Our fine-point pens come filled with vibrant, smooth-flowing ink that won't fade
Uni Flow Ink System: Equipped with an exclusive ink system, our fine-point pen delivers smooth-flowing ink, allowing you to create concise, flawless documents with vibrant lines
Uni Super Ink: Water- and fade-resistant ink helps you compose long-lasting, high-quality documents you can archive; Our ink pens offer protection against water, fading, and fraud
Quality Construction: Equipped with a visible ink window, our writing pens ensure you don't run out unexpectedly; A convenient clip ensures that your favorite ink pen is always at hand.
Did you know you can use these for brush lettering? Exciting, right? I love them because they are inexpensive, flexible, and work great on most papers. Plus, there's a wide range of colors in the big pack. What's not to love?
Tombow 56185 Dual Brush Pen Art Markers, Bright, 10-Pack. Blendable, Brush and Fine Tip Markers
Ideal for fine art, brush lettering, faux calligraphy, illustrations, watercolor illustrations, journaling, and more!
Set of 9 colors and 1 blender pen, with a flexible brush tip and fine tip in one marker
Brush Tip: Durable and flexible nylon fiber brush tip, creates medium or bold strokes by changing brush pressure
Fine Tip: gives consistent lines.
Click here to buy on Amazon.
Tombow Fudenosuke Brush Pen
Tombow Fudes are perfect for hand lettering in your bullet journal because they are so small. They are ideal for headers or drawing out boxes and dividers.
You can also use them with watercolors without having to deal with any bleeding, which is a huge bonus for me.
Tombow Fudenosuke Brush Pen – Hard – 10 Colors Set (WS-BH10C)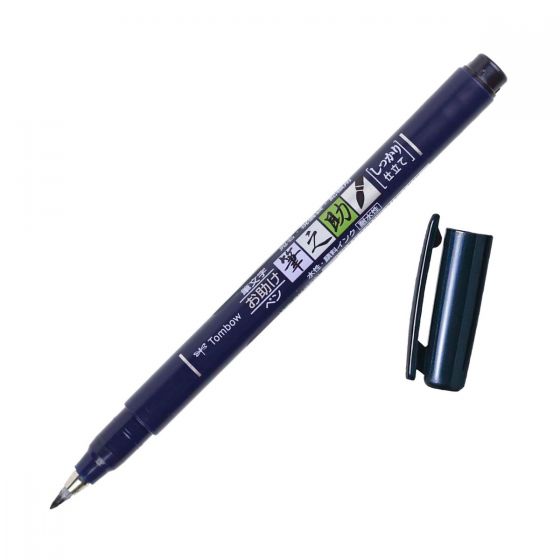 Water-resistant, light-resistant, pigment-based ink
Elastomer pen tips provide control when drawing lines
10 colors set: black, blue, Brown, Gray, green, orange, pink, purple, red, and yellow features.
One of the most common fears for new bullet journalers is that they are going to screw up, and the truth is you will! But that is not a big deal, mistakes happen.
However, if you're someone who can not stand having mistakes stick around, make sure to check out the FriXion. These pens are erasable, so you never need to worry about making a mistake again!
Pilot Frixion ColorSticks Erasable Gel Ink Pens, Fine Point (0.7mm), Assorted, 10 Count (32454)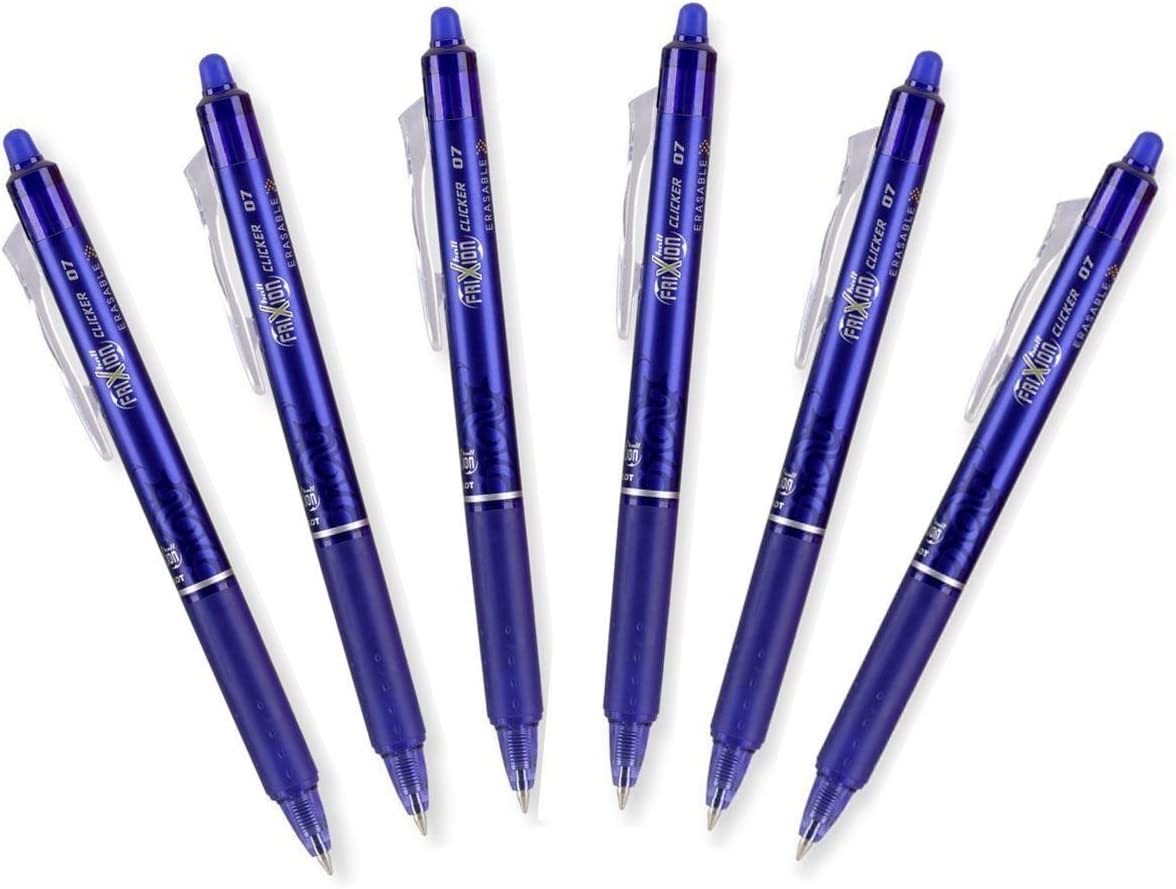 Pilot FriXion Fineliner: A bright way for bright minds to get into STEM, FriXion is the first erasable fine point marker pen; Its unique thermo-sensitive ink formula lets you erase and rewrite…
Unlimited Do-overs: FriXion ColorStick pens feature a slim, non-rolling capped barrel design & are available in 16 stunning gel ink colors. Ideal for homework, grading, or creating bullet journals…
The Power of STEM: The science behind FriXion erasable pens embodies the principles of STEM and enables exciting hands-on demonstrations; Frixion is the 1st and only pen authenticated by the…
Trusted Quality: We've been making pens for over 100 years. Whether you're taking notes, stocking up on school or office supplies, or writing in a bullet journal, Pilot has the perfect pen for you.
Zebra Mildliner Double-sided Highlighter
These highlighters are fantastic. The eye-catching colors are ideal for taking notes or simply decorating your bullet journal. They also have a dual tip, which is very convenient.
After you get your hands on these, you'll never want another set of highlighters. A detailed review can be found here.
A felt tip pen has a nice feel to it. They write very smoothly and produce nice dark black lines. If you enjoy color, these pens may not be for you, but if you prefer a more minimalist approach, these pens are ideal.
Paper Mate Flair Felt Tip Pens | Medium Point 0.7 Millimeter Marker Pens | Back to School Supplies…
Point Guard prevents the tip from fraying even after repeated use
Quick drying, Water-based ink resists smearing
Specially Designed ink will not bleed through paper
Medium Point produces Bold and expressive Lines.
This set from Kelly Creates is the perfect bullet journal pen for anyone with an artistic flair.
Kelly Creates Pens, Multicolor
Water-based dye ink flows freely through the bristle brush tip
Achieve a watercolor effect without the watercolor mess
Comes in a variety of colors
If you're looking for a set of pens that can be used for everything, look no further. This set is great for regular writing or fancy writing like lettering because it includes some cool brush pens.
They are suitable for use with watercolors, and the black is true black.
Faber-Castell Pitt Artist Pen Pack of 8 Assorted Sizes, 8 Black, 8 Count
PITT artist pens contain pigmented India ink that is both archival and acid-free
Perfect for drawing on the go!
A convenient wallet keeps all your drawing tools together
Pigmented India ink that is both acid-free and pH Neutral
This simple, versatile brush pen is one that I constantly turn to for bold dark lines. I often use it to draw out the boxes in my dailies and calendars.
Pentel Arts Pocket Brush Pen, Includes 2 Black Ink Refills (GFKP3BPA)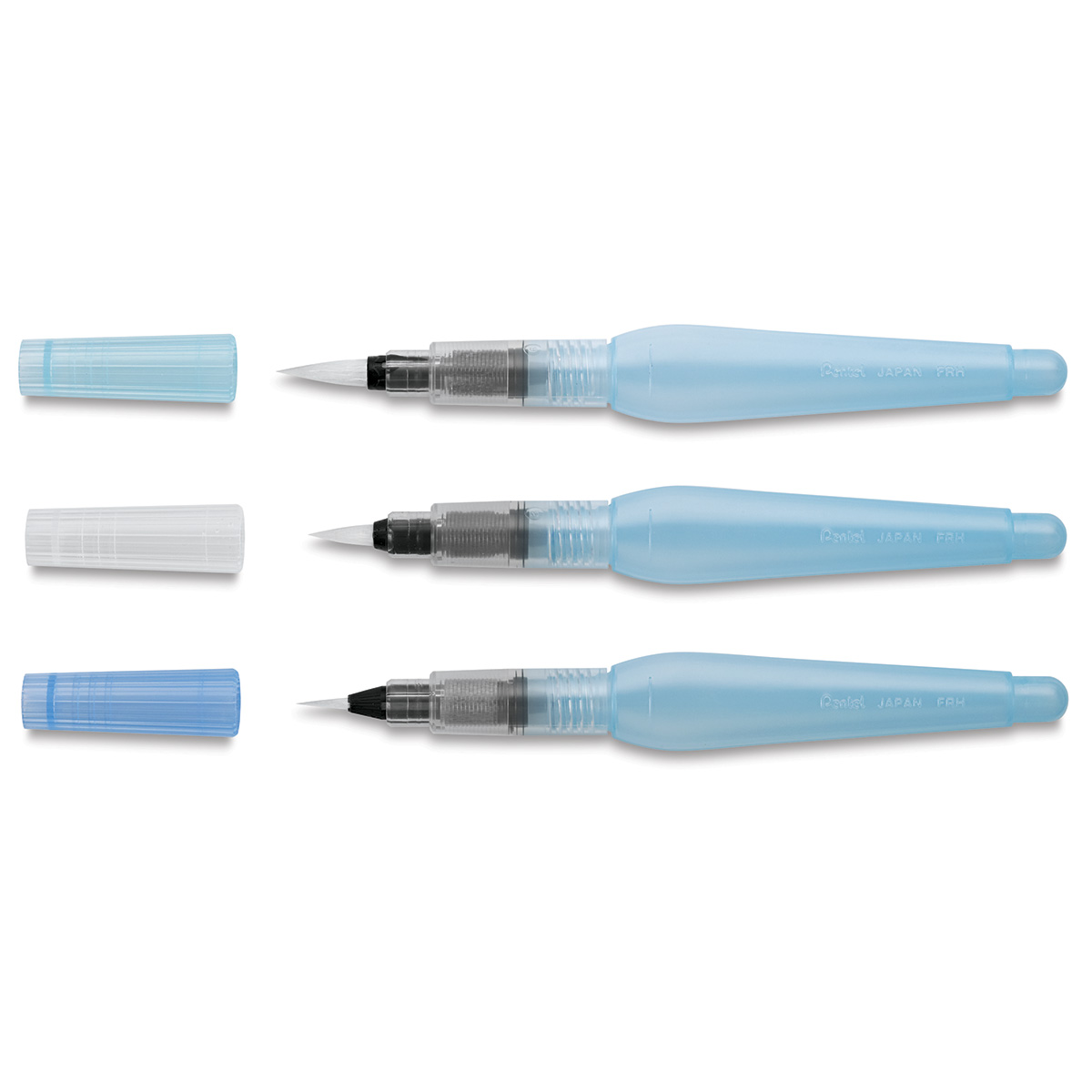 Portable, neat, and easy-to-use versus traditional paint and brushes: Ideal for painting on Location
Permanent pigment ink is both fades- and water-resistant
Durable, Premium bristles help create fine to broad lines in a single Brushstroke
Refill cartridges make for an easy, no-mess ink Replacement.
This one is a bit of an outlier; it is technically a pen, but it is not your typical bullet journal pen. However, if you're willing to learn how to use one, it's fantastic for bullet journaling!
Pentel Arts Aquash Water Brush Assorted Tips, Pack of 3 (FRHBFMBP3)
Create a watercolor masterpiece with the Aquash Water Brush
Fill the barrel with water and blend powdered pigment, watercolor crayons and pencils, pastels, and more.
Ideal to use with Sign Pen Brush products
Control the water flow with just a squeeze of the barrel. The durable, nylon tip will give a sensitive response to delicate lines or pools of water
This fountain pen is a low-cost, smooth option that will make you want to write every day. I like to use fun inks with my Metropolitan, but even a simple black ink makes each planning session feel special.
PILOT MR Retro Pop Collection Fountain Pen in Gift Box, Turquoise Barrel with Dots Accent, Fine…
Pilot Mr: This refillable modern fountain pen delivers refined style & an exceptionally smooth writing experience. Premium brass barrel with stainless accents, packaged in an elegant gift box. Fine or…
Use with Converter or Cartridge: The versatile Pilot MR Fountain Pen is compatible with the Pilot Con-70 converter (included)& it can also be used with convenient Pilot IC-100 ink cartridges.
Pilot Mr. Collection: The expressive MR Fountain, Ball Point, & Gel Roller pens are available in a variety of options, including the refined Metropolitan, eclectic Retro Pop, & exotic Animal…
Trusted Quality: We've been making pens for over 100 years. Whether you're taking notes, stocking up on school or office supplies, or writing in a bullet journal, Pilot has the perfect pen for you!
The Lamy Safari is a great first fountain pen for any bullet journaler. This stylish pen offers quality and a great feel for an affordable price.
Lamy Safari White Fountain Pen – Fine Nib L19-WE-F
Sturdy ABS blastic plastic, With flexible shiny chrome clip
Can be modified for use with converter Z 24)
Use T10 Ink Cartridge
The Unlimited Bullet Journal Pens
These pens give you a plethora of options for drawing, lettering, and writing. Each has something unique to offer.
You might discover that having several different sets to cover all of your needs appeals to you; after all, you can never have too many pens, right?
Don't forget to check out all of the other supplies I'm currently using for inspiration!
Want to Take Your Creativity to the Next Level?
On this platform, you can see some of our projects. You can gain access to the entire course library, which includes a growing number of creative classes such as watercolor journaling, banner drawing, bounce lettering, watercolor lettering, and more.
You'll have plenty of inspiration with over a dozen full courses and more being added every month.
Each course includes in-depth lessons and step-by-step projects to help you improve your skills. You'll also get personalized professional feedback on your projects, which will help you boost your confidence and move closer to your creative goals.
Final Thought
That's all there is to it! The ultimate list of pens and markers for bullet journaling, please let me know if you try something new from this post and enjoy it! I'd love to hear about your experiments.