Acrostic Poem on Friends Perfect for All Moments Must Read
Acrostic Poem on Friends Perfect for All Moments Must Read.
Acrostic Poem on Friends – An acrostic is a poem (or other types of writing) in which a phrase, message or alphabet is spelled out in the first letter (or syllable, or word) of each line (or paragraph, or other recurring feature in the text).
The phrase comes from the French acrostiche, from the post-classical Latin acrostichis, from the Greek Koine, from the Greek Koine, from the Ancient Greek, from the "highest, topmost" and from the "verse" of the Greek Koine.
An acrostic can be used as a mnemonic device to assist memory retrieval as a means of constrained writing.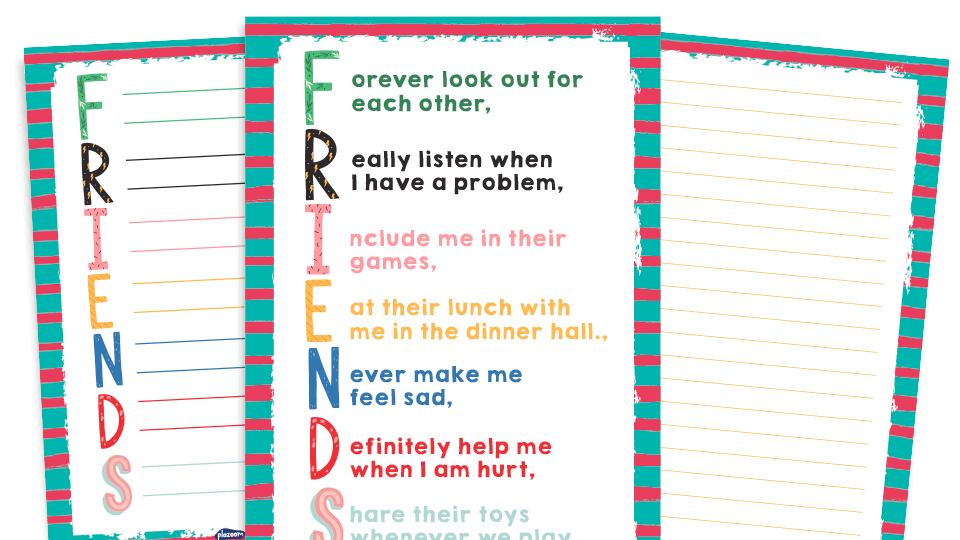 1. Friends
F- Friends are precious gifts
R- Rare and hard to find
I- Invisible when life is good
E- Ever near when your sun doesn't shine
N- Nothing is ever too much
D- Distance never too far
S- Standing by your side when your dreams have passed you by.

By John P. Read
2. A F-R-I-E-N-D
A FRIEND
F is for the fun we had together
R is for the relaxing time we shared together
I is for the interesting moments we had
E is for the entertaining time we spent
N is for the never-ending friendship that we'll have
D is for the days we'll never forget

You never stop listening to all my troubles.
Your advice and sympathy helped me move on.
You made me forget the pain that crushed my heart.
You were my pain relief.

Now after all this,
I have learned so much from you,
And I want the world to know
How lucky I am
TO have a friend like you.

by Vaish
3. Father
Forever in my heart,
Always on my mind.
Together again we will be, all in God's time.
Heaven gained another angel the day you left.
Eternity promises you much needed rest.
Rest now, Daddy, I'll be okay because I carry you with me every single day.

by Jodi M. Kucera
4. B – Is For Birthday
H – is for the Happiest of all days
A – is for All the wishes and praise
P – is for the Presents you'll open with delight
P – is for the Party that will last into the night
Y – is for the Year leading up to your day

B – is for the Balloons a celebration they'll say
I – is for the Ice cream to have with your cake
R – is for the Ribbons and decorations you'll make
T – is for the Theme you'll decided to throw
H – is for the Hats made with confetti and a bow
D – is for the Day you know will be fun
A – is for Another great year that is done
Y – is for Your special day.

Happy Birthday! Happy Birthday! Hip-hip hooray!

By Erika L. Shields
5. Hope In A Dream
Hold onto your dream while mindful of time.
Optimism required, let your light shine.
Persistence prevails, while some may cast doubt.
Expectation desired is what it's about.

by Adalia Medina
6. Our Love
L is for "laughter" we had along the way.
O is for "optimism" you gave me every day.
V is for "value" of being my best friend.
E is for "eternity," a love that has no end.

by John P. Read
7. Love Stays Hopeful
However many tough things we go through
Or any regret we can't undo,
Please know I will be here.
Even far away, I will still be near.

by Katelynn A. Thacker
8. Grandma
Grandma is one special angel, a
Really gentle, beautiful soul.
Angel of God, so pure and whole.
Never leave me, stay close by.
Dance with Grandpa up in the sky.
Miss you today, miss you tomorrow.
Always and forever, I'll feel such sorrow.

By Ilona M. Blake
9. Marriage
M is for Making a future that will last.
A is for Accepting both the present and the past.
R is for Respect for each other every day.
R is for Remembering those special things to say.
I is for Issues, which no doubt will challenge you.
A is for Always find a way to talk them through.
G is for Growing the love that keeps you strong.
E is for Endurance when sometimes things go wrong.

by Linda Harrison
10. The Poetry Masters
This is to all the great Master Poets of art,
Having the skills, the words, and the smarts.
Emotions you've captured, the thoughts you provoked.

Pouring your heart out with pen in your hand,
Orchestrating your words like no one can.
Elizabeth Browning, Dickinson, Shakespeare, and Poe,
Twain and Frost – these great ones you know.
Reflecting on their works, which have brought us to tears.
Yes, yearning for more, we felt all their fears.

Masterfully crafted their words – they can fool,
Artist on paper, their pen is their tool.
Strategy playing with rhythm and rhymes,
Touching our hearts and enriching our minds.
Experts and masters, their poems live on.
Reflecting on your memory now that you're gone.
So, thanks for your poetry.
I leave with this thought,
"How do I Love Thee?"
Acrostic Poem on Friends – An acrostic poem is a poem where a word or phrase is spelt out in the first letter of each line, which is usually the topic of the poem.
These letters will usually be larger or bolder or colored in some way so that you can clearly see the word and spot that it is an acrostic poem.