Famous Short Descriptive Poems you can Relate with Must Read
Famous Short Descriptive Poems you can Relate with Must Read.
Famous Short Descriptive Poems – Descriptive poetry is the name given to a literature class in Europe that belongs predominantly to the 16th, 17th, and 18th centuries.
From the earliest ages, all poetry that was not subjectively lyrical was inclined to indulge in the descriptive ornament.
Descriptive poetry is poetry in which a didactic intention or even more of the instinct of a sublimated auctioneer prevails, rather than creative passion.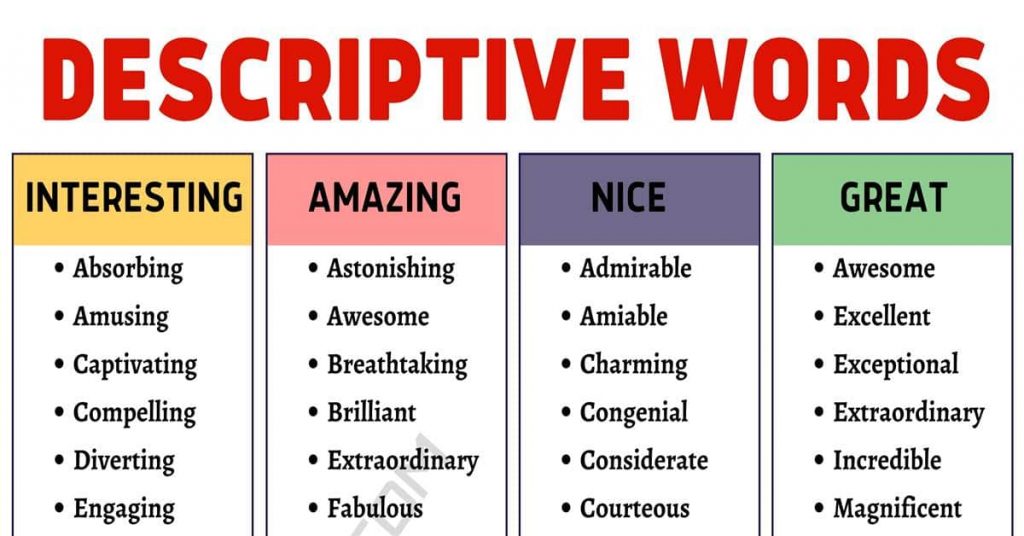 1. What I Love About You
The sparkle in your eye,
The warmth of your skin,
Your breath on my neck
That shakes me within.

The touch of your hand,
The smell of your hair,
The naughtiness in your smile,
That strength in your stare.

Your kiss on my lips,
Your body near mine,
The stroke of your touch,
Makes everything feel fine.

The compassion in your touch,
The power in your face,
The beating of your heart,
That we may never end our embrace.

The beauty of your kiss,
And that magic in your touch.
It is for all these reasons and more
Why I love you so much.

by Nidhi Kaul
2. I Wandered Lonely As A Cloud
I wandered lonely as a cloud
That floats on high o'er vales and hills,
When all at once I saw a crowd,
A host, of golden daffodils;
Beside the lake, beneath the trees,
Fluttering and dancing in the breeze.

Continuous as the stars that shine
And twinkle on the milky way,
They stretched in never-ending line
Along the margin of a bay:
Ten thousand saw I at a glance,
Tossing their heads in sprightly dance.

The waves beside them danced; but they
Out-did the sparkling waves in glee:
A poet could not but be gay,
In such a jocund company:
I gazed—and gazed—but little thought
What wealth the show to me had brought:

For oft, when on my couch I lie
In vacant or in pensive mood,
They flash upon that inward eye
Which is the bliss of solitude;
And then my heart with pleasure fills,
And dances with the daffodils.

by william wordsworth
3. Nature's Way
Upon a nice mid-spring day,
Let's take a look at Nature's way.
Breathe the scent of nice fresh air,
Feel the breeze within your hair.

The grass will poke between your toes,
Smell the flowers with your nose.
Clouds form shapes within the skies,
And light will glisten from your eyes.

Hear the buzzing of the bees,
Climb the tallest willow trees.
Look across the meadow way,
And you shall see a young deer play.

Pick the daisies as they grow,
Watch a gentle cold stream flow.
Know the sounds of water splash,
Catch its glimmer in a flash.

When altogether all seems sound,
Lay yourself upon the ground.
Take a moment to inhale,
And listen to Nature tell her tale.

by Heidi Campbell
5. His Presence
A friend of mine once asked me
Just how could I believe
In someone I never saw,
Nor spoken words received.

I thought, perhaps, I should explain
Just why I have no doubt
That it was God's creativeness
That brought this world about.

I only have to look around
To know that He is there.
I see and feel and hear Him.
That's why I'm so aware.

I see Him in the raindrops
That nourish trees and flowers.
I see Him in the rainbows
That sometimes follow showers.

by Alora M. Knight
6. Summer's Splendor By The Sea
Summer's splendor by the sea,
a gentle, blue serenity.
Caressing rays of golden sun,
blushing, bronzing all who come.
Enticed by its romantic lure,
lovers stroll the sandy shore.
Hushing rhythm of the waves
and salty, misty ocean sprays.
Sea birds echo call of cries,

pierce the deep blue azure skies
Dolphins dancing on their way
across the sea out to the bay.
A glistening, shiny, sun-soaked day.
All young and old alike at play,
building castles by the sea,
jumping waves and spirits free.
No place on earth as perfect to be
as summer's splendor by the sea!

by Patricia L. Cisco
7. Out Out
The buzz-saw snarled and rattled in the yard
And made dust and dropped stove-length sticks of wood,
Sweet-scented stuff when the breeze drew across it.
And from there those that lifted eyes could count
Five mountain ranges one behind the other
Under the sunset far into Vermont.

And the saw snarled and rattled, snarled and rattled,
As it ran light, or had to bear a load.
And nothing happened: day was all but done.
Call it a day, I wish they might have said
To please the boy by giving him the half hour
That a boy counts so much when saved from work.

His sister stood beside them in her apron
To tell them "Supper." At the word, the saw,
As if to prove saws knew what supper meant,
Leaped out at the boy's hand, or seemed to leap—
He must have given the hand. However it was,
Neither refused the meeting. But the hand!
The boy's first outcry was a rueful laugh,

As he swung toward them holding up the hand
Half in appeal, but half as if to keep
The life from spilling. Then the boy saw all—
Since he was old enough to know, big boy
Doing a man's work, though a child at heart—
He saw all spoiled. "Don't let him cut my hand off—
The doctor, when he comes. Don't let him, sister!"
8. Charming Spring
Reminiscent melodies
serenade the morning breeze.

Feathered creatures nest with care
in cherry blossoms pink and fair.

Perfumed scent of roses flow.
Tiny blades of green grass grow.

Misty showers soak the earth,
glorious colors come to birth.

Gathering clouds come and go,
rain, sun, and vibrant bow.

Dainty petals, fancy flair,
dancing in the warm, sweet air.

Violets, yellows, purest white,
graceful, gentle, welcomed sight.

Thank you, oh sweet lovely Spring,
patiently waiting the charms you bring!
9. Spring
Beautiful fresh purple flowers on a hill
Slowly moving water mill
Clumps of wet frost on the ground
Life is all around
Soft grasses pop out
Flowers sprout
Chirping birds in the woods
Weather is good
Melting mountain has begun
Frosty snow quickly runs
Bright, shiny sky is clear
Sweet, fresh, crispy smell fills the air
Famous Short Descriptive Poems – The portion of expression that represents a noun is an adjective (person, place, or thing). To offer a detailed and vivid description of the noun they are describing, poets use adjectives.
Using descriptive language to convey strong emotions such as pain or love will help the poet explain the strength of the emotions they encounter and to paint the reader with a more memorable image.