The 25 Best Books for Animal Lovers
An epic list of the 25 best animal books for adults, the books on this list span a variety of animals and topics, from eels to birds to dogs and cats.
The best adult animal books capture the awe of our animal companions. Animals bring us joy and companionship, as well as important lessons and wisdom that we humans can benefit from adopting in our own lives.
There are deep dives into crustaceans at the bottom of the ocean and birds flying high in the sky on this list of the best books for animal lovers. You'll meet kind elephants and enticing eels. You'll be taken deep into the jungle as well as right into the heart of the city.
Along the way, you'll gain a better understanding of what makes animals such beloved, dazzling, joyful, and fiercely intelligent creatures.
Best Books About Animals for Adult
The following animal books delve into the cognitive, emotional, and, dare I say, spiritual lives of nonhuman life forms ranging from the largest mammals to the tiniest insects: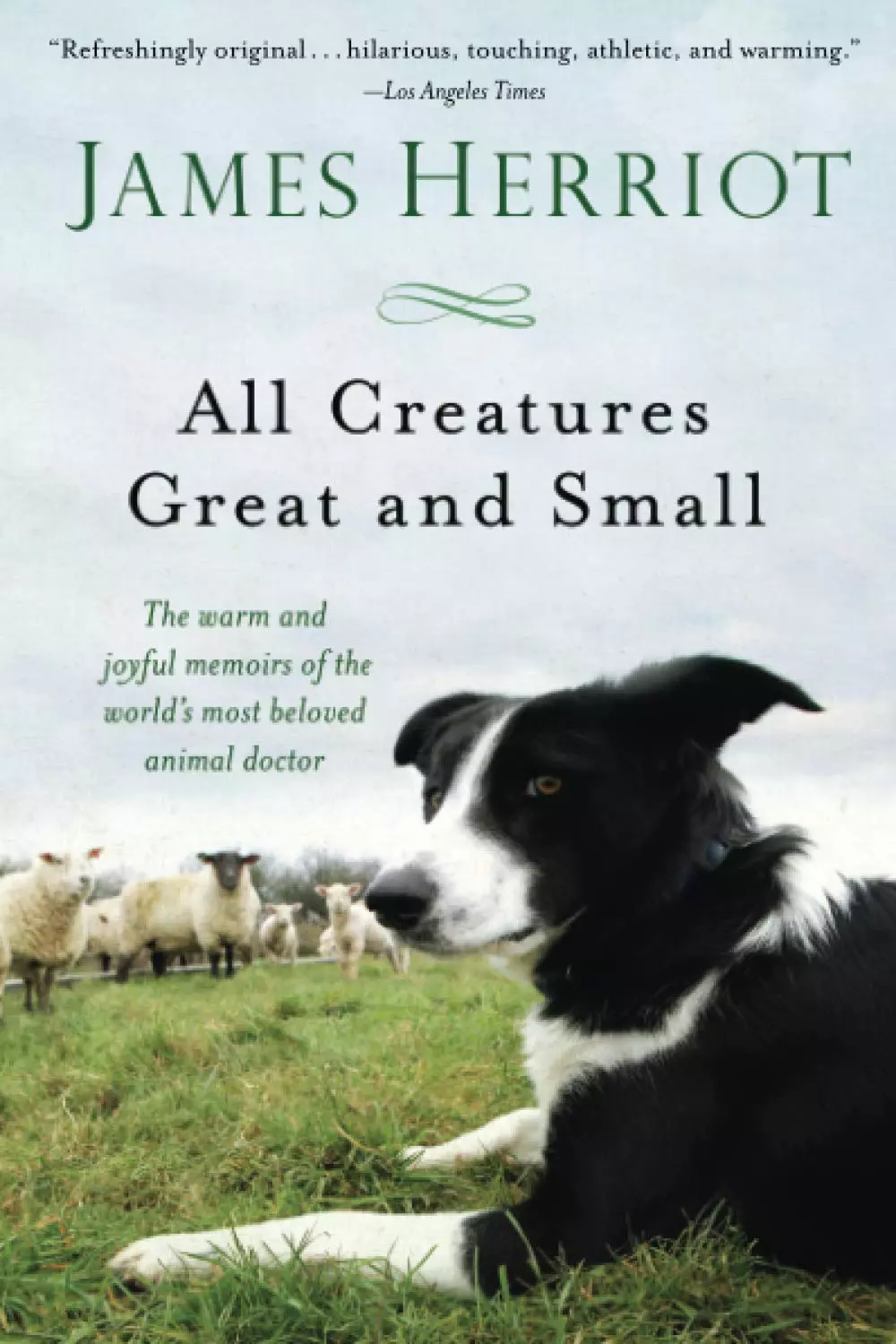 A classic and one of the best animal books for adults, All Creatures Great and Small is a cozy treat. James Herriot is a country veterinarian who treats animals with compassion and other people with kindness.
One of the best-selling animal books that have sold more than 80 million copies, All Creatures Great and Small recounts Herriot's memories of bonding with pets and farm animals alike in rural Yorkshire. You'll smile, laugh, and cry left with your faith in humanity and our creature kin restored.
How to read it: Buy All Creatures Great and Small on Amazon
Temple Grandin is a world-famous animal scientist who also has autism. In Animals in Translation, Grandin, with Catherine Johnson, highlights the similarities between animal behavior and autism in one of the best books for animal lovers.
Some people with autism experience a way of thinking that Grandin compares to animal cognition, making them translators of "animal talk," as Grandin puts it. Grandin proves her own argument through examples by discussing animal thinking and behavior.
How to read it: Buy Animals in Translation on Amazon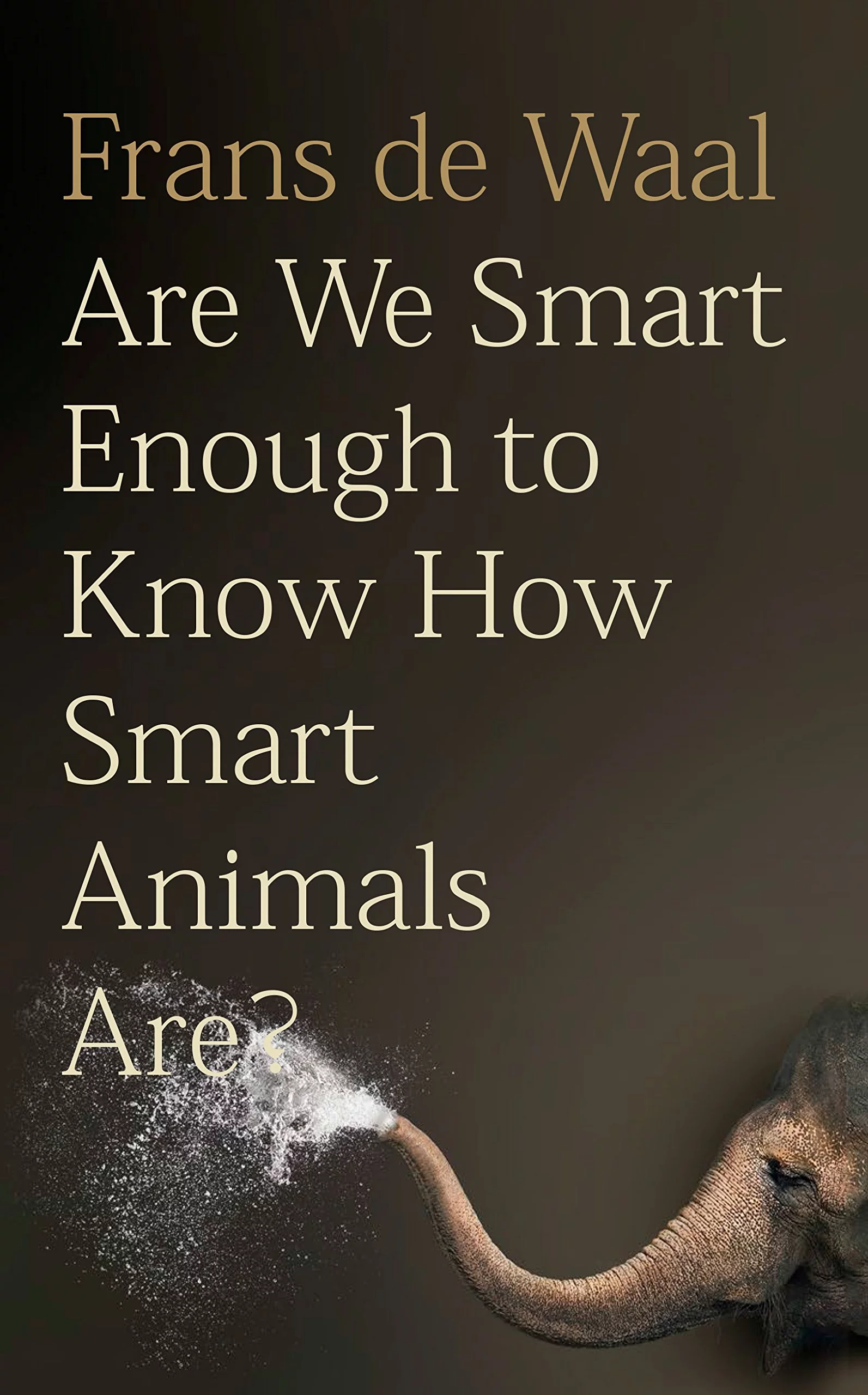 I love the title of this engaging book by animal science writer Frans de Waal. In Are We Smart Enough to Know How Smart Animals Are?, de Waal examines the psychological cognition of the animals that make up our world.
De Waal reveals how octopuses use coconut shells as tools and how elephants can determine and sort humans by their gender and language.
Packed with flashes of captivating stories about our animal friends and their mental acuity, de Waal's book is an entertaining trip through the cognitive lives of animals and ranks high among the best animal books for adults.
How to read it: Buy Are We Smart Enough to Know How Smart Animals are on Amazon
When we think of culture, we don't often automatically think of animals. But in Becoming Wild, Carl Safina shows how animals also establish inherent cultures unique to their species.
If you've ever wondered about which animals are democratic, which animals prize their females, and which animals have complex family dynamics, you'll find all that and more in Becoming Wild, a fascinating, eye-opening, and revelatory book about the animal culture that belongs on any list of the best books for animal lovers.
How to read it: Buy Becoming Wild on Amazon
Zoologist Lucy Cooke was used to the conventional evolutionary biology wisdom that stretches back to Darwin, that animals bow down to dominant males and keep their females on a lower level of respect. Yet that's simply not true, as Cooke shows in Bitch: On the Female of the Species, a unique take on zoology that puts female animals in the spotlight.
You'll meet murderous ladies praying mantises and animal cultures that glorify their queens. One key contribution to evolutionary biology that Cooke makes is noting how gender is fluid with animals as well as humans, so we should rethink gendering animals based on the duality of male vs. female.
Overall, Bitch is a groundbreaking book that fills in the missing pieces in our understanding of zoology. Though it's a more recent release, Bitch definitely deserves a spot on this list of the best animal books for adults.
How to read it: Buy Bitch: On the Female of the Species on Amazon
This charming memoir-history read is one of the best-selling animal books that has taken the world by storm.
For thousands of years, biologists, naturalists, and zoologists have been captivated by eels and the mysteries they provoke: How do they mate? How do they give birth? Why do they swim a great distance to the ocean just before they die?
Eels might seem simple, but in this book, Patrik Svensson shows just how genius they can be, with advanced cognition and complex behavior. You'll never think of an eel the same way again.
How to read it: Buy The Book of Eels on Amazon
One of the first major "microhistories," or books focused narrowly on one subject, Cod is a modern classic that won the prestigious James Beard Award for excellence in culinary nonfiction. In this book, Mark Kurlansky features the most humble of fish: the cod.
Kurlansky's book amplifies the importance of cod over thousands of years, from the wars fought over it in the 16th and 20th centuries to the fisherman whose livelihood depends on it, all the while never losing sight of the greater threat to cod with overfishing.
This book will make you rethink the next time you have cod or swim in the ocean among them.
How to read it: Buy Cod on Amazon
If you're as captivated by foxes as I am, Catherine Raven's Fox and I belong at the top of your to-be-read list. After getting her Ph.D. in biology, Raven set up camp in a remote cottage in Montana.
Meant to be a temporary stop, soon Raven comes to love her solitude, which is tossed out the window when a fox starts showing up every day at 4:15.
Taken aback by the fox's behavior, Raven begins to stoke a connection between them, reading The Little Prince to the fox and finding him a worthy companion. This memoir is funny, touching, and inspiring.
How to read it: Buy Fox and I on Amazon
Bestselling science writer Mary Roach sets her sights on animals and the law in Fuzz, exploring what happens when the two intersect.
In Fuzz, Roach focuses on animals who break the law. For example, you'll find yourself dumpster diving along with Roach as bears encroach on city streets; finding safety among the leopard-plagued hamlets of the Indian Himalayas, and getting mugged by a feisty macaque.
This book is funny and irreverent and a great book to start with reading Roach.
How to read it: Buy Fuzz on Amazon
I'm sure you'd agree with me that hummingbirds are an object of fascination. In The Glitter in the Green, celebrated national history writer Jon Dunn expands on that wonder at length.
Dunn entertains the legends and lore of hummingbirds, their fraught history, and their uncertain future, showing how hummingbirds are not just beautiful but also resilient creatures that often live among the world's harshest climates.
You'll come away with a greater appreciation of these glitteringly gorgeous, remarkably brave, and cognitively complex birds.
How to read it: Buy The Glitter in the Green on Amazon
Perhaps considered one of the most influential memoirs in our modern time, H is for Hawk is among the best books for animal lovers.
After losing her father, Helen Macdonald found refuge in processing her grief by studying the most stunning carnivorous bird, the goshawk. Already an experienced falconer, Macdonald had never tried to charm this legendary bird of prey.
In wake of her father's death, taking on the goshawk proves to be a worthy distraction, then preoccupation, then obsession. H is for Hawk is certainly one of the best animal books for adults. Read it and see why the New York Times named it one of their 10 best books of the year, as prestigious honor as it gets for books.
How to read it: Buy H is for Hawk on Amazon
Naturalist Sy Montgomery has written a prolific number of books about animals, but it's How to Be a Good Creature that I'm recommending in this list of the best animal books for adults.
In this memoir, Montgomery organizes her personal history through the lens of 13 animals, from pigs to tarantulas to dogs to octopuses and more.
Montgomery distills the wisdom that each of these animals can offer us humans about being a good creature here on earth. With wonderful illustrations by Rebecca Green, How to Be a Good Creature is a treasure.
How to read it: Buy How to Be a Good Creature on Amazon
German naturalist Peter Wohlleben is best known for his book The Hidden Life of Trees, but in The Inner Life of Animals, he's turned his talents from trees to our beloved members of the animal kingdom.
In The Inner Life of Animals, Wohlleben lifts up the curtain on animal behavior. This kaleidoscopic tour through the animal world illuminates how animals like horses are capable of feeling shame and how deer grieve for their lost loved ones.
You'll come away from this book, one of the best animal books for adults, better attuned to the emotions our creature friends experience just like us.
How to read it: Buy The Inner Life of Animals on Amazon
This extraordinarily interesting book focuses on the sensation and perception of animals amidst the world around them.
In An Immense World, Ed Yong sheds light on how animals experience the world, from how bees see flowers to the inaudible mating hum of insects to how dogs use the power of scent to help them in the street.
Yong's book is an invitation to look into the remarkable way that animals interact with the world surrounding them and us.
How to read it: Buy An Immense World on Amazon
Fun fact: when I was a freshman in college, I had Alexandra Horowitz as my intro to psych professor. Now, years later, Horowitz has found fame as a leading expert in dog psychology, as best represented in her book Inside of a Dog, which promises to reveal "What Dogs See, Smell, and Know."
Any dog lover will fall for this book, which is filled with intriguing insights into how dogs experience their world and ours. In particular, this book looks at the cognitive psychology of your pooch's mind.
You'll leave with better knowledge about how to understand and connect with your dog, and key takeaways that make this book a bestseller and one of the best animal books for adults. (If you like this book, check out Broke by Books' review of Nicole J. Georges's animal memoir, Fetch: How A Bad Dog Brought Me Home.)
How to read it: Buy Inside of a Dog on Amazon
You may have heard that birds are extremely bright creatures, but you doubtless didn't know just how intelligent one member of the bird family, in particular, is until now: the humble raven.
In Mind of the Raven, Bernd Heinrich gets in close proximity with his subject, becoming a "raven father" who observes the birds in captivity and in their natural habitat.
Heinrich puts the spotlight on the intelligence and social sophistication of the raven, amplifying their abilities and leaving readers with a better appreciation of this beautiful, brainy bird with this must-read that should be counted on any roundup of the best books for animal lovers.
How to read it: Buy Mind of the Raven on Amazon
In On Animals, Susan Orlean collects over a dozen New Yorker articles about animals she has penned over her long career as a journalist, and her anthology definitely deserves a spot on this list of the best animal books for adults.
With her trademark sense of humor, Orlean describes her obsession with farming chickens, her days on the road with a show dog, and a pigeon with the know-how to return to its home.
Spanning countries and continents, Orlean's stories are funny and revealing all at once, welcoming us humans into the dazzling world of animals.
How to read it: Buy On Animals on Amazon
While birds have a reputation for being intelligent, it's the members of the cephalopods—cuttlefish, squid, and especially octopuses who can keep up. With their capable brains, octopuses have been known to make daring escapes from captivity, recognize their human handlers, and turn off lightbulbs, among other feats.
How did evolution allow for such a brain so advanced, one that might be the closest to those of humans? To answer, philosopher of science Peter Godfrey-Smith winds the clock back in evolutionary history to come up with answers about the way that the cephalopod brains were shaped over time.
Godfrey-Smith's greater aspiration in this book is to find answers for the origins of our mind's consciousness, not just of octopuses, but of our own human brain as well. The best animal books for adults don't get much better than this.
How to read it: Buy Other Minds on Amazon
In his heyday of 1938, the racing horse Seabiscuit received more press coverage than FDR, Mussolini, or Hitler. America simply went crazy for Seabiscuit.
In this book, Laura Hillenbrand turns the attention of this horse story onto the three men who shaped Seabiscuit's success the most: millionaire Charles Howard, trainer Tom Smith, and jockey Red Pollard.
Together, these three influencers helped pave the way for Seabiscuit's rise into superstardom as an American icon. Hillenbrand's Seabiscuit tells the remarkable story of this wondrous creature with delight and engrossing pacing, making it one of the best animal books for adults.
How to read it: Buy Seabiscuit on Amazon
In The Secret Life of Lobsters, Trevor Corson digs deep into the inner world of the lobster, everyone's favorite crustacean.
Corson spends time among a lobstering community and rock star biologists, bringing readers into research far below the ocean along the Gulf of Maine, onto lobster boats, and down in dangerous scuba dives.
The result is the best book about lobsters, period. If you're looking to learn more about our aquatic animal friends, you've found the right book.
How to read it: Buy The Secret Life of Lobsters on Amazon
In this slim volume that's surely on any list of the best animal books for adults, French ornithologist Dubois and philosopher Rousseau distill wisdom from the lives of birds.
We learn about the bravery of the robin, among other birds. The short essays that make up this book make it great for picking up and putting down again.
You'll come away from reading this book more in touch with the natural world and the creatures that rule it: our avian friends.
How to read it: Buy A Short Philosophy of Birds on Amazon
This list of the best animal books for adults would not be complete without at least one book about cats. Enter What Cats Want, the guide to your cat's behavior, mind, and actions from Japan's top cat veterinarian.
This charming and engaging book is illustrated for maximum cat energy. What Cats Want is a lesson in what domesticated house cat wants from their humans and each other, covering everything from litter box behavior to socialization to decoding the sounds your kitty makes.
Fun and easy to grasp, this book belongs on the shelf of any cat lover.
How to read it: Buy What Cats Want on Amazon
Have you ever looked at a bird and wondered what it was like to be one? The closest you'll come is David Allen Sibley's What It's Like to Be a Bird, which definitely ranks high on any compilation of the best animal books for adults.
This enchanting book reveals the experiences birds have while flying, eating, nesting, and, of course, singing. Sibley's book covers over 200 avian species and is amply illustrated. Sibley includes not only common backyard birds but also sea-bound birds and others in hard-to-observe habitats.
As much a beautiful book as well as a functional one, What It's Like to Be a Bird would be perfect for the coffee table of any animal lover.
How to read it: Buy What It's Like to Be a Bird on Amazon
When Elephants Weep by Jeffrey Moussaief Masson and Susan McCarthy
One of the best-selling animal books of all time is Jeffrey Moussaief Masson and Susan McCarthy's When Elephants Weep. This groundbreaking book, surely one of the best animal books for adults, was first published in 1994 but remains widely read.
In When Elephants Weep, the authors shed light on the emotional lives that animals experience. Both anecdotal and in-depth, this book explores chapters about emotions like joy, fear, anger, and compassion that creatures in the animal kingdom express.
With When Elephants Weep, the complex emotional lives of animals get translated for humans to better understand them.
How to read it: Buy When Elephants Weep on Amazon
Why Fish Don't Exist by NPR science reporter Lulu Miller brings this list of the best animal books for adults to a close. Miller found solace in researching the life of naturalist and taxonomist David Starr Jordan, who overcame many obstacles in his life, just as Miller hoped to do.
But as Miller dug deeper into Jordan's legacy, she realized it was far murkier than she had previously thought.
Miller shows how the way we organize our natural world affects our relationship with it in this book, which demystifies taxonomy.
Miller reveals the truth behind her title in the final chapters: why fish don't exist. Why Fish Don't Exist is a mind-bending and completely unique film that you won't want to miss.
How to read it: Buy Why Fish Don't Exist on Amazon
Finally, you have gotten our list of the top 25 adult animal books and their analysis, which of these best books for animal lovers are you going to read first?