Regret Poetry that will make you feel Emotional and Tearful
Regret Poetry that will make you feel Emotional and Tearful.
Regret Poetry – Regret will make one feel an incessant resentment like no other feeling. Although regret can help us avoid repeating a mistake, it can wreak havoc on a person if left unchecked.
Typically, hours, days, or weeks spent expressing guilt about a past error is counterproductive. It can keep us from getting on with our lives and from letting the past go.
So how can anyone handle living with regret? Many find that reading and writing poems that resolve their emotions help them to let go once and for all.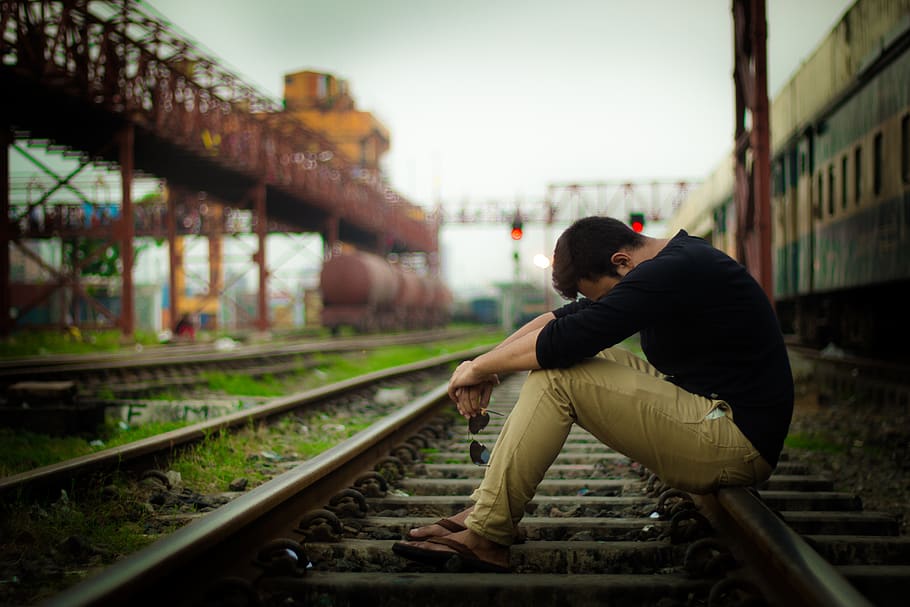 1. There's A Regret
There's a regret
So grinding, so immitigably sad,
Remorse thereby feels tolerant, even glad.
Do you not know it yet?

For deeds undone
Rnakle and snarl and hunger for their due,
Till there seems naught so despicable as you
In all the grin o' the sun.

Like an old shoe
The sea spurns and the land abhors, you lie
About the beach of Time, till by and by
Death, that derides you too

Death, as he goes
His ragman's round, espies you, where you stray,
With half-an-eye, and kicks you out of his way
And then — and then, who knows

But the kind Grave
Turns on you, and you feel the convict Worm,
In that black bridewell working out his term,
Hanker and grope and crave?

by William Ernest Henley
2. Regret
Long ago I wished to leave
" The house where I was born; "
Long ago I used to grieve,
My home seemed so forlorn.
In other years, its silent rooms
Were filled with haunting fears;
Now, their very memory comes
O'ercharged with tender tears.

Life and marriage I have known,
Things once deemed so bright;
Now, how utterly is flown
Every ray of light !
'Mid the unknown sea of life
I no blest isle have found;
At last, through all its wild wave's strife,
My bark is homeward bound.

Farewell, dark and rolling deep !
Farewell, foreign shore !
Open, in unclouded sweep,
Thou glorious realm before !
Yet, though I had safely pass'd
That weary, vexed main,
One loved voice, through surge and blast,
Could call me back again.

by Charlotte Brontë
3. Why Regret
Didn't you like the way the ants help
the peony globes open by eating the glue off?
Weren't you cheered to see the ironworkers
sitting on an I-beam dangling from a cable,
in a row, like starlings, eating lunch, maybe
baloney on white with fluorescent mustard?

Wasn't it a revelation to waggle
from the estuary all the way up the river,
the kill, the pirle, the run, the rent, the beck,
the sike barely trickling, to the shock of a spring?
Didn't you almost shiver, hearing book lice
clicking their sexual dissonance inside an old
Webster's New International, perhaps having just
eaten out of it izle, xyster, and thalassacon?

What did you imagine lies in wait anyway
at the end of a world whose sub-substance
is glaim, gleet, birdlime, slime, mucus, muck?
Forget about becoming emaciated. Think of the wren
and how little flesh is needed to make a song.

by Galway Kinnell
4. Do Not Regret
Dream sparrow's.
There is an ordinary.

Dream sparrow's.
For you simple.

Dream sparrow's.
There is a bluish.

Dream sparrow's
There, for mountains

And to the seas.
Dream sparrow's.

A bird of passage.
But do not regret her.

The sparrow has a dream
Of heavenly colour.

by Tsira Gogeshvili
5. Regret Always Comes Too Late
O, regret
Always comes to late
Always catches in your weakest state
But you know not to let it reign
In your heart

Love that you desperately want
Now you let it escape from your hand
Love you crave to warm the cold night
It starts frozen, it left to die

O, regret
Always sneaks and stays
Darkening cloud in your twisted fate
But you learn not let it show
In your face

Love that you waste only for fun
Begin to ask more than your soul
Love that you strongly avoid
Now it grows, and makes you afraid
6. The Color Of Regret
In September, when warm summer days have
slipped into faded memories of too few breezes,
winter is close at hand, with its visions of
leafless trees, blanketed nights and bone
chilling days. Ahhhhh, for those scorching day
of mid July, when we cursed the heated nights,
as we lie sweltering in our beds.

It has always be and will forever be; that
which we no longer have, is that of which
we yearn for most.

Is not love cherished more when the time
to part has come? Why do we always yearn
for the yesterdays that were taken so lightly,
when they were our 'todays? ' And, when
the flower has wilted on the vine, is it not
the memory of its beauty that we so
yearn for?

by Joe Fazio
7. One Must Not Regret
one must not regret
the days gone by
for though
all the years past
may appear
placed so full in one's open palms
rolled in a ball
of hard dirt and carbon
and all pressures
yet one may find it
seeing within
precious and radiant
as the earth's diamonds
in all their uniqueness

by Raj Arumugam
8. A Husband's Regret
she got pregnant only once
on the third month yet
they still made love on the
hard floor of the house
and the lights were on

to see their beautiful
bodies soaked with sweat
and she moaned and blood
flowed and what she got
was not an orgasm but
an abortion

she recovered in the hospital
after a papsmear
and he bought a puppy all
white to mark the beginning
of his regret
on that sad day.

by RIC BASTASA
9. Regret To Miss
I would regret to miss
That earthly sand and wind's kiss
What a green grass as if spread beautiful cover!
This game will never be over

How would I part with those feelings?
Where we used to mix with clay together samplings
For making our mud house with all sticks straws
Different shapes by sliding foot in and erecting arrows

What a fragrance and different flowers in spring season!
As if coming in life with peaceful message and reasons
I would be spraying natural colors on fellow friends
All naughty actions and acts with no amends.

by Hasmukh Amathalal
10. A Regret For Ever
women were never in question
they are full of love and passion
they stood for love forever
still doubts persisted however

Why she has been left to dream?
what makes sun light to beam?
why simple thing is misunderstood?
Is it bad for us or good?

why so much is asked in return?
is it bartered in turn?
is the love a commodity?
is it vague in terms for nudity?

Nothing can be given for surety
it will be then simple pity?
everybody know what the woman stands for?
she has everything to give or offer from th store

love is to die for each other
help in distress and come near
why should there be any doubts or fear?
when she is prepared for everything to bear?
11. No Need To Regret
We live in different circles at a time
And each circle differs over the time,
As we grow and move in pursuit of life,
Changing the neighbours, peers and colleagues,
Also the relatives, foes and rivals.

In each circle, we earn name and goodwill,
That would die once we exit from that one.
The goodwill earned is of no use elsewhere.
The identity built too will wilt out.

We are not known by what we had been once.
Nor would we be known by what we are now.
Yet we repeat the feats wherever we go.
To crave to be appreciated is
To feed the ego. To feed the ego
Is as much a need as food for stomach.
Both need to be filled to sustain the life.
There must be no regrets for the good done.

by Rm.Shanmugam Chettiar
12. I Don't Regret What Might Have Been
When the sun sets and the world is still.
I seek release in solitude
This is my time for memories
Some I can recall vividly
Selected from the multitude
Of dreams which I could not fulfil.

Some were my own and some were not
I can look back in retrospect.
Though some quite unexpectedly
Decide to surface suddenly.
Each one is worthy of respect
Although they have been long forgot.

The quiet time that lies between
The end of day and fall of night
Would seem to be appropriate
To sit alone and meditate
After the sun fades from sight
and contemplate what might have been.

by ivor  hogg
13. Words Unsaid
Regretting the moments I took for granted,
Moments when I was eaten by pride and hatred.
What if I had told you what I feel?
Would it change my life's wheel?

I was so afraid to fall in love deeply,
For mending a broken heart will never be easy.
I have been rotting in that hell before,
And I don't want to be there anymore.

But why is my heart crying in pain?
Why do I feel that my life's turning so plain?
Should I have told you that I love you?
Should I have showed you that it's true?

They say some words are better left unsaid,
Emotions should be kept till they fade.
No, scratch all the cowardice and negativity,
Because saying what you feel is the real bravery.

So what if you won't love me back?
At least there will be no what if's in my mind.
But it's too late for me to realize this fact,
'Cause now you're gone and you'll never be mine.

by Melanie Dawn Batac
14. "It Might Have Been"
We will be what we could be. Do not say,
"It might have been, had not or that, or this."
No fate can keep us from the chosen way;
He only might who is.

We will do what we could do. Do not dream
Chance leaves a hero, all uncrowned to grieve.
I hold, all men are greatly what they seem;
He does who could achieve.

We will climb where we could climb. Tell me not
Of adverse storms that kept thee from the height.
What eagle ever missed the peak he sought?
He always climbs who might.

I do not like the phrase, "It might have been!"
It lacks all force, and life's best truths perverts:
For I believe we have, and reach, and win,
Whatever our deserts.

By Ella Wheeler Wilcox
15. My Now Angel
These words don't come easy,
but they are things that I must say.
See, I don't think I ever told you
that I wished you would stay…

I know it's not much use now,
and that's what hurts the most,
because without you down here,
my now angel, all of us are lost.

I'm sure I didn't say it enough,
the words "I love you," I mean,
and that's my biggest regret in life,
since now you're nowhere to be seen.

I really hope you hear my prayer,
as I beg for your forgiveness.
See, I never meant to cause you pain
and all that grief and sadness.
Regret Poetry – Regret will make one feel an incessant resentment like no other feeling. Although regret can help us avoid repeating a mistake, it can wreak havoc on a person if left unchecked. Typically, hours, days or weeks spent expressing guilt about a past error is counterproductive.