Anne of Green Gables Quotes
Choose the best The most well-known Anne of Green Gables Quotes, the story of the problematic young orphan with red hair who delighted generations of readers with her lessons about books, imagination, nature, and so much more.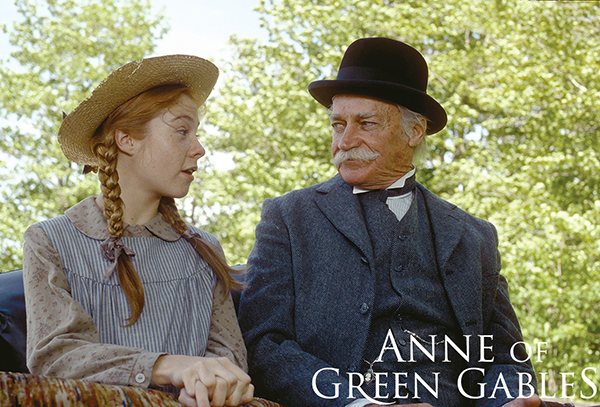 Anne of Green Gables Quotes was based on a real-life orphaned girl who was put to the farm of two adult siblings under the mistaken assumption that she was a boy and was first published in 1908 by author Lucy Maud Montgomery.
Instead, they got a difficult girl who was optimistic and full of life. This book gained so much traction that it was turned into a series of novels and later frequently adapted for the big screen, most recently as a Netflix series.
With over fifty million copies sold, it is safe to assume that Anne of Green Gables is still a children's classic more than a century later.
1. "Perhaps LOVE unfolded naturally out of a beautiful friendship.. as a golden-hearted rose slipping from its green sheath."
2. "Look at that sea, girls–all silver and shadow and vision of things not seen. We couldn't enjoy its loveliness any more if we had millions of dollars and ropes of diamonds."
3. "The world doesn't seem such a howling wilderness as it did last night. I'm so glad it's a sunshiny morning. But I like rainy mornings real well, too."
4. "The world looks like something God had just imagined for His own pleasure, doesn't it?"
5. "I do hope that some day I shall have a white dress. That is my highest ideal of earthly bliss."
6. "It's been my experience that you can nearly always enjoy things if you make up your mind firmly that you will."
7. "I don't know what lies around the bend, but I'm going to believe that the best does. It has a fascination of its own, that bend."
8. "There's such a lot of different Annes in me. … If I was just the one Anne it would be ever so much more comfortable, but then it wouldn't be half so interesting."
9. "All the Beyond was hers with its possibilities lurking rosily in the oncoming years—each year a rose of promise to be woven into an immortal chaplet."
10. "Next to trying and winning, the best thing is trying and failing."
11. "It's so easy to be wicked without knowing it, isn't it?"
12. "And people laugh at me because I use big words. But if you have big ideas you have to use big words to express them, haven't you?"
13. "'We are going to be the best of friends,' said Gilbert, jubilantly. 'We were born to be good friends, Anne. You've thwarted destiny enough. I know we can help each other in many ways.'"
14. "I don't know that she is as amusing as she was when she was a child, but she makes me love her and I like people who make me love them. It saves me so much trouble in making myself love them."
15. "Kindred spirits are not so scarce as I used to think. It's splendid to find out there are so many of them in the world."
16. "There is no use in loving things if you have to be torn from them, is there? And it's so hard to keep from loving things, isn't it?"
17. "Anne came dancing home in the purple winter twilight across the snowy places."
18. "If I wasn't a human girl, I think I'd like to be a bee and live among the flowers."
19. "'Listen to the trees talking in their sleep,' she whispered, as he lifted her to the ground. 'What nice dreams they must have!'"
20. "I'm not a bit changed—not really. I'm only just pruned down and branched out. The real me—back here—is just the same. It won't make a bit of difference where I go or how much I change outwardly; at heart I shall always be your little Anne, who will love you and Matthew and dear Green Gables more and better every day of her life."
21. "Isn't it splendid to think of all the things there are to find out about? It just makes me feel glad to be alive—it's such an interesting world. It wouldn't be half so interesting if we knew all about everything, would it? There'd be no scope for imagination then, would there?"
22. "Anne's beauty-loving eyes lingered on it all, taking everything greedily in. She had looked on so many unlovely places in her life, poor child; but this was as lovely as anything she had ever dreamed."
23. "I think you'd better learn to control that imagination of yours, Anne, if you can't distinguish between what is real and what isn't."
24. "I don't know, I don't want to talk as much… It's nicer to think dear, pretty thoughts and keep them in one's heart, like treasures."
25. "What a splendid day! Isn't it good just to be alive on a day like this? I pity the people who aren't born yet for missing it…they may have good days, of course, but they can never have this one."
26. "I've just been imagining that it was really me you wanted after all and that I was to stay here for ever and ever. It was a great comfort while it lasted. But the worst of imagining things is that the time comes when you have to stop and that hurts."
27. "Isn't it splendid to think of all the things there are to find out about? It just makes me feel glad to be alive–it's such an interesting world. It wouldn't be half so interesting if we know all about everything would it?"
28. "We resent the thought that anything can please us when someone we love is no longer here to share the pleasure with us, and we almost feel as if we were unfaithful to our sorrow when we find our interest in life returning to us."
29. "There was in it thankfulness for the past and reverent petition for the future; and when she slept on her white pillow her dreams were as fair and bright and beautiful as maidenhood might desire."
30. "The world calls them its singers and poets and artists and storytellers; but they are just people who have never forgotten the way to fairyland."
31. "That's the worst of growing up, and I'm beginning to realize it. The things you wanted so much when you were a child don't seem half so wonderful to you when you get them."
32. "Which would you rather be if you had the choice–divinely beautiful or dazzlingly clever or angelically good?"
33. "For we pay a price for everything we get or take in this world; and although ambitions are well worth having, they are not to be cheaply won, but exact their dues of work and self-denial, anxiety and discouragement."
34. "It was the last night before sorrow touched her life; and no life is ever quite the same again when once that cold, sanctifying touch has been laid upon it."
35. "It's all very well to read about sorrows and imagine yourself living through them heroically, but it's not so nice when you really come to have them, is it?"
36. "I read in a book once that a rose by any other name would smell as sweet, but I've never been able to believe it. I don't believe a rose WOULD be as nice if it was called a thistle or a skunk cabbage."
37. "It's all very well to read about sorrows and imagine yourself living through them heroically, but it's not so nice when you really come to have them, is it?"
38. "Well, that is another hope gone. 'My life is a perfect graveyard of buried hopes.'  That's a sentence I read in a book once, and I say it over to comfort myself whenever I'm disappointed in anything."
39. "Oh, it's delightful to have ambitions. I'm so glad I have such a lot. And there never seems to be any end to them–that's the best of it. Just as soon as you attain to one ambition you see another one glittering higher up still. It does make life so interesting."
40. "It's so hard to get up again—although of course the harder it is the more satisfaction you have when you do get up, haven't you?"
Which Anne of Green Gables quotes are your favorites? Check out our post on more amazing quotes to read.