Do you want to know more about hanging bookshelves and where to get the best of them? Kindly read further as we have explained them in this article.
Aside from being useful for storing books, wall-mounted bookshelves are also a great way to add style to any room.
Creative shelf designs encourage you to curate your book collection and showcase your treasures.
10 Unique Wall Mounted Bookshelves
In addition to choosing bookshelves that are both functional and visually appealing, our experts have gathered 10 unique wall-mounted bookshelves that float off the ground, freeing up valuable floor space.
The list goes:
Steam Punk Wall Mounted Bookshelves
The vertical supports are made of 1.5″ thick panel steel pipe and are attached to the wall with a metal disc and screws. This keeps the bookshelf stable and secure against the wall. Each of the six wood shelves can support up to 20 lbs.
Designer Advice:
This is a perfect open shelved wall mounted bookcase standing 85.5" tall with 24" wide shelves. The bookcase can be mounted in two ways. Two flat feet can stand on the floor with the corner pipe mounts attached to the wall at the top of the shelves. Alternately, the bookshelves can float off the floor by attaching the corner mounts at the bottom and allowing the feet to finish the top of the case. Two center pipe supports help carry the weight.
Narrow Panel Backed Wall Mounted Bookcase
This panel wall-mounted bookshelf is made of manufactured wood and is available in a white matte or bronze finish. The bookshelf measures 84″ tall by 19.5″ wide and has nine adjustable floating shelves that measure 17″ wide.
$2559.99 $2799.99
Designer Advice:
Cleverly designed so you can place the nine shelves either horizontally or vertically. Horizontal shelves hold books and other items while any vertical shelves stop books from tipping off, and add an interesting sculptural element. Place two or three shelves together to create a showstopping feature in any room. The hanging bookshelves weigh 78 lbs so need to be securely anchored into studs in your wall.
Floating Wall Mounted Bookcase
Two 31 12″ wide laminated engineered wood shelves each hold up to 33 lbs of weight. The tiered shelves are available in gray/black or white shelf colors. The black wire connectors that screw into the walls contrast with both colors.
$65.99 $69.99
Designer Advice:
The delicate wire connectors feature a crisscrossing X design that create the light and airy look of this wall mounted bookshelf. The wires are inset from the edges of the shelves and provide support for books or other trinkets to stay upright. Make sure to either install into wall studs or use anchors to support the weight of these hanging bookshelves.
Mango Wood Wall Mounted Bookshelves
This compact wall bookshelf measures 24″ by 24″ and has three shelves made of solid mango wood. The wood shelves are available in bronze or gold, and the metal double-diamond iron frame is available in dark gray or rose gold.
Designer Advice:
Wipe spills promptly with a lint-free cloth or use a slightly damp cloth to spot clean, then wipe dry with a clean and dry cloth. Don't use abrasive or harsh chemicals as they may damage the finish. Furniture touch-up crayons or markers can be used for a quick fix and touch-up if the shelves are accidentally scratched. Avoid exposure to extreme temperatures.
Black Pipe Wall Mounted Bookcase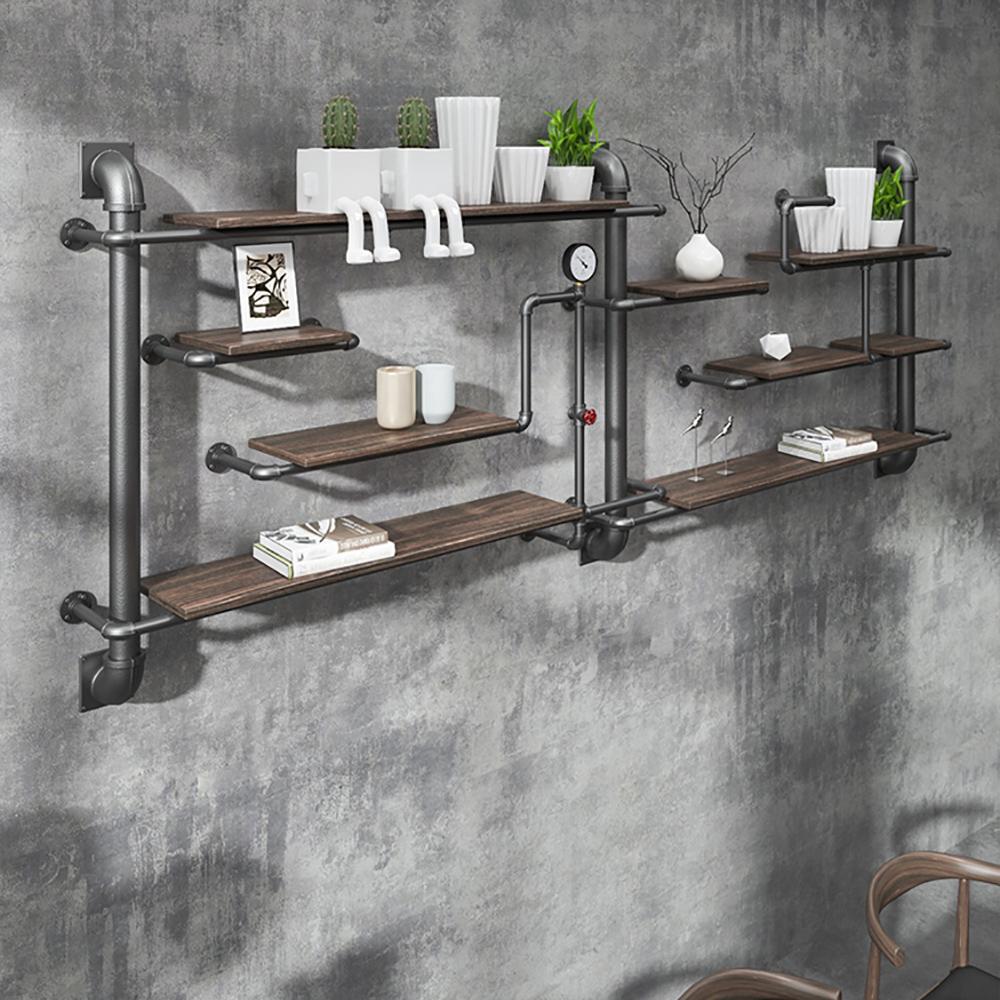 This wall-mounted bookshelf is made entirely of black, metal-fitted pipes and is ideal for any industrial, rustic, or modern decor scheme.
The reconfigurable design allows you to choose different angles to create a unique setup. Books are propped up on horizontal pipes and can lean back against vertical pipes.
Designer Advice:
Three sizes of pipe length and 12 corner connectors let you combine these hanging wall bookshelves into a variety of configurations. Three mounting discs each have four screw holes to ensure the pipes stay securely anchored into the wall. Two people are required to put together and hang the pipe system.
Asymmetrical Wooden Wall Mounted Bookshelf
These wall-mounted bookshelves are made of solid American oak and feature natural wood grain and color variation.
Three shelves are separated by angled supports that resemble tree branches. It includes flush stainless steel brackets, pre-drilled holes, and simple assembly and installation instructions.
Wall Mounted Kids' Bookshelf
In this wall-mounted kids' bookshelf, three separate floating white pine shelves are ideal for displaying books and other treasures.
Each shelf comes with a tip over the resistant device and requires complete assembly. The front bars keep everything in place and make replacing items simply.
$28 $83.99
Set of Six Wall Bookshelves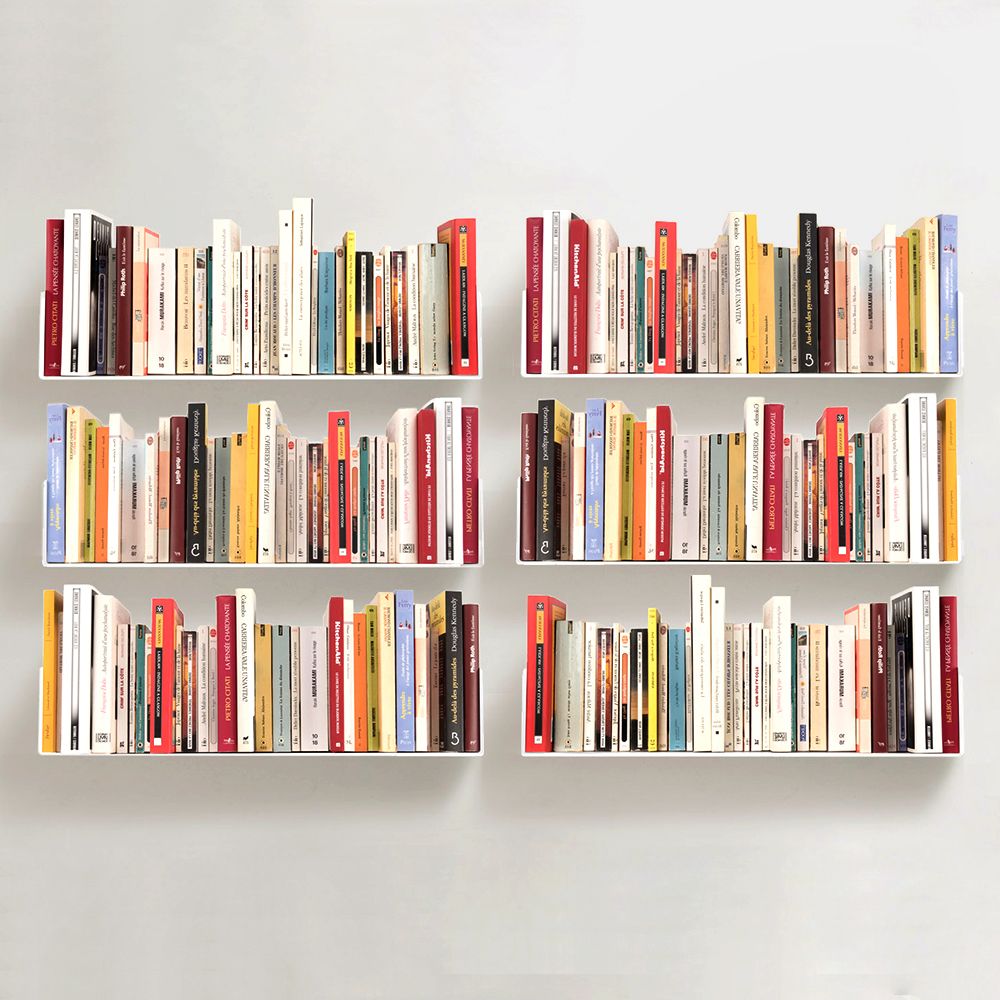 This heavy-duty metal bookshelf set requires no assembly. Each shelf can support up to 15 lbs when mounted in drywall with anchor screws.
Each shelf can support up to 25 lbs when mounted directly into studs or wooden walls.
Brass Finish Hanging Bookshelves
This set of two hanging bookshelves is made of metal and has an antique brass finish. Each shelf is easily hung with two screws or nails not included with the shelves.
These 28-inch-long wall-mounted bookshelves do not require any assembly.
Glam Wall Mounted Bookshelves
On this elegant and sophisticated wall bookshelf, three tempered glass shelves appear to float in a slim iron frame finished in antique gold.
The distance between shelves is 14.17″, allowing you to display both tall books and other items.
Buying Advice
Books are beneficial to children. Books provide literacy training, information, and alternative ways of looking at the world around them, from squishy, squeaky books for the youngest infants to collections of short stories, non-fiction, and novels for older children.
Unfortunately, a good book collection can also be a source of clutter, and untethered bookcases or shelves can be an invitation to climb, followed by the inevitable tumble.
Wall-mounted bookshelves for kids can keep your child's book collection off the floor while still keeping it close at hand for enjoyment.
What are the Best Wall-mounted Bookcases for Children?
Below is a list of the best Wall-mounted Bookcases for children. Kindly study them carefully:
The Classic Bookcase
A bookcase or set of bookshelves is frequently made up of two upright boards and several cross boards that serve as the top, bottom, and intervening shelves. Books, toys or both can be arranged on the shelves, with the most age-appropriate items at the child's eye level.
When your enterprising two-year-old decides he or she must have the pretty popup book that Grandma sent for Christmas – the one that has been stored on the top shelf to promote supervised viewing – securing the unit to the wall prevents it from tipping over.
Tall, well-secured bookshelves can also be used to store books for various age levels of children, with board books and squeaky books on the bottom and the entire set of J.K. At the top, consider J.K. Rowling, L.M. Alcott, or Mr. Clemens.
The Display Shelf
A single plastic display shelf with a bin-style lip can be ideal for a young child with a limited book supply. The shelf can be hung on the wall, low enough for your child to reach his or her favorite books, thereby encouraging the crucial journey toward literacy.
When a young child is finished reading, the bin style makes it simple for him or her to put away his or her own books.
Bin wall shelves are also useful for storing art and writing supplies for an older child who has begun to enjoy creating his or her own artwork with pencils and crayons.
The Corner Cupboard
While corners make for unusual storage space, they are still useful for storing chunky board books and small toys.
A low corner shelf is simple to install and can also serve as a display area on top of the unit. It is appealing, especially if it has a door, and can be used to store treasured possessions.
Desk and Shelf Set
A kid-sized desk and shelf set will appeal to almost any child. Even pre-schoolers appreciate having a place to sit and a surface on which to scribble on large sheets of paper or in coloring books.
Keeping young art supplies close to the workstation is made easier with a shelf unit beside the desk or even a small drawer. Of course, the entire unit should be secured to the wall.
Your choice of wall-mounted bookshelves for kids will be determined by your child's age, interests, and circumstances. But don't worry, they're a good choice.