Touching Poems for Best Friend Forever That You Will Love
Touching Poems for Best Friend Forever That You Will Love.
Touching Poems for Best Friend Forever – Forever is a very long period of time. How is it that people can talk so casually about a concept that we can not even wrap our minds around? We have a friend sometimes and we feel our souls are very closely linked.
We understand that the connection is beyond time and space. We know that we will always remain, friends, wherever we are in our lives.
Even if we haven't seen each other for years, we can catch up where we left off right away. When they say friends forever, this is what people mean.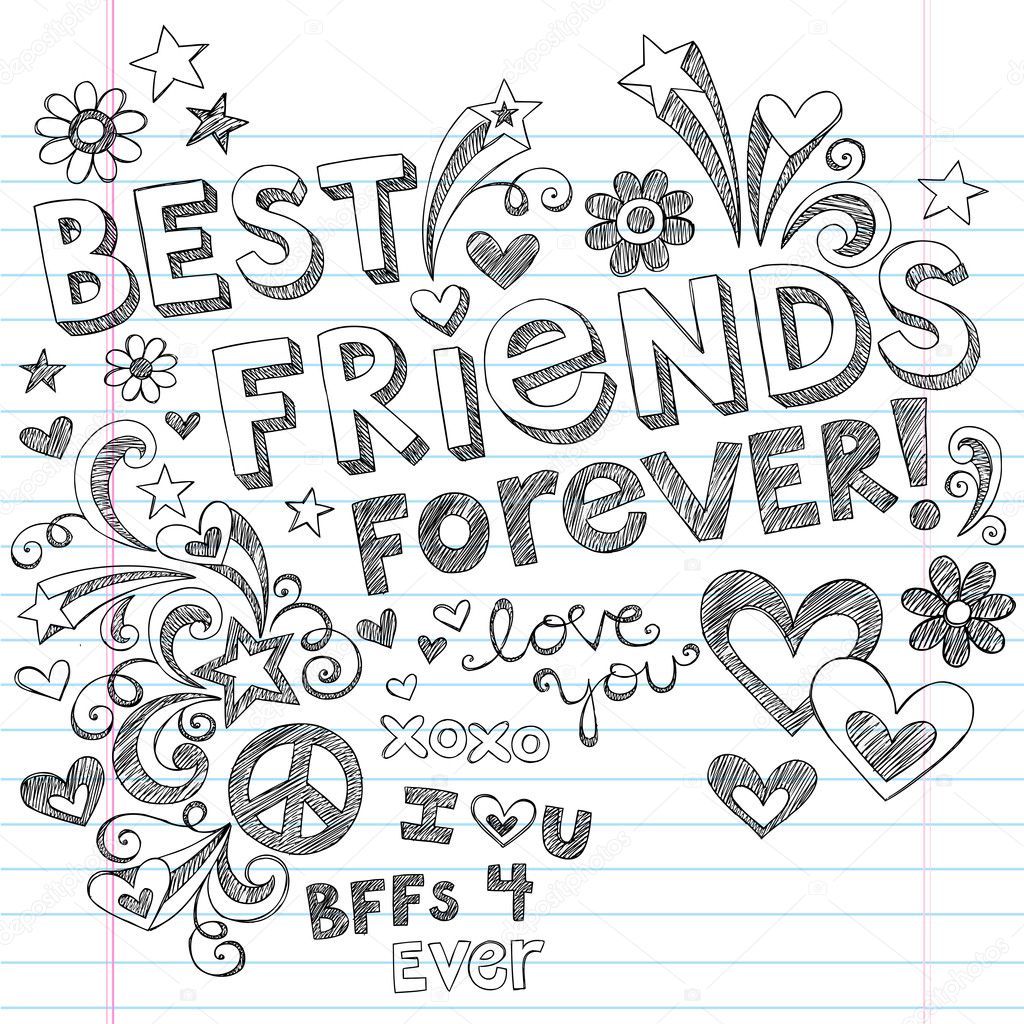 1. A Smile
When someone's having a bad day,
A smile could go a long way,
So make sure to put one on
And keep it until the day is gone.
You don't know what this deed
Could do for a friend in need.
It might save them from the pain
Of a sadness they cannot contain.
Don't ask what a smile can do
Because I'm sure it once helped you.

By Malak Meleka
2. You Have A Friend In Me
You have a friend in me,
Don't try and hide your feelings because your best friend can see.
I mean the world to you,
That's how I know our friendship is true.
We will be besties for life,
One gets stabbed we both feel the knife.

By Kase And Sash
3. My Best Friend
I'm not sure when it happened
But I'm very glad it did
You came into my life when
I really needed a friend.

The more I get to know you
The more I know myself
And this is why I'm thankful
For you are just yourself.

You and I are different
And in many ways the same
Your good ear, compassionate heart
Will always find you fame.

I promise to always be here
Forever and to the end
You are the true definition of
My Very Best Friend!
4. Childhood Friends
As childhood friends, we grew up together,
Swearing to be friends forever and ever.
Sometimes we would argue and fight,
Other times we would laugh and stay up all night.

We went from playing with games and toys,
To talking and dreaming about different boys.
My thoughts and feelings, to you I would confide,
Never having anything to hide.

Friends we do remain,
Things changing, and things staying the same.
To each other, we still listen and share,
About each other, we will always care.

By Mindy Carpenter
5. Because you are my friend
Because you are my friend,
my life is enriched in a myriad of ways.
Like a cool breeze on a sweltering day,
like a ray of sunshine parting glowering clouds,
you lift me up.
In good times, we soar,
like weightless balloons
over neon rainbows.
In bad times, you are soothing balm
for my pummeled soul.
I learn so much from you;
you help me see old things in new ways.
I wonder if you are aware
of the bright seeds you are sowing in me.
I'm a better person for knowing you,
so that everyone I interact with
is touched by your good effect on me.
You relax me, refresh me, renew me.
Your bounteous heart envelops me
in joy and love and peace.
May your life be filled
with dazzling blessings,
just as I am blessed
by being your friend.
6. Friends
A friend is someone who listens,
A friend is someone who cares.
A friend is someone who understands,
A friend is someone who shares.
It's nice to have a special friend
To tell all your secrets to.
It's nice to know that someone you like,
Is someone who really likes you.
A friend is someone you call on the phone
To talk about nothing at all.
A friend is someone who cheers you up.
And makes you feel ten feet tall.
Everyone would like to have
A special friend it's true
But if you want a special friend,
You need to be one, too.

By Joanna Fuchs
7.A Bottle And Friend
There's nane that's blest of human kind,
But the cheerful and the gay, man,
Fal, la, la, &c.

Here's a bottle and an honest friend!
What wad ye wish for mair, man?
Wha kens, before his life may end,
What his share may be o' care, man?

Then catch the moments as they fly,
And use them as ye ought, man:
Believe me, happiness is shy,
And comes not aye when sought, man.

By Robert Burns
8. Friend
A friend is a person
to laugh and cry with,
An inspiration,
Someone who lends a helping hand,
though friends may not be forever,
And they may not end up together,
the memories of a true friendship will
last forever.
A friend is not a shadow nor a servant
But someone who hold
a piece of a person in his heart.
Someone who shares a smile,
Someone who brightens up your day
What makes a person a friend?
Is by saying your Love will stay.

by Renee donna Bufete
9. Love In The Guise Of Friendship
Your friendship much can make me blest,
O why that bliss destroy!
Why urge the only, one request
You know I will deny!

Your thought, if Love must harbour there,
Conceal it in that thought;
Nor cause me from my bosom tear
The very friend I sought.

By Robert Burns
10. My friend
O could I give thee India's wealth,
As I this trifle send;
Because thy joy in both would be
To share them with a friend.

But golden sands did never grace
The Heliconian stream;
Then take what gold could never buy—
An honest bard's esteem.
11. Friendships come and Friendships go
Friendships come and Friendships go
Like wave upon the sand
Like day and night
Like birds in flight
Like snowflakes when they land
But you and I are something else
Our friendship's here to stay
Like weeds and rocks and dirty socks
It never goes away!

By Robert Burns
12. A Friend is a Treasure
A Friend is a Treasure
A friend is someone we turn to,
when our spirits need a lift.
A friend is someone we treasure,
for our friendship is a gift.
A friend is someone who fills our lives,
with beauty, joy and grace.
And make the world we live in,
a better and happier place.

By Sahar Ashraf
13. True Friendship
True friends are for life
Until the end
They're more than special
They're your bestest friends.

They're the ones you can go to
When you're in despair
The ones that'll help you
Even when you got gum in your hair!

They're the ones who'll laugh
And go laughing with you all through the night
The ones who'll help you
Help you with all their might

To have a good friend
You have to be one
So be nice to one another
So you can be friends forever
And that\'s how to be the best friend you can be.

By Samantha Sumler
14. A Best Friend
A best friend
is always there,
whether you need advice,
or a pep talk,
or even a shoulder to cry on.
A best friend
listens with her heart
and is always honest with you,
even though the truth
may not be
what you want to hear.
A best friend
knows all your secrets,
understands your fears
shares your dreams.
A best friend
never stops believing in you
even if you give up
on yourself.
you are
that kind of friend
to me.
And no matter what happens,
you always will be.
You are my best friend
my forever friend.

By Renee Duvall
15. Best Friends Forever
I sit alone thinking of you
and all the things we've both been through
You are my soul mate, my very best friend
and I know you'll be there until the end

Your shoulder to cry on will soon be gone
who will be there when something is wrong
When times are tough you're always there
It shows me just how much you care

Although were going separate ways
you're in my heart till my final days
Nothing can make a person see
how special a friend you are to me

I dreamed of a friend just like you
and finally, my dream came true
Nothing else could ever fulfill
everything you're friendship will

You understand a side of me
that no one else could ever see
You know what's wrong before I cry
but if I do, you will always know why

by Nicola Beveny
16. Best Friends Forever
Best Friends
The title we chose
But what does it mean to be "best friends"?
You should see each other every day?
Well that's not true for you and me
Should silly little fights get in our way?
Only if that's how it's meant to be
Should we give?
Should we borrow?
Should we dance like there's not tomorrow?
Secrets are traded
Privacy invaded
Hugs and smiles are shared
Tears are shed
Love is spread
We know that we both really cared
I smile, you smile
You cry, I cry
I wish, you wish
You die, I die
If you fall
I'll help you up
And if you call
I'll always pick up
Best Friends Forever
The promise we made
And I know in my heart
That it will never fade
17. My Everything Friend
You magnify my happiness
When I am feeling glad;
You help to heal my injured heart
Whenever I am sad.

You're such a pleasure in my life;
I hope that you can see
How meaningful your friendship is;
You're a total joy to me.

By Joanna Fuchs
18. One of a Kind
You are wonderful, one of a kind,
uniquely valuable!
Right now, think of your positive qualities,
and things you can do better
than the average person can.

Always remember:
Your are smarter,
more capable,
and more significant
than you think you are.

By Joanna Fuchs
19. Truly A Friend
Someone to lean on when problems appear,
Someone on whom you'd depend,
Someone who'll lift you when you're down in the dumps,
That someone is truly a friend.

That's how I feel about you my dear friend;
You're so special just as you are.
Just to know that you're there provides comfort to spare;
A friendship like yours sets the bar.

By Karl and Joanna Fuchs
20. Friendship Joy
You are a shelter
From life's frequent storm;
Like a comfortable blanket;
You keep me snug, safe and warm.

You're a light in the window
When everything's dark;
You're a trip to the circus,
A romp in the park.

Like a bright, sunny summer,
You are joy without end;
And I'm so very privileged
To call you my friend.
Touching Poems for Best Friend Forever – When you're down, loyal friends are always there to make you laugh, they're not scared to help you avoid mistakes, and they're out after your best interest. It can be hard to find this form of a friend, but they offer a friendship that will last a lifetime.
Dailytimespoems-Touching Poems for Best Friend Forever