Poems for Easter to Celebrate the Festivity and the Season
Poems for Easter to Celebrate the Festivity and the Season
Poems for Easter – As it's Good Friday, we feel it's time to celebrate Easter with ten classic poems about the Easter season.
Whether you're thinking about the Passion of Christ or tucking into chocolate Easter Eggs or simply looking forward to returning to those things you've given up for Lent, we hope you enjoy this pick of the greatest poems about Easter.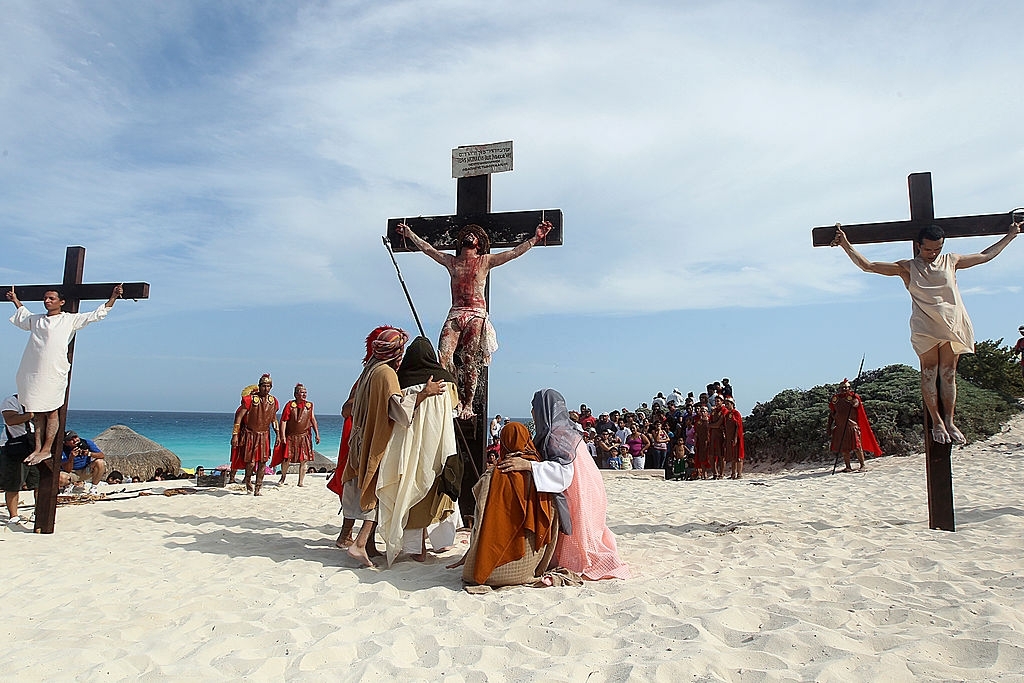 1. Celebrate Our Savior
On Easter morn, we celebrate our Savior;
Whatever people seek in Him, they find.
In history, there has never been another
So holy, sacrificial, good and kind.
His resurrection makes us all immortal;
In heaven, we'll be together with our King.
Eternally we'll share in all His blessings;
Happy Easter! Jesus Christ is everything!
– Poem By Joanna Fuchs
2. Easter Day
THE silver trumpets rang across the Dome:
The people knelt upon the ground with awe:
And borne upon the necks of men I saw,
Like some great God, the Holy Lord of Rome.
Priest-like, he wore a robe more white than foam,
And, king-like, swathed himself in royal red,
Three crowns of gold rose high upon his head:
In splendour and in light the Pope passed home.
My heart stole back across wide wastes of years
To One who wandered by a lonely sea,
And sought in vain for any place of rest:
'Foxes have holes, and every bird its nest,
I, only I, must wander wearily,
And bruise my feet, and drink wine salt with tears.'
– Poem by Oscar Wilde
3. Easter Wings
Lord, Who createdst man in wealth and store,
Though foolishly he lost the same,
Decaying more and more,
Till he became
Most poore:

With Thee
O let me rise,
As larks, harmoniously,
And sing this day Thy victories:
Then shall the fall further the flight in me.

My tender age in sorrow did beginne;
And still with sicknesses and shame
Thou didst so punish sinne,
That I became
Most thinne.

With Thee
Let me combine,
And feel this day Thy victorie;
For, if I imp my wing on Thine,
Affliction shall advance the flight in me.
– Poem by George Herbert
4. Easter
Rise, heart, thy lord is risen. Sing his praise
Without delays,
Who takes thee by the hand, that thou likewise
With him may'st rise:
That, as his death calcinèd thee to dust,
His life may make thee gold, and, much more, just.

Awake, my lute, and struggle for thy part
With all thy art,
The cross taught all wood to resound his name
Who bore the same.
His stretchèd sinews taught all strings what key
Is best to celebrate this most high day.

Consort, both heart and lute, and twist a song
Pleasant and long;
Or, since all music is but three parts vied
And multiplied
Oh let thy blessèd Spirit bear a part,
And make up our defects with his sweet art.
– Poem by George Herbert
5. The Easter Flower
Far from this foreign Easter damp and chilly
My soul steals to a pear-shaped plot of ground,
Where gleamed the lilac-tinted Easter lily
Soft-scented in the air for yards around;

Alone, without a hint of guardian leaf!
Just like a fragile bell of silver rime,
It burst the tomb for freedom sweet and brief
In the young pregnant year at Eastertime;

And many thought it was a sacred sign,
And some called it the resurrection flower;
And I, a pagan, worshiped at its shrine,
Yielding my heart unto its perfumed power.
– Poem by Claude McKay
6. Easter- Christ Has Risen
The tomb is empty
The stone's rolled aside
His clothes are one side
Christ's body isn't inside

He has risen as foretold
He has won over death
He triumphed over satan
He has saved all souls

Heaven is very nigh
All can now enter it
Repent for all your sins
Gain forgiveness of God

Christ proved He's the Son of God
He is our Redeemer
He will come a second time
As King to judge humanity
– Poem by Dr. A.Celestine Raj Manohar M.D.,
7. Easter
Most glorious Lord of Lyfe! that, on this day,
Didst make Thy triumph over death and sin;
And, having harrowd hell, didst bring away
Captivity thence captive, us to win:
This joyous day, deare Lord, with joy begin;
And grant that we, for whom thou diddest dye,
Being with Thy deare blood clene washt from sin,
May live for ever in felicity!

And that Thy love we weighing worthily,
May likewise love Thee for the same againe;
And for Thy sake, that all lyke deare didst buy,
With love may one another entertayne!
So let us love, deare Love, lyke as we ought,
—Love is the lesson which the Lord us taught.
– Poem by Edmund Spenser
8. Good Friday
Am I a stone, and not a sheep,
That I can stand, O Christ, beneath Thy cross,
To number drop by drop Thy blood's slow loss,
And yet not weep?

Not so those women loved
Who with exceeding grief lamented Thee;
Not so fallen Peter, weeping bitterly;
Not so the thief was moved;

Not so the Sun and Moon
Which hid their faces in a starless sky,
A horror of great darkness at broad noon –
I, only I.

Yet give not o'er,
But seek Thy sheep, true Shepherd of the flock;
Greater than Moses, turn and look once more
And smite a rock.
– Poem by Christina Rossetti
9. Easter Hymn
If in that Syrian garden, ages slain,
You sleep, and know not you are dead in vain,
Nor even in dreams behold how dark and bright
Ascends in smoke and fire by day and night
The hate you died to quench and could but fan,
Sleep well and see no morning, son of man.

But if, the grave rent and the stone rolled by,
At the right hand of majesty on high
You sit, and sitting so remember yet
Your tears, your agony and bloody sweat,
Your cross and passion and the life you gave,
Bow hither out of heaven and see and save.
– Poem by A. E. Housman
10. The Oxen
Christmas Eve, and twelve of the clock.
'Now they are all on their knees,'
An elder said as we sat in a flock
By the embers in hearthside ease.

We pictured the meek mild creatures where
They dwelt in their strawy pen,
Nor did it occur to one of us there
To doubt they were kneeling then.

So fair a fancy few would weave
In these years! Yet, I feel,
If someone said on Christmas Eve,
'Come; see the oxen kneel,

'In the lonely barton by yonder coomb
Our childhood used to know,'
I should go with him in the gloom,
Hoping it might be so.
– Poem by Thomas Hardy
11. Easter
Let every heart be filled with joy,
A joy of thankfulness to our Savior and King!
He is victorious over sin and death.
He conquered death to give us a new life.

A life blossoms through His unending love.
It is for a cause and without condition
The love that brings healing and reconciliation,
A pure love that creates in us real peace.

Peace that springs from his sacred heart,
A heart that bleeds for our affliction.
It is full of mercy and compassion,
A heart wounded for our sins and vainglory.

Rejoice! Jesus is truly risen from the dead
For us to live once again,
To live without blemish of pride,
And live a life unselfishly for others in need.
– Poem by Estela Canama
12. Freedom In The Cross
There's something that occurred
on that evening at Calvary
that created such a lavish stir
in all of history.

Upon that old rugged cross
our Savior bared it all
and offered himself a sacrifice
to overspread humanity's fall.

The sacred blood that was spilled
wiped clean the sinner's slate.
Christ paid the price for everyone
and carried our weight.

A willing heart endured the pain,
and purpose paved His way.
He opened the eyes of every man
To whom He came to save.

Though the tragedy of that day
will be mourned by those around,
our joy is found three days later
when He arose from the very ground.

And through that selfless act of love,
we were given new life in Him,
set loose from our bondages
to experience true freedom within.
– Poem by Olivia Lakis
13. Love To The Fullest
Love to the fullest once roamed our earth.
He arrived here by means of a heavenly birth.

From the very beginning most everyone knew
there was something so special this child would do.

As time would prevail He became a man,
teaching us love from God's own hand.

Though to some He knew He would be such a dread.
They never could rest until He was dead!

He knew His own fate from beginning to end.
He knew and still loved His betraying friend.

He carried His cross using His own two feet
to die for our sins and our total defeat.

Why did He do it? No reason but love!
He wanted to help us to heaven above.

Who was this man with such merciful love?
None other than Jesus, our Savior above!
– Poem by Patricia L. Cisco
Easter is a joyous holiday marked by a season of renewal, colorful Easter eggs, and divine desserts.
Besides the annual Easter egg hunt and obligatory spring family photoshoot, Easter is a time to reconnect with family members and rejoice in this new season of hope.