Poems for the Loss of a Sister That Will Make You Really Emotional
Poems for the Loss of a Sister that will make you Really Emotional. Soulful poetry speaks to you when you are in love, in awe, and in sorrow.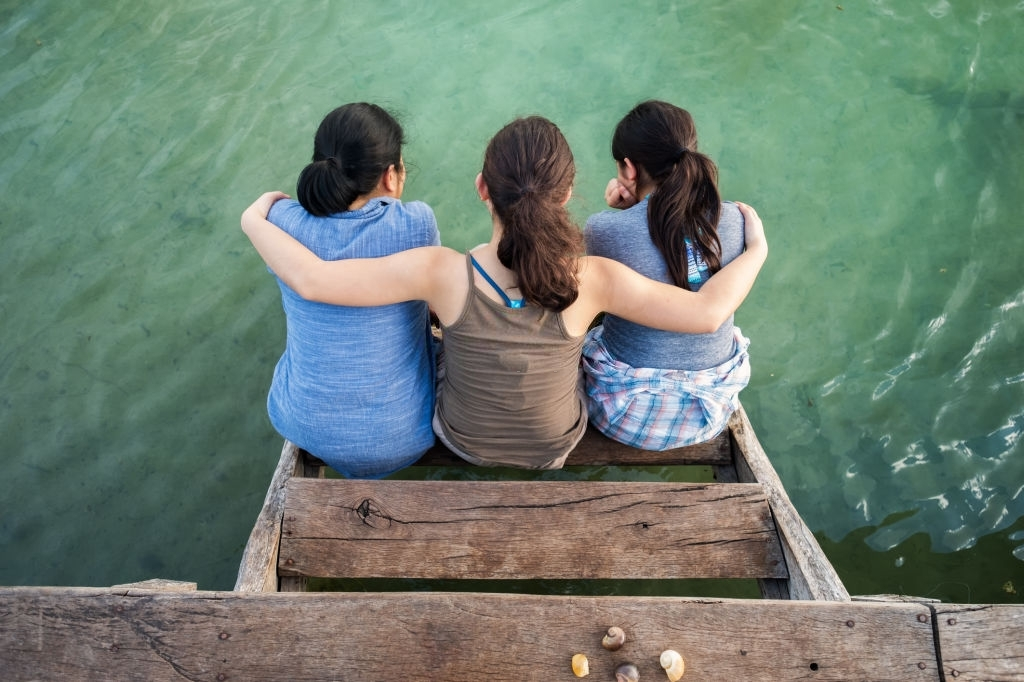 When a sister dies, you may turn to poetry to be your voice in times of deep mourning.
The words penned by someone else may resonate with you and evoke your emotions so that you can reflect upon your sentiments.
1. The Importance of a Sister
A sister is someone who loves you from the heart,
No matter how much you argue you cannot be drawn apart.
She is a joy that cannot be taken away,
Once she enters your life, she is there to stay.

A friend who helps you through difficult times,
Her comforting words are worth much more than dimes.
A partner who fills your life with laughs and smile,
These memories last for miles and miles.

When she is by your side, the world is filled with life,
When she is not around, your days are full of strife.
A sister is a blessing, who fills your heart with love,
She flies with you in life with the beauty of a dove.

A companion to whom you can express your feelings,
She doesn't let you get bored at family dealings.
Whether you are having your ups or downs,
She always helps you with a smile and never frowns.

With a sister you cannot have a grudge,
She is as sweet as chocolate and as smooth as fudge.
Having a sister is not just a trend,
It is knowing you can always turn to her, your best friend.
– Poem by Shiva Sharma
2. I Never Saw Your Wings (Modified)
How is it that I never saw your wings
when you were here with me?
When you closed your eyes and soared
to the Heavens I could hear the
faint flutter of you wings as you left.
Your body no longer on this side
Your spirit here eternally I see your halo shine.
I close my eyes and see the multi-coloured wings
surround me in my saddest moments and my happiest times.
Sister my angel God has given you your assignment
always my sister forever my angel.
You fly into my dreams and when I am asleep
I feel your wings brush against my face wiping away
the tears I shed since I can no longer hold
you in my arms but in my heart.
You earned those wings dear sister
and you will always be my angel eternal.
– Poem By Unknown Author
3. To My Sister
I'm blessed to call you sister,
I also call you friend;
You've loved me unconditionally,
And stood through thick and thin.

You've shared my joys and sorrows,
My laughter and my tears.
You've been my inspiration,
As we grew up through the years.

When we were little children
We laughed and played together;
Then growing up you stood by me,
Through good and stormy weather.

There's something God has given us,
That's more than family;
He's placed a love for you, my Sister,
Deep down in the heart of me.
– Poem By Allison Chambers Coxsey
4. Lose You
Never thought I'd lose you,
But here I am,
Standing alone,
Without you by my side,
We're sisters for life,
We promised,
But now you're gone,
I don't know what to do,
Without you,
I'm going crazy,
I'm trying to hold on,
To keep strong,
But it just doesn't feel right,
I'm waiting here,
My arms wide open,
Tears running down my face,
Ready for your return,
Even if it takes forever,
My sister…
– Poem By Adriana
5. From Me
If you see a sunset, it's me, smiling
from behind it.
If I go away far, and you see a star
if you find it, I'm inside it.
You can fold it, and hold it forever,
if you hide it.
If our words and worlds sever
if ever I lose you.
If two thousand light-years or seven
confuse you;
Remember me. Here and in Heaven
I'll see you.
I'll be beguiling my filing, still smiling
to see you.
When mountains, magenta and moulded
turn red,
like you said,
You'll find the feeling you folded
not dead.
You'll steal the swirling sky, turning
with me.
You won't be bounded, but burning
and free.
– Poem By Anna Williams
6. Do Not Stand At My Grave and Weep
Do not stand at my grave and weep;
I am not there, I do not sleep.
I am a thousand winds that blow.
I am the diamond glints on snow.
I am the sunlight on ripened grain.
I am the gentle autumn rain.

When you awaken in the morning's hush
I am the swift uplifting rush
Of quiet birds in circled flight.
I am the soft stars that shine at night.
Do not stand at my grave and cry;
I am not there, I did not die.
– Poem By Mary Elizabeth Frye
7. Missing My Sister in Heaven
My sister is sitting in Heaven
and I'm missing her more than you know.
She's laughing and crying,
watching and waiting,
Until it's my time to go.

After Glow
We'll meet in the clouds
and hug for a while
But until then,
I'm missing my sister in Heaven.
– Poem By Michele Meleen
8. I'd like the memory of me
to be a happy one.
I'd like to leave an after glow
of smiles when life is done.
I'd like to leave an echo
whispering softly down the ways,
Of happy times and laughing times
and bright and sunny days.
I'd like the tears of those who grieve,
to dry before the sun
of happy memories
that I leave when life is done
– Poem by Helen Lowrie Marshall
9. If Only I Knew
If only I knew that our time would be so brief,
Spoiled you rotten I would have done.

If only I knew that would be our last phone call,
Just to listen to you speak, held on longer I would have done.

If only I knew that would be your last text,
Kept it in my inbox I would have done.

If only I knew it was the last time I was seeing you,
Called you back and hugged you tight I would have done.

If only I knew it was the last time I would see you smile,
Stood longer and watch you smile I would have done.

If only I knew that I was seeing your face for the last time,
Memorize all its features I would have done.

If only I knew that God would take you away so soon,
Spend all my time with you I would have done.

There are a lot of things I would have done differently
If only I had known.
– Poem by Sennette Gaoses
10. Sleep, My Sister
I wish you sweet sleep, my sister dear.
Although there's so much that you've left bare,
I hate that you had to endure such pain.
On my mind, your saddened eyes have left a stain.

I want to know what crossed your mind.
Unspoken words you've left behind.
Undone things we'll never do.
No sharing thoughts you never knew.

A peace has fallen upon your head,
A taste of sorrow we have been fed.
It really is like a hole in our lives,
One swiftly dug but carved out by knives.

But I have hope that those sleeping will rise.
The Bible says that God will open their eyes.
No suffering, sickness, yes not even pain.
Those who did good, eternal life they'll gain.

So…sleep on, my sister; sleep tight,
For now with you the sky is night.
But after night will come daybreak.
Therefore, I will wait hoping to see you awake.
– Poem by T. Hutchinson
10. I Am Just a Girl Who Misses Her Sister
I am just a girl who misses her sister.
I wonder if she's missing me too.
I hear the wind when everything else is silent.
I see the horizon when I stare straight ahead.
I want to see you and be with you so bad.
…I am just a girl who misses her sister.

I pretend I'm skydiving.
I feel the air come out of my body but fresh air comes right back in.
I touch the ground when I come down.
I worry that you are never coming back down from the sky.
I cry to Heaven when I don't see you.
I am just a girl who misses her sister.

I understand that this is how it's supposed to be.
I say it is what it is…
I dream that someday I will see you again.
I try to live my life and talk about you like you're still here.
I hope and pray your waiting for me up there.
I am just a girl who misses her sister…just a girl who misses her sister!
– Poem by Lilly Vsqz
11. Young, Wild And Free
She ran through the fields
Young, wild and free
That cheeky smile she wore made my heart rejoice with glee.
I never thought a spirit like hers would ever fall down,
But it's what we don't expect that has the greatest effect on everything around.

Her heart was pure and loving,
Her eyes as fierce as a crow,
Her voice as sweet as the humming, of the birds down in the hollow.

Everything she knew was happy,
Away in a world to far for us to know.
As she fell asleep in a bed of roses,
She left all troubles and sorrow.

Never did she grow old or see the pains of this world.
Her innocence contained until she can awaken from this Winter blow.

So hush baby girl, go to sleep.
Away from the real world,
To keep you unique.
– Poem by Arianna Stockwell
12. Always Remember
As she blossomed into a rose
We got to see her best and worst side,
We loved her to death
But then she died.

She was loved by many
And hated by some,
She may have been different
But God wanted her to come.

A beautiful voice
That reflected her smile,
We will always remember
That she was worth while.

As I sit here and write this
Tears stream down my face,
I miss my sister and
That feeling can not be replaced.
– Poem by Jessica O'Reilly
13. Not Yet
I had prayed to God
Give her this month,
A little more time
That's all I ask

The month was almost gone
No, Not yet.
I take it back,
What I said,
Not yet
Not yet.
– Poem by Stephanie Robertson
Most of your childhood memories are probably intertwined with your sister. Growing up together, graduating high school and college, getting married… you might associate many milestones with your sister.
Turning to poetry might be cathartic. These poets suffered loss and dealt with loving, complex relationships, too.
Their ability to turn emotions into words was their superpower.
If a poem is appropriate, you may choose to either read it or have it read at the funeral or memorial service.
I hope this article was useful. For more interesting poems, visit our website.