25 Literary Quotes that Celebrate Friendship
Here are 25 amazing quotes about friendship that will make you feel good, whether you're feeling sentimental and want to be reminded of how valuable the relationships you have are or you're just looking for a message for your BFF's birthday card.
It can be quite difficult to express the value of your friends in words. The importance of having a reliable confidante cannot be overstated, as everyone needs a person to share life's difficulties and worries with.
Our closest friends are the ones we go to for support and advice, the ones we call whether we want to go on an adventure or just stay in. Our strongest supporters, our sounding boards for ideas, and our shoulders to cry on are all provided by them.
Thankfully, there are many quotations about friendship from literature that perfectly capture everything you've ever wanted to say to your BFF. These authors certainly have the ideal words to say even if you don't.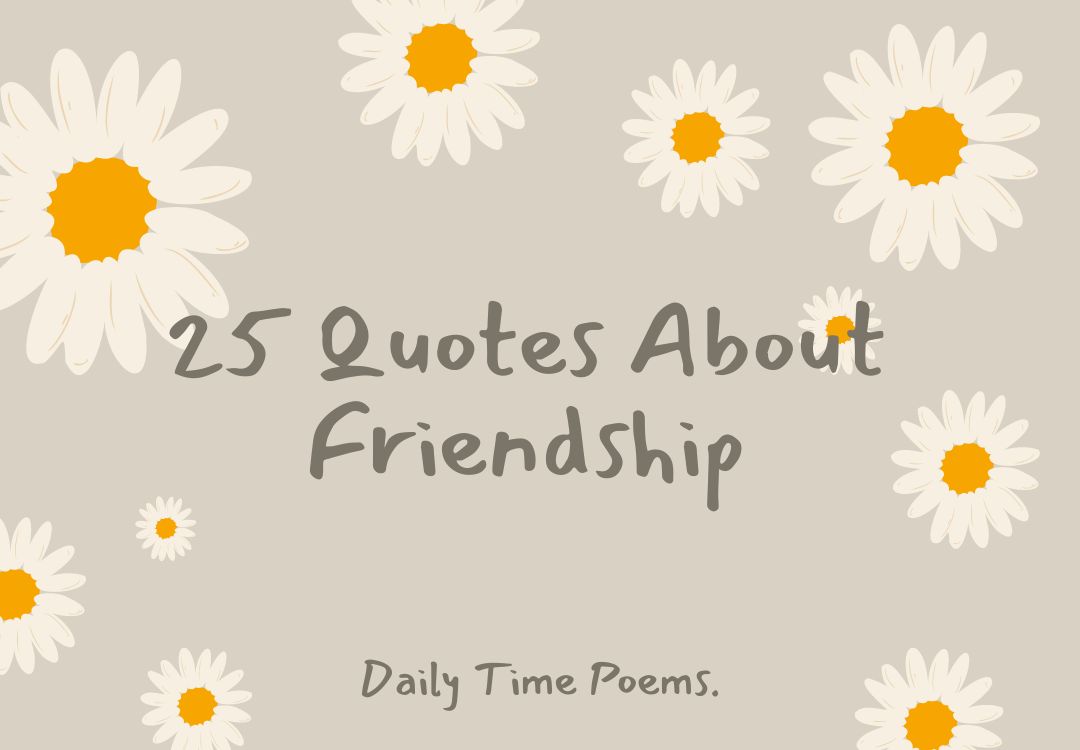 1. "I've always liked quiet people: You never know if they're dancing in a daydream or if they're carrying the weight of the world."
— John Green, Looking for Alaska
2. "The best kind of laughter is laughter born of a shared memory."
—Mindy Kaling, Why Not Me?
3. "The language of Friendship is not words, but meanings."
— Henry David Thoreau, A Week on the Concord and Merrimack Rivers
4. "You have some queer friends, Dorothy," she said."The queerness doesn't matter, so long as they're friends," was the answer."
― L. Frank Baum, The Road to Oz
5. "What if all everybody needed in the world was to be sure of one friend? What if you were the one and you refused to say those simple words?"
― Richard Russo, Empire Falls
6. "The companions of our childhood always possess a certain power over our minds which hardly any later friend can obtain."
—Mary Wollstonecraft Shelley, Frankenstein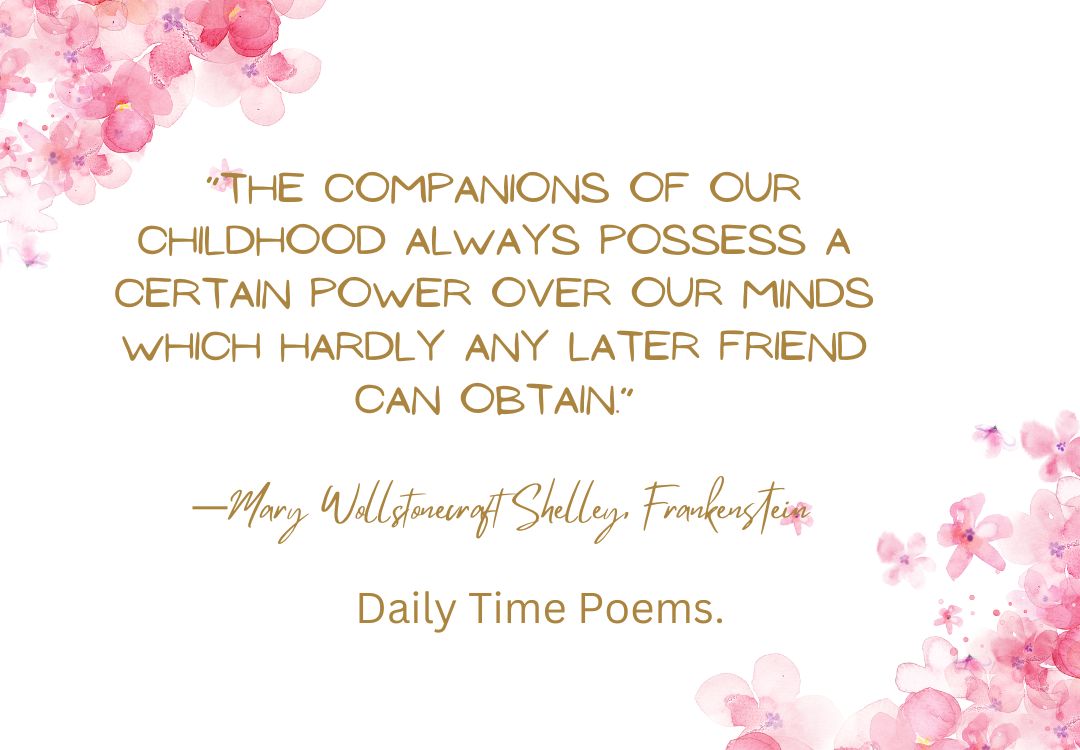 7. "Anybody can look at you. It's quite rare to find someone who sees the same world you see."
—John Green, Turtles All the Way Down
8. "They were all growing up and into each other like trees striving together for the sun."
—Maggie Stiefvater, The Raven King
9. "I got you to look after me, and you got me to look after you, and that's why."
― John Steinbeck, Of Mice and Men
10. "There is nothing like puking with somebody to make you into old friends."
― Sylvia Plath, The Bell Jar
11. "True friends are always together in spirit."
― L.M. Montgomery, Anne of Green Gables
12. "We clung to books and to our friends; they reminded us that we had another part to us."
—Annie Barrows and Mary Ann Shaffer, The Guernsey Literary and Potato Peel Pie Society
13. "Not a word passes between us, not because we have nothing to say, but because we don't have to say anything."
— Khaled Hosseini, The Kite Runner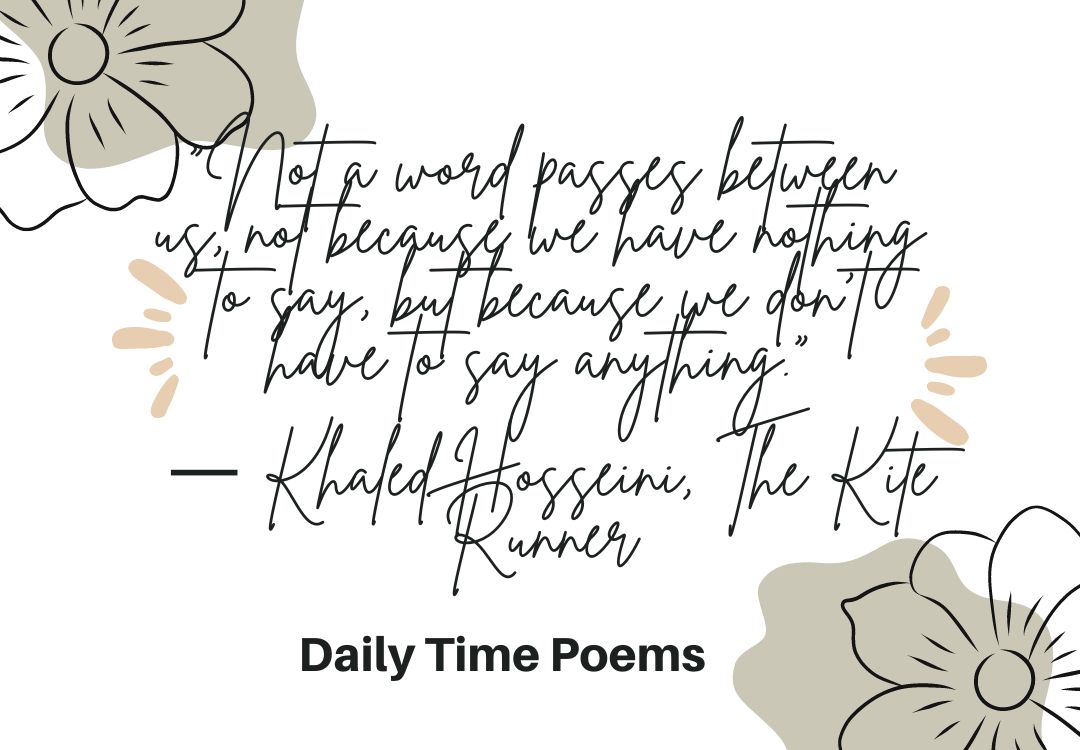 14. "No barrier of the senses shuts me out from the sweet, gracious discourses of my book friends. They talk to me without embarrassment or awkwardness."
—Helen Keller, The Story of My Life
15. "It takes a great deal of bravery to stand up to our enemies, but just as much to stand up to our friends."
― J. K. Rowling, Harry Potter and the Sorcerer's Stone
16. "Friendship- my definition- is built on two things. Respect and trust. Both elements have to be there. And it has to be mutual. You can have respect for someone, but if you don't have trust, the friendship will crumble."
― Stieg Larsson, The Girl with the Dragon Tattoo
17. "I am glad you are here with me. Here at the end of all things, Sam."
― J. R. R. Tolkien, The Return of the King
18. "You are my best friend as well as my lover, and I do not know which side of you I enjoy the most. I treasure each side, just as I have treasured our life together."
― Nicholas Sparks, The Notebook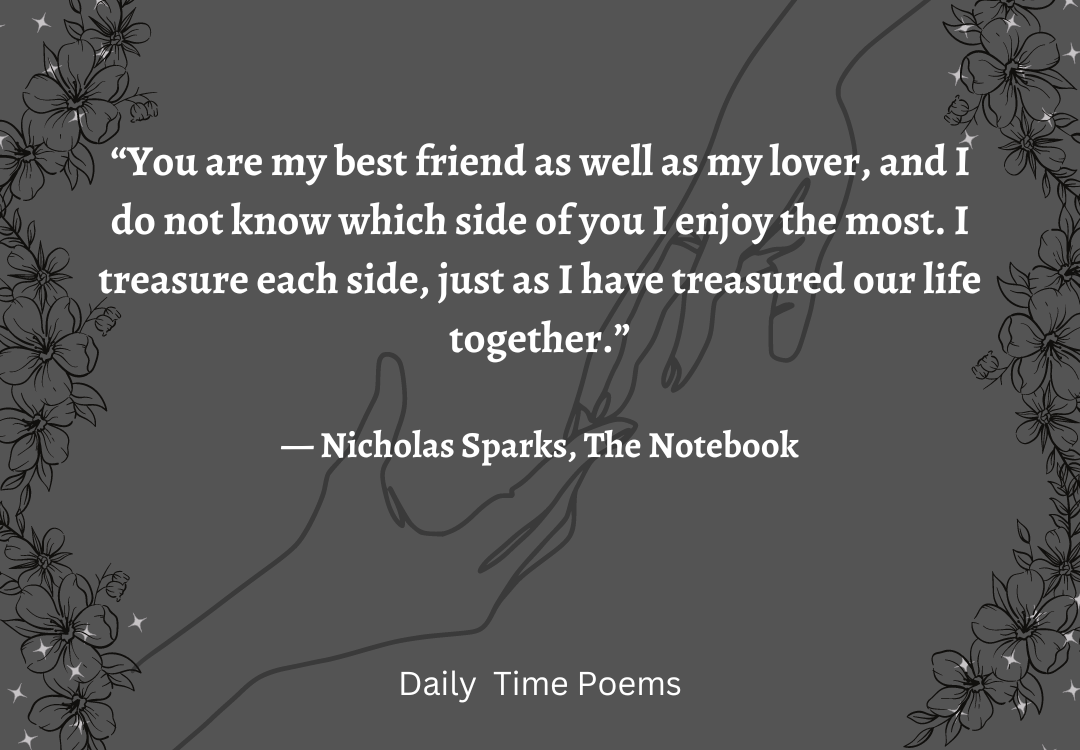 19. "When you feel someone else's pain and joy as powerfully as if it were your own, then you know you really loved them."
― Ann Brashares, Girls In Pants: The Third Summer of the Sisterhood
20. "Why did you do all this for me?" he asked. "I don't deserve it. I've never done anything for you." You have been my friend," replied Charlotte. "That in itself is a tremendous thing."
― E. B. White, Charlotte's Web
21. "His friendship alone has strengthened me in a way that no one else's ever had. He swept me from my room and showed me independence. In other words, he was exactly what I needed. I won't forget it. And I certainly don't want to lose it."
― Stephanie Perkins, Anna, and the French Kiss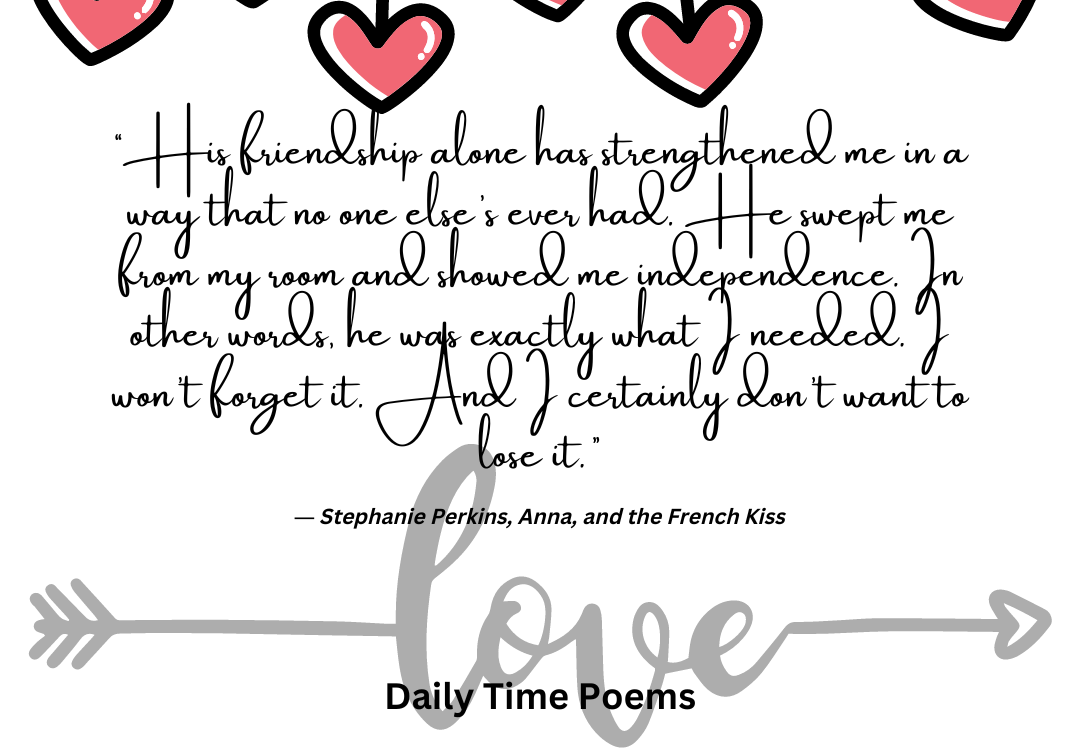 22. "Friendship—my definition—is built on two things. Respect and trust. Both elements have to be there. And it has to be mutual. You can have respect for someone, but if you don't have trust, the friendship will crumble."
— Stieg Larsson, The Girl with the Dragon Tattoo
23. "' Two a.m.' He swallowed, then said, 'You know. The person you can call at two a.m. and, no matter what, you can count on them. Even if they're asleep or it's cold or you need to be bailed out of jail … they'll come for you. It's like the highest level of friendship.'"
― Sarah Dessen, What Happened to Goodbye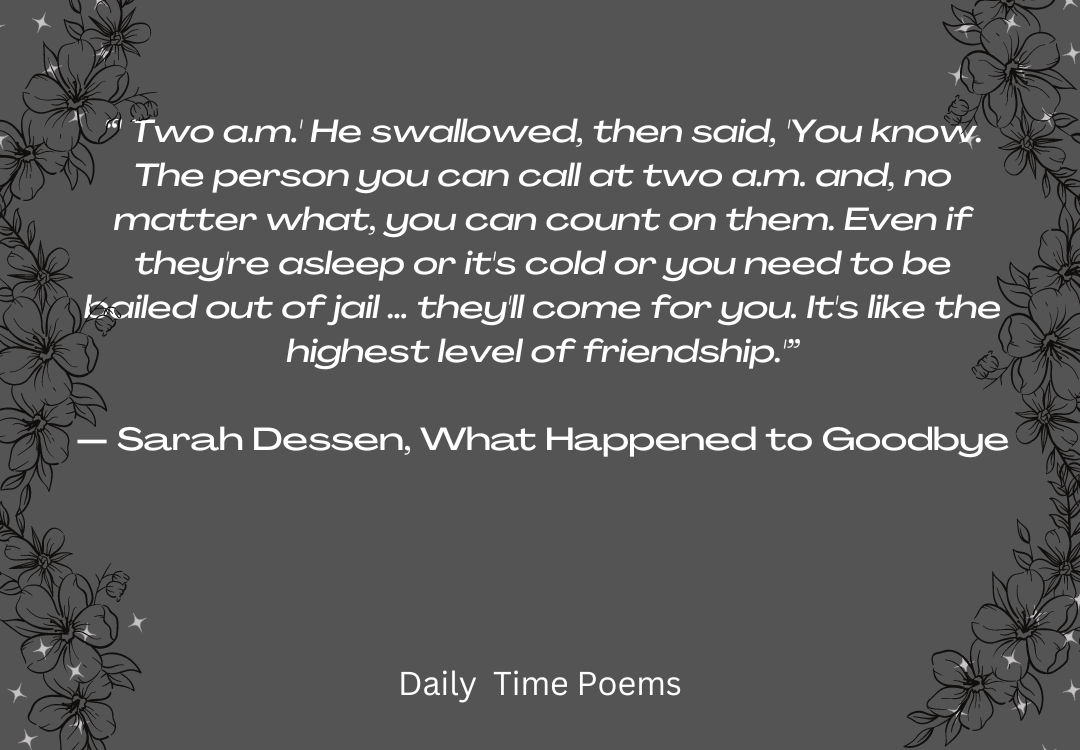 24. "She is a friend of my mind. She gather me, man. The pieces I am, she gather them and gives them back to me in all the right orders."
― Toni Morrison, Beloved
25. "There is nothing I would not do for those who are really my friends. I have no notion of loving people by halves. It is not my nature."
― Jane Austen, Northanger Abbey
These are our top 25 literary passages of friendship. Do you enjoy reading quotes? Or perhaps you need more quotes, please check these out:
100+ Jane Eyre Quotes That Will Make You Believe In Love Again
36 of the Best Book Lover Quotes for Readers
30 of the Most Powerful Unrequited Love Quotes from Literature
Please share your favorite quotation in the comments section if it wasn't included!