Aging Poems for the Elderly to Appreciate Old Age and the Gift of Life
Aging Poems for the Elderly to Appreciate Old Age and the Gift of Life.
Aging Poems – Aging gracefully feels like a challenge. Ageism can play a negative role in today's society, which can make it hard to approach big birthdays with excitement.
Growing old is a gift, though—life experiences and loved ones can make it a great time. These poems cover a wide range, too. From aging parents to getting older, these poets know what it's like.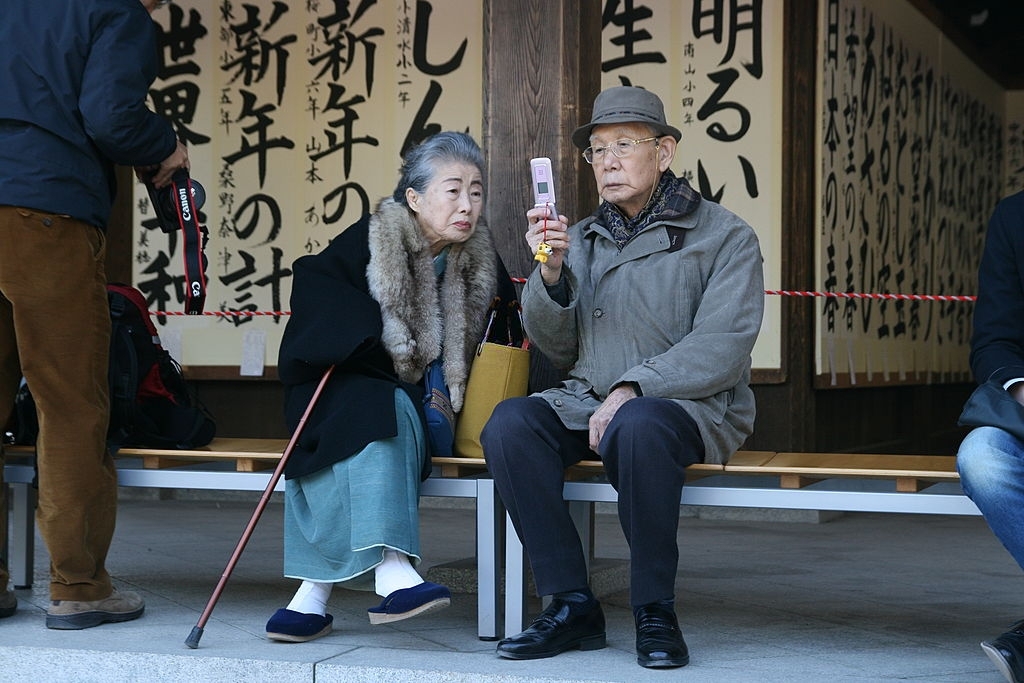 1. When You Are Old
When you are old and grey and full of sleep,
And nodding by the fire, take down this book,
And slowly read, and dream of the soft look
Your eyes had once, and of their shadows deep;

How many loved your moments of glad grace,
And loved your beauty with love false or true,
But one man loved the pilgrim soul in you,
And loved the sorrows of your changing face;

And bending down beside the glowing bars,
Murmur, a little sadly, how Love fled
And paced upon the mountains overhead
And hid his face amid a crowd of stars.
– Poem by WILLIAM BUTLER YEATS
2. Forgetfulness
The name of the author is the first to go
followed obediently by the title, the plot,
the heartbreaking conclusion, the entire novel
which suddenly becomes one you have never read,
never even heard of,

as if, one by one, the memories you used to harbor
decided to retire to the southern hemisphere of the brain,
to a little fishing village where there are no phones.

Long ago you kissed the names of the nine Muses goodbye
and watched the quadratic equation pack its bag,
and even now as you memorize the order of the planets,

something else is slipping away, a state flower perhaps,
the address of an uncle, the capital of Paraguay.

Whatever it is you are struggling to remember
it is not poised on the tip of your tongue,
not even lurking in some obscure corner of your spleen.

It has floated away down a dark mythological river
whose name begins with an L as far as you can recall,
well on your own way to oblivion where you will join those
who have even forgotten how to swim and how to ride a bicycle.

No wonder you rise in the middle of the night
to look up the date of a famous battle in a book on war.
No wonder the moon in the window seems to have drifted
out of a love poem that you used to know by heart.
– Poem by Billy Collins
3. Tired with all these, for restful death I cry (Sonnet 66)
Tired with all these, for restful death I cry,
As to behold desert a beggar born,
And needy nothing trimm'd in jollity,
And purest faith unhappily forsworn,
And gilded honour shamefully misplac'd,
And maiden virtue rudely strumpeted,
And right perfection wrongfully disgrac'd,
And strength by limping sway disabled
And art made tongue-tied by authority,
And folly—doctor-like—controlling skill,
And simple truth miscall'd simplicity,
And captive good attending captain ill:
Tir'd with all these, from these would I be gone,
Save that, to die, I leave my love alone.
– Poem by William Shakespeare
4. Affirmation
To grow old is to lose everything.
Aging, everybody knows it.
Even when we are young,
we glimpse it sometimes, and nod our heads
when a grandfather dies.
Then we row for years on the midsummer
pond, ignorant and content. But a marriage,
that began without harm, scatters
into debris on the shore,
and a friend from school drops
cold on a rocky strand.
If a new love carries us
past middle age, our wife will die
at her strongest and most beautiful.
New women come and go. All go.
The pretty lover who announces
that she is temporary
is temporary. The bold woman,
middle-aged against our old age,
sinks under an anxiety she cannot withstand.
Another friend of decades estranges himself
in words that pollute thirty years.
Let us stifle under mud at the pond's edge
and affirm that it is fitting
and delicious to lose everything.
– Poem by Donald Hall
5. Nature
As a fond mother, when the day is o'er,
Leads by the hand her little child to bed,
Half willing, half reluctant to be led,
And leave his broken playthings on the floor,
Still gazing at them through the open door,
Nor wholly reassured and comforted
By promises of others in their stead,
Which, though more splendid, may not please him more;
So Nature deals with us, and takes away
Our playthings one by one, and by the hand
Leads us to rest so gently, that we go
Scarce knowing if we wish to go or stay,
Being too full of sleep to understand
How far the unknown transcends the what we know.
– Poem by HENRY WADSWORTH LONGFELLOW
6. Do not go gentle into that good night
Do not go gentle into that good night,
Old age should burn and rave at close of day;
Rage, rage against the dying of the light.

Though wise men at their end know dark is right,
Because their words had forked no lightning they
Do not go gentle into that good night.

Good men, the last wave by, crying how bright
Their frail deeds might have danced in a green bay,
Rage, rage against the dying of the light.

Wild men who caught and sang the sun in flight,
And learn, too late, they grieved it on its way,
Do not go gentle into that good night.

Grave men, near death, who see with blinding sight
Blind eyes could blaze like meteors and be gay,
Rage, rage against the dying of the light.

And you, my father, there on the sad height,
Curse, bless, me now with your fierce tears, I pray.
Do not go gentle into that good night.
Rage, rage against the dying of the light.
– Poem by Dylan Thomas
7. Sailing to Byzantium
I

That is no country for old men. The young
In one another's arms, birds in the trees,
—Those dying generations—at their song,
The salmon-falls, the mackerel-crowded seas,
Fish, flesh, or fowl, commend all summer long
Whatever is begotten, born, and dies.
Caught in that sensual music all neglect
Monuments of unageing intellect.

II

An aged man is but a paltry thing,
A tattered coat upon a stick, unless
Soul clap its hands and sing, and louder sing
For every tatter in its mortal dress,
Nor is there singing school but studying
Monuments of its own magnificence;
And therefore I have sailed the seas and come
To the holy city of Byzantium.

III

O sages standing in God's holy fire
As in the gold mosaic of a wall,
Come from the holy fire, perne in a gyre,
And be the singing-masters of my soul.
Consume my heart away; sick with desire
And fastened to a dying animal
It knows not what it is; and gather me
Into the artifice of eternity.

IV

Once out of nature I shall never take
My bodily form from any natural thing,
But such a form as Grecian goldsmiths make
Of hammered gold and gold enamelling
To keep a drowsy Emperor awake;
Or set upon a golden bough to sing
To lords and ladies of Byzantium
Of what is past, or passing, or to come.
– Poem by WILLIAM BUTLER YEATS
8. That time of year thou mayst in me behold
That time of year thou mayst in me behold
When yellow leaves, or none, or few, do hang
Upon those boughs which shake against the cold,
Bare ruined choirs, where late the sweet birds sang.
In me thou see'st the twilight of such day
As after sunset fadeth in the west;
Which by and by black night doth take away,
Death's second self, that seals up all in rest.
In me thou see'st the glowing of such fire,
That on the ashes of his youth doth lie,
As the death-bed, whereon it must expire,
Consumed with that which it was nourish'd by.
This thou perceiv'st, which makes thy love more strong,
To love that well, which thou must leave ere long.
– Poem by William Shakespeare
9. I Look into my Glass
 look into my glass,
And view my wasting skin,
And say, 'Would God it came to pass
My heart had shrunk as thin!'

For then I, undistrest
By hearts grown cold to me,
Could lonely wait my endless rest
With equanimity.

But Time, to make me grieve,
Part steals, lets part abide;
And shakes this fragile frame at eve
With throbbings of noontide.
– Poem by Thomas Hardy
10. Warning
When I am an old woman I shall wear purple
With a red hat which doesn't go, and doesn't suit me.
And I shall spend my pension on brandy and summer gloves
And satin sandals, and say we've no money for butter.
I shall sit down on the pavement when I'm tired
And gobble up samples in shops and press alarm bells
And run my stick along the public railings
And make up for the sobriety of my youth.
I shall go out in my slippers in the rain
And pick flowers in other people's gardens
And learn to spit.

You can wear terrible shirts and grow more fat
And eat three pounds of sausages at a go
Or only bread and pickle for a week
And hoard pens and pencils and beermats and things in boxes.

But now we must have clothes that keep us dry
And pay our rent and not swear in the street
And set a good example for the children.
We must have friends to dinner and read the papers.

But maybe I ought to practice a little now?
So people who know me are not too shocked and surprised
When suddenly I am old, and start to wear purple.
– Poem by Jenny Joseph
11. Mrs Baldwin
And then there's the one about the old woman
who very apologetically asks the way
to Church Lane, adding 'I ought to know:
I've lived there since the war'. So you go with her.

This comes with variations, usually leading
(via a list of demented ancestors)
to calculations of how much time you've got
before you're asking the way to your own house.

But it's not so often that you find the one
about how, whenever you hear of someone
diagnosed with cancer, you have to hide
that muffled pang that clutched you, at fifteen,
when you saw Pauline Edwards holding hands
with the boy from the Social Club you'd always
fancied.
– Poem by Fleur Adcock
12. Counting Backwards
How did I get so old,
I wonder,
contemplating
my 67th birthday.
Dyslexia smiles:
I'm 76 in fact.

There are places
where at 60 they start
counting backwards;
in Japan
they start again
from one.

But the numbers
hardly matter.
It's the physics
of acceleration I mind,
the way time speeds up
as if it hasn't guessed

the destination—
where look!
I see my mother
and father bearing a cake,
waiting for me
at the starting line.
– Poem by LINDA PASTAN
13. Passing Through
—on my seventy-ninth birthday

Nobody in the widow's household
ever celebrated anniversaries.
In the secrecy of my room
I would not admit I cared
that my friends were given parties.
Before I left town for school
my birthday went up in smoke
in a fire at City Hall that gutted
the Department of Vital Statistics.
If it weren't for a census report
of a five-year-old White Male
sharing my mother's address
at the Green Street tenement in Worcester
I'd have no documentary proof
that I exist. You are the first,
my dear, to bully me
into these festive occasions.

Sometimes, you say, I wear
an abstracted look that drives you
up the wall, as though it signified
distress or disaffection.
Don't take it so to heart.
Maybe I enjoy not-being as much
as being who I am. Maybe
it's time for me to practice
growing old. The way I look
at it, I'm passing through a phase:
gradually I'm changing to a word.
Whatever you choose to claim
of me is always yours;
nothing is truly mine
except my name. I only
borrowed this dust.
– Poem by STANLEY KUNITZ
14. What I Learned From My Mother
I learned from my mother how to love
the living, to have plenty of vases on hand
in case you have to rush to the hospital
with peonies cut from the lawn, black ants
still stuck to the buds. I learned to save jars
large enough to hold fruit salad for a whole
grieving household, to cube home-canned pears
and peaches, to slice through maroon grape skins
and flick out the sexual seeds with a knife point.
I learned to attend viewings even if I didn't know
the deceased, to press the moist hands
of the living, to look in their eyes and offer
sympathy, as though I understood loss even then.
I learned that whatever we say means nothing,
what anyone will remember is that we came.
I learned to believe I had the power to ease
awful pains materially like an angel.
Like a doctor, I learned to create
from another's suffering my own usefulness, and once
you know how to do this, you can never refuse.
To every house you enter, you must offer
healing: a chocolate cake you baked yourself,
the blessing of your voice, your chaste touch.
– Poem by JULIA KASDORF
You can use these poems to accompany a gift or a card. You can also post them on social media, and tag your loved one. Using the gift of poetry can bring a smile to anyone, especially those who write.
Daily Time Poems.